Tomb Raider reboot highlights two paths for gaming on NVIDIA Shield TV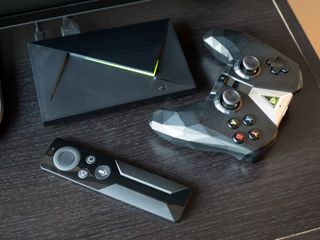 The marquee title arriving on NVIDIA Shield is Tomb Raider, the gritty 2013 reboot of the iconic gaming franchise, starring Lara Croft. Available as a download through the Google Play Store, the game offers a reimagined origin story for the first Queen of Gaming, giving the action adventure franchise a total overhaul and a new breath of life. While it's a few years old, it's a really polished game that looks and plays great on the Shield.
Also coming to the Shield, by way of NVIDIA'S GeForce NOW streaming service, is Marvel Heroes 2016, a free-to-play massive multiplayer online action role-playing game that was previewed by NVIDIA at CES as part of Geforce NOW's new ability to stream online multiplayer games. Marvel Heroes is free to play for all members subscribed to the GeForce NOW service.
Reasons to stream your games
There's always been a semi-regular stream of titles announced and released for the Shield, but the way NIVIDIA paired these two game launches together sure feels like a not-so-subtle message from NVIDIA to gamers: game streaming is the future. It's the most efficient way to play your games on the Shield. And when you step back and consider all the facts, NVIDIA's right.
For starters, consider that Tomb Raider, available for $15.99 from the Play Store, takes up over 5GB of space. If you went with the larger 500GB Shield, and have it loaded with movies, TV shows, music, and games, you may have to clear out some old games or movies to make space for the download. If you have the 16GB Shield, Tomb Raider will take up basically half of your available internal storage. It's the same issue I have with my Xbox One — the frustration of only being able to have a handful of games installed on your console at one time.
Meanwhile, not only do GeForce NOW subscribers not have to worry about balancing their internal storage, but they also have quick streaming access to a library of fantastic games streamed at 1080p and 60fps, with titles including The Witcher 3, Just Cause 2, and… what's that? Tomb Raider — same game, delivered two different ways, on the same console.
Maybe it's just me, but just the thought of having to install, uninstall, and otherwise manage games via digital downloads often makes me want to put down the controller before I've even picked it up. This comes after waiting through the download and install process for getting Tomb Raider from the Google Play Store. It adds a new level of annoyance while trying to add convenience — especially with a 16GB NVIDIA Shield TV hooked up to my HDTV.
Personally, I don't think I'd manage to sit down and play via GeForce NOW enough to get the same value I'd get from NVIDIA's $7.99/month streaming service the same way i justify the other streaming services I rely on, like Netflix and Apple Music (quietly turns off the comment section). But then again, NVIDIA also offers GameStream as a great back up to play PC games on my Shield, which is just another reason to love the Shield as a gaming platform.
For your consideration
If you already have an NVIDIA Shield TV, it's well worth your time and effort to check out Tomb Raider — whether you prefer to "own" it from the Google Play Store or stream it from the GeForce NOW. Running into storage space constraints? Don't forget that the NVIDIA Shield does support expandable storage.
For those of you just considering buying an NVIDIA Shield, if the gaming possibilities are playing a part in buying decision, you'll definitely want to consider whether something like GeForce NOW could fill your needs. That $100 you save on a 16GB Shield could essentially pay for a full year of GeForce Now, which'll save you time and frustration dealing with less space.
Sign up for Black Friday email alerts!
Get the hottest deals available in your inbox plus news, reviews, opinion, analysis and more from the Android Central team.
Marc Lagace was an Apps and Games Editor at Android Central between 2016 and 2020. You can reach out to him on Twitter [@spacelagace.