Tilt for Android Wear amps up the classic tilt maze game with augmented reality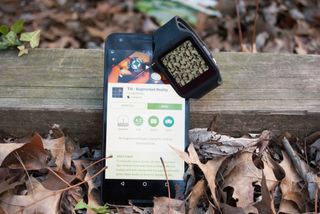 Tilt - Augmented Reality gives you a different kind of Android Wear game, meant to be played using both your phone and your smartwatch at the same time. It's a digital take on an old favorite, and it's a great way to try out Augmented Reality games. Wickedly fun, and trickier than we'd like to admit, this game caught our eye.
If you're a fan of games made for a wrist computer, or Augmented Reality game, then check this out.
Tilt - Augmented Reality is a game made for Android Wear that is an update on a game we all probably played as children. Your goal is to rotate the screen of your smartwatch to roll a ball on the screen avoiding obstacle, and picking up prizes. Granted the game we played as children was a little box where you were guiding a small ball through a plastic maze, but it's pretty awesome to see this as an Augmented Reality app.
To play this game you'll need to open it on both your phone and on your watch. Initially you'll see a screen that looks like pebbles on the watch, until you hold your phone over the watch. That's when this game really comes to life. The pebble screen blooms into a large grey circle that has obstacles, red prizes to pick up, and holes in the floor. Your goal is to grab as many of the prizes as possible, without falling through the floor, or off the sides of the circle. It starts out pretty easy and gets harder as you go, though even the easier levels require concentration. You begin playing by rolling your ball into a box with a number. Initially you'll only have access to one level, but after you complete it you'll open up several more.
Tilt- Augmented Reality is quite fun, and it works quite well for the most part. There is one warning we will give to anybody out there rocking a Nexus 5X. Due to the sensors, when you try to play this game it'll appear upside down. It makes the game much more difficult, and definitely more frustrating, but it is still playable. The controls are pretty easy to get the hang of, and it's easy to get sucked in and burn 45 minutes without realizing it. You won't find any ads, but the developer has promised to update soon with more levels and features.
As the first Augmented Reality we've had the chance to play, Tilt - Augmented Reality is a fun and simplistic game. It's currently available for the awesome price of free on the Google Play Store and it's definitely worth a shot if you enjoy nostalgia inducing games from your childhood, or Augmented Reality. Do you know of another Augmented Reality game we should check out? Let us know about it in the comments!
Get the Android Central Newsletter
Instant access to breaking news, the hottest reviews, great deals and helpful tips.
Jen is a staff writer who spends her time researching the products you didn't know you needed. She's also a fantasy novelist and has a serious Civ VI addiction. You can follow her on Twitter.