ThunderBolt case review: Mobi Products Crystal Case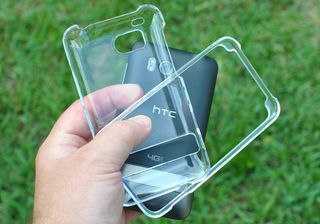 Want a hard case but want to still show off your phone? The Mobi Products Crystal Case for the HTC ThunderBolt does just that. It's your standard hard-shell case, same as we've reviewed previously. But the big difference this time is that you can see through it -- making sure your ThunderBolt can see and be seen.
It's the same plastic two-piece construction we're used to. And save for a tiny serial number and a couple of lines, it's a perfectly clear case. Same cutouts for the ports and buttons (and the kickstand).
Just like its colored counterparts, the crystal case gives you basic protection with minimal thickness. It'll keep the camera lens and touchscreen from touching when it's left face-up or face-down on a tablet.
Putting the case together, and removing it afterward, were simple procedures -- everything locks into place nicely.
The Mobi Products Crystal Case for the HTC ThunderBolt is available for $12.95 in the Android Central Store. We've got more pictures after the break.
HTC ThunderBolt | HTC ThunderBolt Cases | All HTC ThunderBolt Accessories
Newest HTC ThunderBolt cases
Best selling HTC ThunderBolt cases
Crystal cases are horrible. They make the phone bulky, they scratch up badly and they get dust and grit under them making the phone look awful and often scratching the finish just as much as if you had no case at all.

So true! What a piece of crap!!!

I dropped my iphone at least 6 times in one of these cases, but they are uggggaly. Oh the phone lived and was sold scratch free phew !
Android Central Newsletter
Get the best of Android Central in in your inbox, every day!
Thank you for signing up to Android Central. You will receive a verification email shortly.
There was a problem. Please refresh the page and try again.