Three UK zero-rates some streaming services with new 'Go Binge' feature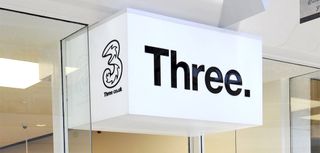 Three UK has followed the lead of T-Mobile over in the U.S., with a new offering that zero-rates data from certain streaming services, so they don't count against customers' data allowances. "Go Binge" (even the branding is remarkably similar to T-Mo's BingeOn) is included as standard for new and upgrading Three customers on SIM-only, "Advanced" handset and mobile broadband contract plans with allowances of 4GB or more per month.
Existing customers will need to change to a new, more expensive plan to take advantage of Go Binge. Three says Go Binge can be used with its "Feel at Home" roaming service, which allows customers to roam at no extra cost in 60 territories around the world — though other fair-use restrictions still apply.
The number of services supported by Go Binge is pretty limited right now — only Netflix, TVPlayer, Deezer and SoundCloud at launch — so it's disappointing to see staples like BBC iPlayer and Spotify missing the boat. However Three says it's "always looking to add more services" — and for what it's worth, BingeOn also started small, adding more supported services over time.
So despite the big marketing push behind Go Binge, it's starting out relatively small, both in its base of supported streaming platforms, and the customers who'll be able to take advantage of the feature — remember, none of Three's current subscribers will benefit unless they upgrade or switch to a more expensive contract. It's also unclear how Go Binge will coexist with Three's unlimited "All You Can Eat" data plans in the long term — free streaming could eventually be used to coax subscribers off unlimited plans.
Three does at least appear to have dodged the bullet of downgraded video quality, an area of controversy for T-Mobile in the early days of its unlimited streaming offering. Jonathan Morris reports that streaming quality on Go Binge won't be restricted in any way.
Alex is global Executive Editor for Android Central, and is usually found in the UK. He has been blogging since before it was called that, and currently most of his time is spent leading video for AC, which involves pointing a camera at phones and speaking words at a microphone. He would just love to hear your thoughts at alex@androidcentral.com, or on the social things at @alexdobie.
I'm on their unlimited data plan anyway so I'll take unlimited everything thank you very much.

Yes, me too. Unlimited data is a much better option.

Same here. Was about to say this was a great idea then realised I get unlimited data with 3 anyway

FWIW they're now saying AYCE isn't going anywhere. But you could well imagine this might be used to wean people off it — at least in the long term

Sounds like the plan. It's nice in and of itself, for sure. Now, if you could stream all those to an actual grown up TV with an unaffected hotspot allowance.... though my Three speeds vary generally between acceptable to interrupted.

Both this and T-Mobile's offering are very much a net-neutrality assault, it's anti-competitive to other businesses and shouldn't be encouraged.
Android Central Newsletter
Get the best of Android Central in in your inbox, every day!
Thank you for signing up to Android Central. You will receive a verification email shortly.
There was a problem. Please refresh the page and try again.