3 features I'd steal from iOS 11 for Android P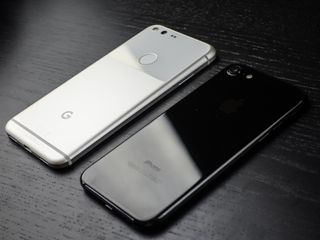 The latest update to iOS is out of beta and rolling out to iPhones as of Tuesday this week, and it's got our friends over at iMore pretty excited. If you need to catch up on what's new, you can check out Rene Ritchie's full review:
While it's all Android, all the time over here, it's always worth keeping up with what's going on with iOS. Apple does a lot of things really well and they deserve full credit for that... and if Google can bring some of the more ingenious features over to Android, well, all the better!
Here are a few of the new iOS features that I would love to see ported over to Android.
Augmented Reality baked into the OS
Since releasing its ARKit for developers back in June, it's clear that Apple is eyeing Augmented Reality as an important piece in its mobile strategy moving forward as we saw at its latest iPhone launch event. Some highlights from the event included a demo of an AR multiplayer game called The Machines and more practical examples of Augmented Reality such as using your phone to get real-time stats and player information at an MLB game or using a star-gazing app to point out constellations and planets. The aim was to showcase the processing power of the new line of iPhones while also cementing augmented reality as "the next big thing" in the minds of the mainstream public.
Apple's newfound focus on Augmented Reality and its inclusion as a core feature in iOS 11 should lead to companies and brands incorporating AR features into more apps as the technology reaches mainstream status.
Now I know what you're probably saying — Google has been dabbling with its own AR platform for Android developers, Tango, for several years now, and even announced their answer to Apple's software-based ARKit with AR Core in late August. Oh, and then there's this little game — don't know if you've heard of it — called Pokémon Go that sort of took the world by storm a year ago, so augmented reality on phones isn't as earth-shattering an idea as Apple would have us think.
When Apple's Phil Schiller took to the stage and said the new iPhones were the first smartphones created for Augmented Reality, he was conveniently ignoring the ASUS ZenFone AR and Lenovo Phab 2 Pro. Of course, it's hard to blame Schiller for that, as both Tango-ready phones are pretty forgettable — a shame because the experience using Tango is pretty awesome.
But that kind of speaks to the larger issue here. Google's been working on Augmented Reality via Tango for so long now, yet it still feels like something stuck in beta. The number of Tango-ready phones is embarrassingly small — and Google has yet to release a Tango-ready phone of their own. AR Core shows a ton of promise and eliminates the need to buy a phone with specific hardware for implementing AR features, but there's still a ton of questions surrounding Google's future plans for both Tango and AR Core.
Might some of those questions be answered on October 4th? I guess we'll learn soon enough.
Apple Pay in iMessage
We're living in an increasingly cashless society and that trend will only continue to grow as more people start using fantastic mobile payment options such as Apple Pay and Android Pay. Apple first introduced Apple Pay in 2014 with the iOS 8.1, and with iOS 11 they're implementing new functionality that lets you send Apple Pay money transfers to friends or family right from within iMessage.
Now, this peer-to-peer payment service from within iMessage isn't rolling out with the official iOS 11 release, but it is coming and it's a feature that sure looks enticing to those of us on the Android side of the fence. Sure, it's still incredibly convenient for me to open my banking app and wire my friends some money that I owe them or whatnot, but there's just something so elegant about responding to a friend's reminder text that you that you owe them $20, and then immediately sending it to them within the conversation as a reply.
It's a feature that I'd love to see Google bake into Android, but Google would first need to decide which messaging app to build it into. Allo? Android Messages? Hangouts?
Beyond that, there's also the issue of phone makers getting on board, too. So many Android phones ship with their own OEM-specific messaging apps set as default, along with popular third-party messaging apps like WhatsApp, Facebook Messenger and more — it's just that much easier for Apple to implement this feature into iMessage as but another great feature for the benefit of all iOS users.
Just please, Google, for our own sanity, please don't release another messaging app just for sending money to friends.
Do Not Disturb turns on automatically when you're driving
Distracted driving is an issue that, sadly, doesn't seem to be going away anytime soon. With younger generations getting smartphones in their hands before reaching the driving age, it's all too easy to get into the habit of instinctively checking new notifications as soon as they pop up. Younger drivers can build self-confidence in their ability to multi-task, which may ultimately lead to tragic consequences.
With iOS 11, Apple has introduced a feature that will automatically turn on Do Not Disturb if it detects that you're in a moving vehicle or if you connect to your car's Bluetooth. Once enabled, all notifications are turned off, and there's even an option to automatically notify anyone trying to message you that you're currently behind the wheel. It can also be toggled manually, too, for the times when you're a passenger in a car.
This is just a really smart feature that should probably be implemented across all smartphones. Distracted driving is a major public safety issue, and the first step towards correcting it is removing the temptation to check your phone. Here's hoping iOS users make use of this new feature, and Google adds it to its list of features to include in the next major Android update.
What iOS features would you steal?
These are my top three picks for features I'd like to see Google steal for Android P, but what about you? Let us know in the comments!
Sign up for Black Friday email alerts!
Get the hottest deals available in your inbox plus news, reviews, opinion, analysis and more from the Android Central team.
Marc Lagace was an Apps and Games Editor at Android Central between 2016 and 2020. You can reach out to him on Twitter [@spacelagace.