This Galaxy S7 case from Samsung offers swappable camera lenses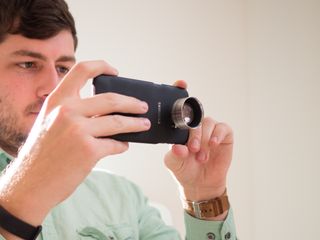 The Galaxy S7 is shaping up to have a wonderful camera experience that can even best the already-great Galaxy S6, and Samsung is leveraging that focus on camera quality with a new case. We've seen clip-on and magnetic camera lens attachments for phones before, and now Samsung is offering up its own take on the idea with these screw-on lenses that attach directly to a thin silicone case.
What would normally be a very simple snap-on case with a leather-like rubberized texture on the outside transforms into something much more interesting when you take a look closer at the screw-in threads surrounding the phone's camera lens. Those threads let you attach one of two different lens attachments that dramatically change the photos you can take with this phone — a telephoto for longer-distance shots, and a super wide-angle lens for closeups and, well, wide shots.
These high-quality lenses sport a metal exterior and typically solid Samsung camera build quality, which matches the great hardware of the phone itself. And because the lenses are designed specifically for these phones, you won't encounter any issues with visual inconsistency or problems attaching them. Just screw the lens tightly into the case and you've completely changed the dynamic of the photos you can shoot, then when you want to go back to a thinner profile the lens comes off and your phone works normally.
We're extremely excited to spend more time with the Galaxy S7's camera and these two lenses that can mix things up. At this point we're unsure of exact pricing and availability of the case and associated lenses, but expect to know more as the phone's launch nears.
Andrew was an Executive Editor, U.S. at Android Central between 2012 and 2020.
Hey Andrew, Can you see if that case can fit on and work with the S6? Posted via the Android Central App

Considering the thickness and subtle curve differences, I think not.

I didn't think about the new curved back of the S7. Thanks for all of the info and responding to my question. You guys are killing it out there! Posted via the Android Central App

But having the lens mount on a case Samsung is free to change its phones' physical design without changing the mount. So it's not crazy to think that they can make an S6 case that has the same mount. So the camera can change, the phone can change and as long as they sell a specific case with these new designs, the lenses will still work. This is a really neat idea and I hope they'll do it well and not abandon it in the future. Large lenses that focus the light onto a small sensor can open up wonderful potentials in smartphone photography. They can gather so much more light than the built-in tiny lenses.

Would it work the other way around? An S6 case on an S7?

I like it. And it will only be a matter of time before 3rd party copies and alternatives appear online Posted via the Android Central App

Oh yes. I can see it now. We'll see cases for every flagship phone with a hole cut out over the lens with crappy lenses not much better than a cheap magnifying glass that screws in.
Kind of like those clips they sell for the iPhone that slide over the lens Posted via the Android Central App

Have you ever used any of those lenses on the iPhone? It actually produces some really cool effects, especially if you get a wide angle or fish-eye lense. I think this is a brilliant way to augment smartphone. I don't know why some manufacturer hadn't done this before Samsung Posted via the Android Central App

Well, Moment Lenses had already had this idea with the iPhone...

This actually seems pretty clever. Posted via the Android Central App

Very nice. It's great to see a smartphone manufacturer offer this type of accessory. Posted via the Android Central App

Why no video? Every post should have at least a one minute video preview. Apps, accessories or phone reviews should be accompanied with some sort of video. Posted via the Android Central App

You should make your own website and do it Posted via the Android Central App

Samsung finally offers a case that makes sense (versus that terrible keyboard case). This add-on will definitely see some wide-spread adoption compared to the not-so value-adding hardware options offered for the LG G5.

Samsung definitely makes some ridiculous cases, but they also make plenty of practical ones that are mainly for protection and simple looks.

Great Idea,
Will this be offered on the S7 Edge as well?
Any idea on pricing?

Yup both phones. No idea on pricing just yet.

Samsung is just killing it today Posted via the Android Central App

Yeah, they brought it. Posted via Nexus 6 running on any data plan I want

At long last, I'm very impressed. Practically all boxes checked including size, style, build quality, ergonomics, and especially the camera. Direct sale, sometimes discounted, of unlocked rapidly updated non carrier bloat versions would be awesome. After all flagship releases, reviews, hands on at a store, and the dust settles, I may just buy my first Samsung.

Pretty cool. This and f1.7 makes S7 serious competitor to V10 for me

I'll keep my LG v10 until the S9 or S10 comes out. Data_theNew_Greed

Such a Korean thing. I live here in Seoul and every street corner and store sells cases like this for all phones for about 40 bucks. Glad to see an oem do it an really step up the quality now. Posted via the Android Central App

That is very cool dreaming of electric sheep

Will there be a S7 edge plus? Very use to the 5'7 screen Posted via the Android Central App

Gotta wait until November for that one, buddy.

I don't think you'd notice a huge difference between 5.5" and 5.7". Posted via Nexus 6P

This is the first lens attachment many people might try.

Well, I've tried a few and the ease of attaching the lens to the phone was not the problem. It's the quality of the glass that was always the limiting factor. I will temper my expectations until I see photos samples from the lenses, not of the lenses on the phone.

i currently have the G4 and i was really looking forward to upgrade to the G5 but the S7edge have my full attention and even more with this accessories (telephoto attachment lense alone) , need to start checking the stores for a demo test :D

was that add-on lens displayed on MWC?, haven't seen that exposure from the other media.
I appears that the lenses are wide and telephoto just like the other premium prime lens kit for iPhones.

Finally! I will buy this.

This is a huge win for Samsung to me. Pretty cool feature. One picture at a time--LG V10

What a great concept... I love it...

It seems like you lose the ability to use flash. Is there another add on for a flash? Posted via the Android Central App

I'm curious what is different, other than maybe quality, than the cases with the add-on lenses that have been available for some time now? I'm sure the Note 4 wasn't even the first to have them.

I prefer sleeves over cases, but I'd have to get this case and lenses if I had the S7. It's very nice.

Hopefully something similar is released for existent samsung galaxy devices. (Note 5 , S6, Edge, etc.)

Doesn't that big lens cover the flash and other sensors/monitors/technical stuff?

This is awesome Posted via the Android Central App

Any new news on this case now that the phones are shipping?

Where can you buy the s7 case lens kit?

No such item. Just spoke with samsung so not really sure where this articles info came from.
Android Central Newsletter
Get the best of Android Central in in your inbox, every day!
Thank you for signing up to Android Central. You will receive a verification email shortly.
There was a problem. Please refresh the page and try again.