Best apps for Android Auto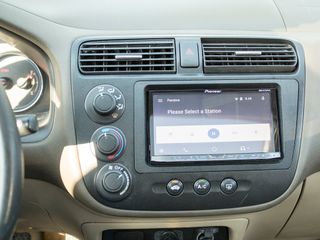 Whether you recently got into Android Auto thanks to a new vehicle purchase or are looking for a new app to try out in your car, here is a list of Android apps that will work. Most of the apps are used to stream music or play other media in the car, but there are some others that you can use as well. Google has limited the selection and removed the ability to utilize apps that you sideload, so let's take a look at what you can get from Google Play to test in Android Auto.
Audio
The Best Audio Apps
Odds are that if you are in your car, you want to listen to music. Luckily, there are a number of awesome music services that have already added Android Auto support. Some of the best include:
Google Play Music
Google Play Music is already installed on just about every Android phone, and it gives you an easy way to store your existing music collection for free. With Android Auto, you can access new music through search, or your existing music to stream and keep you occupied and entertained in the car.
Download Google Play Music from Google Play (opens in new tab)
Pandora
With Pandora on Android Auto you are able to listen to your favorite tunes through your car with ease. Whether you like to switch it up on the fly, or listen to the same genre of music, accessing your existing collection is easy.
Download Pandora from Google Play (opens in new tab)
Spotify
Spotify is a big one, and many people use it. With Spotify on Android Auto you can access your existing playlists, create new radio stations or browse the artists and other music you've previously listened to.
Download Spotify from Google Play (opens in new tab)
Pocket Casts
Not everyone wants to listen to music all the time in the car, so Pocket Casts breaks that up for you. With this app you can listen to your favorite podcasts through your car during your commute. It pulls from your existing subscriptions and lets you select the episodes you want to listen to.
Download Pocket Casts from Google Play (opens in new tab)
MLB.com At Bat
Sports are extremely popular, and if you hate the thought of missing out on what your team is doing, this is the app for you. You can listen to live commentary, recaps and more through your speakers when you are unable to watch it.
Download MLB.com At Bat from Google Play (opens in new tab)
Honorable Mentions
There are a ton of other audio apps that support Android Auto. Some of the others include:
Messaging
Android Auto is meant to offer a safer driving experience, though that doesn't mean you should feel left out of the loop. There are a bunch of messaging apps that support Android Auto, so you can have your texts read out to you, and reply to them without touching your phone.
The Best Messaging Apps
Hangouts
Hangouts is great for keeping in touch with friends, family, and even co-workers. With its Android Auto integration, you can have your messages read out loud, and reply to them easily with just your voice. This makes keeping in touch on the go extremely easy.
Download Hangouts from Google Play (opens in new tab)
WhatsApp
WhatsApp is one of the most popular messaging services available, with tons of people around the world using it. With Android Auto integration you'll be able to have messages read to you and then use voice commands to reply and keep in the conversation.
Download WhatsApp from Google Play (opens in new tab)
Honorable Mentions
These are just some of the most popular messaging apps that support Android Auto. There are a bunch more, which include:
Developers have been adding support for Android Auto since its release, so odds are this list will continue to grow. As we see Google add more functionality to the in-car system, developers will be able to integrate it in their apps in different ways. Are any of your favorite Android Auto apps not listed above? If so, let us know which they are in the comments!
Get the Android Central Newsletter
Instant access to breaking news, the hottest reviews, great deals and helpful tips.
Jared started off writing about mobile phones back when BlackBerry ruled the market, and Windows Mobile was kinda cool. Now, with a family, mortgage and other responsibilities he has no choice but to look for the best deals, and he's here to share them with you.
Wish textra was included... Posted via my Nexus6P

It is, it still uses the system SMS intents to send and receive SMS messages, which Android Auto can then read to the user. You can use your voice to dictate a message just fine. All the services above are Instant Messaging services, not SMS clients. TL/DR: Textra works fine. Source: I use Textra and Android Auto

Ah gotcha, thanks! Posted via my Nexus6P

wishing Waze worked with android auto Posted via the Android Central App

Not soon enough I want it now!!! Also I would love SiriusXM to be added as well especially since the last Chevy rental I had was equipped with Android Auto.

For that, I'd say contact Sirius and ask them to add support to their app. They won't spend time/money on the feature unless they hear that users want it.

Last couple updates have resolved the major issues with Google Play Music, now works the way it should and voice commands are pretty solid. Pocket Casts is the standard by which all other 'in car' podcast apps should be judged, still wasn't approved for Apple CarPlay last time I looked. And I've always been happy with Hangouts, the real question now is if Allo will add value to Android Auto.

I like Muzecast. Very good music streamer with good Android auto functions. Simple but powerful.

MLB At Bat on the main console screen seems like a great way to die while driving. I'm loving the second PowerAmp Alpha and its milk drop visualizations. Hopefully they make a final release that is compatible.

FYE...MLB At Bat only plays the radio broadcasts over Android Auto...you can't watch the games. LOL!

I'll add CloudPlayer to the list of great audio apps. It's a local music player with Android Auto support

Why the hell would you need games when you're trying to focus on driving?

I want to play my music stored on my phone with album selection directly from the screen display. GPM doesn't even do that.

Yeah. And Google, please... Remove that really stupid touch limit. Do i have to park car just because passenger wants to browse my music library??? Carplay was so much better without all these stupid limitations..

If you are familiar with the exposed framework, they have launched an exposed module that lets you remove the touch limit. I have been using it for a couple of weeks now and it works like a charm.

can you point to a link about this please? update: I found it but I think you need to be rooted correct?

I am a stalwart and loyal Android user. I was excited when my new vehicle had Android Auto. After a few "tweaks" with my GS7, I finally got it to work. Now I say, "What's the big deal? I already have navigation in my entertainment system, I can already listen to my music through bluetooth and streaming, I can check the weather and listen to audio books, podcasts, and the like. I am a gadget guy and like having AA, but honestly, it adds nothing to my in car system.

Having straight up Google Maps as the navigation makes Android Auto worth it alone.

Google maps satellite and street view is key to completing the picture (literally). At least still photos. Will this happen?

Better interface and voice controls are good features

Maps are always up to date instead of having to manually update them every year. I'm personally mostly looking forward to being able to use Waze for navigation, if they ever actually update it to work with AA (they demoed it back in May, but I couldn't find any updates whatsoever as to when they plan to release it).

I'm with you Richard. I was expecting AA to mirror the phone screen and run virtually any apps installed on the phone via the car's system. What a disappointment it is.

Has anyone used one of those android radios from Pumkin or whatever? If those just run like a tablet wouldn't that be better? Posted via the Android Central App

No, the interface isn't designed for use while driving, so you'll be more distracted.

oh...It's cool....Hangouts is great for keeping in touch with friends, family, and even co-workers.

SiriusXM Seems like the perfect complement to Android Auto -- and there is even a SiriusXM version for Apple CarPlay -- but nada. There was talk about an Android Auto version of SiriusXM about a tear or two ago but now nothing.