There's so much more to Android O than we know right now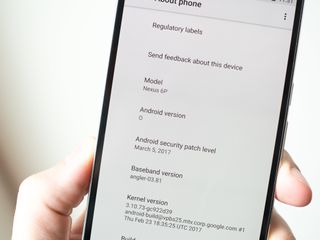 We've said it time and time again, but it requires reiteration when a new Android Developer Preview is announced: don't judge an entire upcoming Android platform update by its first Developer Preview release. Android O just launched officially in the form of a Developer Preview that can be downloaded and flashed to Pixel or late-model Nexus, and in typical Google fashion what we're seeing here isn't even close to finished yet.
Just like the Android N Developer Preview that kicked off this time last year, the Android O Developer Preview is, in terms of the interface and features you can actually see, basically the same as the Android 7.1.2 Nougat software that Android Beta Program testers just updated to. Even the behind-the-scenes changes in the Developer Preview that really matter to developers are "small," at least by the scale we usually see in Android updates.
We don't see everything new in Android O right from the start for two main reasons. First, Google starts this Developer Preview process so early that there's no need to bombard developers all at once. Take a look at the timeline above: there will be three more iterations of the Developer Preview, the first of which coming a full two months after the initial release. Google has lots of time to fine tune the APIs its working on — last year it took four months to get final Android N APIs.
More: How to install Android O on your Pixel or Nexus
Second, Google actually does put some weight behind having a "big reveal" or two snuck up its sleeve for the full launch of Android O. Through a likely combination of a Google I/O 2017 keynote and the expected Google Pixel 2 launch in Q3, Google has two huge stages to talk about the big new features of the latest version of Android. What it's showing off right now are the underpinnings important for developers — the rest of the stuff that consumers care about will be properly revealed at a later date. Yes, including its actual name.
One of the biggest things to remember about these platform updates is that the operating system itself is only part of the story. Saying "I have Android O!" is awesome, but what makes it all complete are the developers who make apps that actually take advantage of the new features introduced. One of the biggest developers of course is Google itself, which has a massive undertaking of updating all of its flagship apps and services to put Android O on display. If you update to Android O today you're only going to see a sliver of what's possible, as you'll still be using apps designed for Nougat.
The moral of this story is to be patient. The Developer Preview is something we can all rightfully get excited about, but it has to be for the correct reasons: we should be happy that developers can get access to APIs early so when Android O arrives on your phone late in 2017 or early 2018 the apps will be ready to go. These early releases aren't designed to woo everyone into getting excited for the core features of the operating system just yet. Google will have so much more to show us about Android O, starting in mid-May at Google I/O 2017 and continuing through the second half of the year.
Get the Android Central Newsletter
Instant access to breaking news, the hottest reviews, great deals and helpful tips.
Andrew was an Executive Editor, U.S. at Android Central between 2012 and 2020.
Just give us a dark theme and we'll be happy :)

Great article. So many impatient people always threaten to go to ios based on developer preview issues and they end up either never going or coming back because ios feels like you're going back in time.

At least I'll finally have Nougat... When I get the OP3T.

Actually I'm very impressed with O.

Thanks for your excellent contribution in the comments here, kinster02!

my pixel is running o. so far so good.

Having the APIs available is all well and good but they're useless without devices running O. Looking at the latest distribution numbers, Nougat is only at 2.8% even after 7 months (and that's counting 7.0 and 7.1 together). This means that developers don't really target Nougat because the features would only be used by a small minority of devices. They target Jelly Bean, Kitkat, Lollipop and Marshmallow because that's where the critical mass of devices is.