Thanks to Google Photos, I'll always be able to remember the best dog ever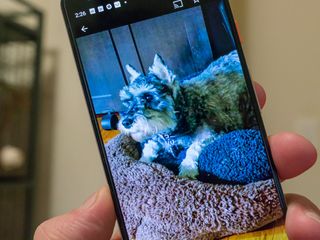 (Image credit: Jerry Hildenbrand / Android Central)
Sammy was a good boy. He would snuff to get my attention and toss me a high-five to try and get a piece of my sandwich (it always worked). He'd also remind me when it was bedtime if I stayed up too late. He was also well-mannered and would patiently walk alongside my slower-than-dog self while sitting in my wheelchair. He even made sure to protect the entire family from whatever evil he imagined the squirrels that played in the yard had planned. He was the best dog, just like your dog is the best dog. Maybe they are all the best dogs.
Sammy unexpectedly died two days after Christmas, and all I have left are memories of the best dog ever.
I can be pretty particular when it comes to making backups and archiving my old data. I have full copies of hard drives that were in computers which have long since been sent to a recycling center, scans of "important" papers dating back more than 15 years, and even still have a full backup of the original iPhone I bought ages ago. What I don't have is all the data from all the phones I've gone through in the past five years. That's partially because I can get lazy and just wipe them clean and send them off to wherever they need to go next, and partially because it's too damn difficult to do with an Android phone. Photos are the one exception, though, and that's because Google did make it simple to keep them all backed up with Google Photos.
You've read all sorts of articles about how you should use Google Photos because it automagically stores your pictures in your personal Google cloud. With the proper configuration, it will save photos you take with your phone's camera as well as any you're sent by other people and even photos you have downloaded from the internet. Sharing your photos with anyone else is incredibly easy, and pictures my family has taken and shared appear right in Google Photos beside my own. You can then look through them all from any device with a web browser and an internet connection. It all sounds good in theory, but seeing it in practice really hits home.
I can look through Google Photos and see pictures of Sammy, starting with the ones I was sent when we first got him right up to the ones where he was romping around on Christmas morning, excited because of all the paper and "stuff" on the floor to play with. Most of these photos I would have never saved manually — taking a pic of Sammy doing something silly to send to my wife meant nothing the day it was taken, but it means a lot right now. Even pictures of the night he sent my almost-new LG television crashing to the floor because there was some critter on the screen that needed chasing out of "his" living room seem special right now. Sammy loved David Attenborough's Nature series (opens in new tab) almost as much as he loved me, I think.
Any dog lover will tell you that dogs are people too. I'm just happy that Google Photos has pictures of my Sammy safely stored alongside pictures of the rest of my family and friends. Everything and everyone important to me is in one place, which makes it easy to make a back up of the backup so I'll never lose any memories again.
If you're not using Google Photos, stop being a dunderhead. Install it on your phone right now and set it up before it's too late.
Jerry is an amateur woodworker and struggling shade tree mechanic. There's nothing he can't take apart, but many things he can't reassemble. You'll find him writing and speaking his loud opinion on Android Central and occasionally on Twitter.
When my dog of 12 years passed it was one of the hardest things I ever went through, that was almost 9 years ago and I still think about her all the time. Sorry for your loss, Jerry.

Damn Jerry, very sorry for your loss. They truly are members of the family. Although I've been around dogs and cats for the entirety of my life (my wife calls me Doctor Dolittle), my wife never knew the joys of having a four-legged family member for the first 49 years of her life until we got our little Yorkie, and always, not quite so jokingly, mocked people who let their pets sleep on the bed, jump on the sofa, eat from the dinner table, etc. She proudly now will tell anybody she's the world's biggest hypocrite, because this little ball of fur jumped right into her heart...

Sorry for your loss Jerry, they really are members of the family. We lost all three of ours in 2018, 2 to old age and one unexpectedly. In early December, we rescued Freeda from the local animal shelter. Well worth considering when you're ready. And yes, all their pictures are safely on Google Photos.

Aww, man. Three in the same year is rough. I am so sorry.

We lost 3 human family members in November 2018 and one was a brother and my wife had to do all the funeral planning and I even had to officiate the funeral and military burial. Rough indeed. I'm glad 2019 is here and the rest of our family made it to see another year. Even though I don't have any furry pals to call family, I have many friends that do and it's always great to see their interactions with them when we are capturing the moments. https://www.newexpressions.biz/kudos

Jerry, so deeply sorry about your loss. So many dogs and cats live on for us via Google Photos. I actually am a contributing editor for Apple World Today, but faithfully use Google Photos. I use Google (actually more than Apple services) as well as Apple. You will appreciate that one of the best bird dogs ever on the farm while growing up was named "Jerry." We still tell my younger brother, Jerry, that he was named after the bird dog. My wife Ruby and I are both with Apple world today, nearing retirement age, and how wonderful it would have been to have Google Photos "back then." But, thankful we have it now. Marty Edwards, Apple World Today

I lost a one year old kittie on New year's day last year. I feel your pain, man.

Sorry for your loss. There's probably a dog heaven filled with half-eaten sandwiches, dirty socks, misplaced balls, and frightful-but-curious squirrels. re. backups, one feature I love about my Synology NAS is that it will make backups of my 3 Cloud accounts (Google Drive, MS something, and Dropbox). I feel safe from a planetary-scale mishap ! I think all Synonlogies have that, mine is a low-end old-ish DS 414j.

So sorry for your loss, Jerry. It's so damn hard losing a pet.

I am really sorry to hear about the passing of your dog.

I'm sorry for your loss, dogs are family

I'm sorry Jerry, kind of you to share and for the reminder.

Sorry for your loss, Jerry. I hope that when the app's assistant sends you seemingly random pics of moments with Sammy, it makes you smile.

I have that same feeling towards my cat (Whiskers) she died in Nov of 2015 and my life hasn't been the same since but with Google photos I still have all the photos and videos I took of her over the years.

Sorry Brotha, when you are ready, I hope you get another. It really isn't the same without a pooch in your life.

Beautiful boy! I know how hard it is to lose a dog or cat - I have and have had so many. Every time you lose one is like the first time.
Cross species relationships are so special. One gains insight and realizes that it is not all about the humans.
So sorry for your loss.
"I aspire to be the person that my dog thinks I am."

Sorry for your loss Jerry. I lost mine several years ago, and I still miss him, but am thankful for the times we had. There is no good way to say goodby, but at least I got to hold him while he died.
Only photos I have are from an LG Vue, which are definitely potato-grade. Now I have an excellent camera, but I back my own photos up because Google Photos degrades the quality.

Very very sorry for your loss. Its really something painful :(
I have also my cat "laki" which is the best cat i've ever had! I love him and i am actually do the same with you, all my photos are in google photos.

Jerry, you are priceless. Your description of your relationship with Sammy truly touched me. My heart goes out to you for your loss; and I thank you for your brilliant writing. As always, your advice is on the money.

Oh **** Jerry, I'm so sorry man.

Been using GP for years...it's the best ...matter of fact, my niece just asked for photos of her daughter who turns 21 month and I had already tagged her in an album..I just shared it and she instantly had access to photos as far back as 2000...also photos of her with our dog who's old now when she was a little girl... Wonderful memories at your fingertips

So sorry to hear this Jerry. Thankfully you made many memories with Sammy, and Google will be sure to remind you of them.

Sorry for your loss. I definitely feel your pain. I was playing fetch with my 9 year old German Shepherd the Wednesday before Halloween and all was good. I got up around 3am that Friday to check on him because he was acting a little weird before we went to bed. He was cool to the touch and was not breathing. He passed sometime during the night. He was a great dog and has really been missed. Definitely one of the family. I'm thankful for the pics I have of him.

Sorry for your loss Jerry, they're like family. We lost our middle Westie at only 8 years old in a day, I know the feeling.
A.D. Singleton
Lexington, KY

Life is made of comings and goings, it is the way of it. Cherish the memories Jerry and may your year take a turn for the better.

Sorry for your loss.....my dog passed away Christmas Eve morning in 2017. I'm glad for Google photos but wished I had used it years ago.

Sorry for your loss. They ARE all good boys and girls.

Sorry to hear this Jerry. It is never easy losing a best friend. I lost the best (all are the best) dog a little over 2 years ago and still miss him.

So sorry for your lost, Jerry. We lost a dog last spring who a friend referred to as "a once in a lifetime dog". Sounds like you had one as well....

Sorry for your loss, Jerry. Schnauzers are awesome (I have one too). And your are absolutely right about Google Photos. Keep all those memories close and safe! ☺

I feel your pain. I lost my best friend (he was a Maltese named Squirt) earlier this year. It was one of the most painful things I've ever gone through and I still believe I'm in the grieving phase. And like you, thanks to google photos he can live on. By scrounging around old computers and cell phones I was able to find tons of photos and videos of him. My personal favorites are the ones where he sings with the "Fun" song 'We are Young'. He loved that song; its the only one he sang too. I miss him like crazy but at least I still get to see him. Thanks google.

I'm not crying, YOU'RE crying. Sorry for your loss Jerry. I just got a miniature schnauzer two days after Christmas. His name is Kevin and he's pretty awesome so far.

My pup (because he will always be a pup to me) is a Papillon around 13 yrs old and I know he's getting older. It frightens me to think he may not have much years left in him so I'm constantly picking him up and hugging him. A vast contrast from when he first became a part of my family after marrying my wife. I would be like "get him off the couch, no this, no that!" and now I'm the one spoiling him. They really become family. I am so sorry to hear for your loss. It got me all teary eyed.

Sorry to hear Jerry. My family also has miniature schnauzers and they are just terrific dogs. Our pets become family members indeed, our loyal four-legged friends.

Sorry for you loss. We lost two of our pups last year, a 10 year old Chesapeake Bay Retriever in March (amazingly the same day the UMBC Retrievers shocked the world as a 16 seed, that sill gives me the goosebumps) and our 12 year old Pug in November. We miss them both. Google's AI is spooky, with a month of both of their deaths we had custom albums of both of made by the assistant. In the case of the Chessie, the album is dated from the day I got her to the day she died (the length of time i had photos of her). As creepy as that intrusion into my life felt, it did bring me joy. I have a hard time faulting anything that bring me that kind of joy.

Sorry to hear Sammy crossed the rainbow bridge, at least you have lots of photos to go with the happy memories he brought to your family. As a dog owner myself, I know exactly how they work their way in to you hearts.
Android Central Newsletter
Get the best of Android Central in in your inbox, every day!
Thank you for signing up to Android Central. You will receive a verification email shortly.
There was a problem. Please refresh the page and try again.