Bringing broken devices somewhere to be repaired can turn into a pretty costly affair. Rather than spending tons of money to have your tech fixed at a repair shop, why not just figure it out yourself? Many small electronics repairs are pretty simple with some YouTube guidance and a side of Googling, and a toolset like Tekton 2830 Everybit Precision Bit and Driver Kit can help you perform the fix all on your own at a much more affordable cost. Right now you can pick up the set on sale for just $6.67 today at Amazon. The kit is easily worth picking up even at its regular price of aorund $10, but at this new all-time low it is a total steal. Shipping times may have already slipped, but you can still lock in this low price.
Fix it all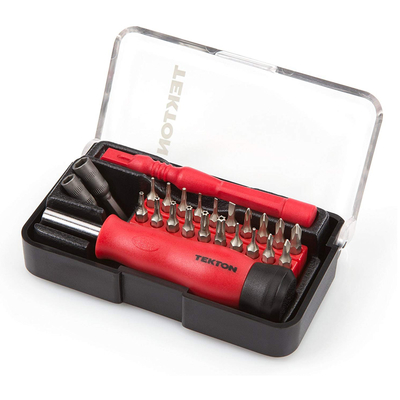 Whether you want to replace a hard drive or try to replace your smartphone display, this 27-piece kit can help you get started. Its price has never dropped this low before.
$6.67 $10.00 $3 off
The kit is designed to repair phones, tablets, laptops, computers, game consoles and more, and it comes in its own handy storage case. The kit comes with pentalobe bits for working on Apple products, standard bits for others, and even spudger to help pry open housings. You can constantly apply pressure without worrying thanks to the free-spinning endcap. If you have some gadgets that you'd like to attempt fixing, this is a great kit to have around so you can do it at home.
Over 2,100 Amazon customers left a review for this repair kit resulting in a solid rating of 4.5 out of 5 stars. Shipping is free on orders totaling $25 or more, or with an Amazon Prime membership. If you've never been a member before, consider starting a free 30-day trial today to score free two-day shipping with no order minimum, exclusive members-only discounts, and more.
We may earn a commission for purchases using our links. Learn more.