Technostalgia: A series about the Golden Age of mobile tech, told through a critical lens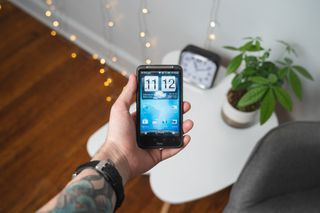 (Image credit: Hayato Huseman / Android Central)
I think it's safe to say that most people are finding comfort in nostalgia right now, in the looking back at times that felt less fraught and perhaps a bit simpler. The early days of mobile technology were not without their share of controversies, but it feels like we approached them with a more open mind — and heart.
It was with that openness in mind that we decided to start Technostalgia, a series about looking back at our favorite technology from the past decade or so. From the earliest Android smartphones to the strange whatever the heck this was of Google's nascent hardware division, we're free to examine that impact of that early technology because it feels safe from a distance. Android and Google are now much more mature brands and companies, and as they've evolved, our habits have changed with them. During the pandemic, I've spent most evenings doomscrolling through Twitter looking at the next terrible thing, but back in 2010, I remember staying up late into the evening rooting my Motorola Milestone or trying out the latest third-party Twitter app in hopes that it would offer something genuinely new and exciting.
Software has changed, too: we compared Android 4.4 to Android 10 and wow has Android flipped almost 180-degrees in terms of usability and aesthetics. It's hardly recognizable. It's even safe to admit that Android as we know it wasn't very good before 2017, at least according to opinion writer, Jerry Hildenbrand.
Our friends over at Windows Central and iMore did the same thing, reminiscing about the simpler days of Windows and the Golden Age of indie iPhone apps.
The Technostalgia series was actually inspired in part by our friend and colleague Michael Fisher, whose When Phones Were Fun series took a lighthearted approached to the gadgets he encountered in his formative years.
Here at Android Central, we had so much fun with the Technostalgia series that we're going to continue looking back at the early days of Google and Android in a new weekly column called Android of the Week. Expect the first post by the end of July, and every week thereafter. It's a humbling and rewarding experience getting to guide you through the strange nascent days of mobile technology, and we're extremely grateful that you've come along for the ride with us thus far.
If you want to catch up on some of the Technostalgia columns you may have missed, the retro-styled sidebar to your left (or above you if you're reading this on your phone) gives you quick links to every post from the series across Android Central, Windows Central, and iMore.
Hope you have a great weekend, and thanks again for your support.
— Daniel Bader, Android Central managing editor
Android Central Newsletter
Get instant access to breaking news, the hottest reviews, great deals and helpful tips
Daniel Bader was a former Android Central Editor-in-Chief and Executive Editor for iMore and Windows Central.
I miss my HTC Hero. Loved that and think it was my first taste of android.
I also really miss the HTC analog clock / weather widget. That thing was great.

HTC Sense it was called... It was actually what brought me over to Android from a Windows Mobile based phone - the HTC Touch Diamond, which I still have! It had "HTC TouchFlo 3D" which was ported to Android and ran so much better, that I got an HTC Hero on Sprint and never looked back.

Hopefully these articles are more accurate than the look back on the original Galaxy S from a couple weeks ago that said the phone came out in 2009 when it was actually 2010.

Verizon's marketing machine via licensing the DROID brand from Lucasfilm deserves an honorable mention. The T-Mobile G1 gets a lot of hype for being "first" but the onslaught from Verizon, Google, and Motorola garnered a lot of attention.
Android Central Newsletter
Get instant access to breaking news, the hottest reviews, great deals and helpful tips
Thank you for signing up to Android Central. You will receive a verification email shortly.
There was a problem. Please refresh the page and try again.