Teaser video shows off OGT Eros -- 'world's thinnest tablet' tablet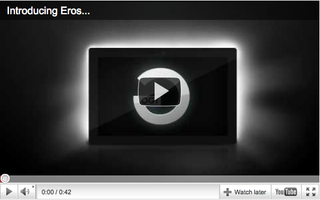 Youtube link for mobile viewing
Although we've caught a glimpse of the upcoming OGT Tablet -- now named Eros -- the mystery and specs surrounding this device were certainly enough to make us want another look at it. No, we don't have a full and complete hands-on with it for you all as of yet but -- OGT has posted up their teaser video just to double check our interest.
If you missed it the first time around, "the world's thinnest Android tablet" packs a 1GHz processor, microSD card slot along with front and rear facing cameras and a 188 ppi (pixels per inch) display. Needless to say -- we're still interested OGT but we'll need one soon to stay that way, the market is growing.
"Eros" is "sore" spelled backwards.

"Some call it something killer..."
"Some call it beyond magical..." Did some no-name company just call their tablet an iPad killer?

Wow, their website is even less informative than that ridiculous video.

It doesn't look that thin in the original video..

wow...I call it a waste of 42 seconds. Why even waste your time posting something like that???

This is by far the most useless video and news post I have ever seen.

Seriously, the "Eros"? Why don't they just call it "Hard Cock" or something? Jeez.

Wait....1GHz, dual core, right? Because 1GHz by itself probably wont survive long with what's already out....

I call that 42 seconds of my life I want back... -Suntan
Android Central Newsletter
Get the best of Android Central in in your inbox, every day!
Thank you for signing up to Android Central. You will receive a verification email shortly.
There was a problem. Please refresh the page and try again.