Talon for Android update bringing new icon, L-version themes and other enhancements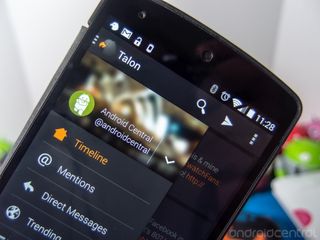 The popular Twitter app Talon will be getting an update today, bringing along some great new features and enhancements. The news comes from @TalonAndroid on Twitter which notes that version 2.6.2 will be landing on Google Play "within the hour". Along with a new icon and L-version themes, Talon will pick up some fixes and other enhancements as well.
Here's a breakdown of what's new in 2.6.2:
New Icon
New Talon L-version themes
Smoother
Some timeline jumping fixes
Auto-complete now works in the middle of a tweet
New default background image
Some login errors fixed
Translation updates
Talon is available in Google Play for $1.99 (opens in new tab). The update should hit soon, so check back often!
Source: Twitter
By day, Adam is a writer for multiple Future Publishing brands with over fifteen years of experience. He's expertly researched and written hundreds of articles ranging from mobile phones to mobile homes to baby mobiles. By night, he's a gadget geek, avid disc golfer, 80s nerd, cord cutter, cook, husband, dad, and memory collector.
Awesome! It's up! Hopefully EvolveSMS will soon get similar treatment! Posted via Android Central App

Did they ever fix the god awful slowness if you had a lot of messages? I liked Evolve, but that really killed it for me.

EvolveSMS just didn't work out for me because it can't send MMS when all other texting apps do it just fine. Posted via Android Central App

Yeah it took me like 10 minutes before I got them to work. I had to manually configure the APN settings. Still not sure if it can send GIFs like it should. Mad cause I paid the $1.29 for the add-on ability to do so Posted via Android Central App

Same here. And when I would mention it I was always told by the developer that it was user error and that I'm not going to follow his guidelines and send in a logcat that he didn't care. He would then proceed to delete posts that didn't follow his rules on G+. I understand wanting a log to try to figure it out but to expect the average consumer(which I don't consider myself so it's not like I couldn't do it) to do that is absurd. Posted via the Android Central App

Funny you mentioned that, because I just yesterday decided to givw Evolve another try after deleting it a few months ago. But no, it is still very VERY slow. One of my threads had over 26,000 messages dating to October 2013 (my fault, I know). But even a slimmed down, barebones app like Textra could handle it with no problem! I don't see why Evolve can't. Posted via Android Central App

I love the look of evolve,but now three times in the last week it sent continuous MMS replies to a recipient. I am persona non Grata and had to switch back to texted. Posted via Android Central App

Looks really nice. Can't wait for all apps to get the L treatment,

Digging their new icon. It's similar to the old one, but more with more color and personality. Nice.

I keep trying this app but I keep going away from it. Always just feels like a little too much going on with the UI with too many different kind of UI elements. Never 100% sure when I tap on something if it'll bring up a sliding panel,pop up, or slide to a different view.

That's exactly how I feel! Its a nice app but a little confusing to keep up with. Had to stick to Plume Posted via Android Central App

"I keep trying this app but I keep going away from it." <-- Exactly! I officially ditch the app, and opt for Fenix which is simpler.

I've used Talon for a while and I really like it. Update does appear to be smoother. I also tried evolve sms but mms never quite worked. I had people complaining of receiving duplicate texts from me while using it as well as mms not coming through. I'll try it again after it is updated. Posted via my LG G3

Possible stupid questions warning: Do you need to be on the L Dev, to get the L-Version theme, or will KitKat suffice?

I like this app after Falcon Pro Posted via LG G2

Just spent forever trying to find these new L themes... Perhaps the link is right in front of my nose somewhere, but for anyone else having problems: found a link in another site's coverage of this story... https://plus.google.com/u/0/+LukeKlinker/posts/imkvKo779KT ... There's direct links to the 2 theme's apk files in that post. Posted via the Android Central App

Fenix makes Talon look like a joke.
Android Central Newsletter
Get the best of Android Central in in your inbox, every day!
Thank you for signing up to Android Central. You will receive a verification email shortly.
There was a problem. Please refresh the page and try again.