Talk Mobile Carrier Week Recap: The best things you said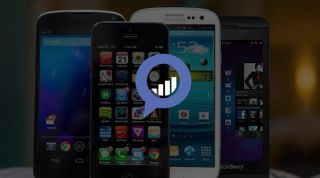 Presented by Blackberry
Talk Mobile Carriers
Talk Mobile Carriers WeekThe best things you said
Carriers can be the most expensive and frustrating parts of the mobile experience. They're responsible not just for routing our phone calls and data, but for many of us they sell us our devices and offer services. Are carriers the worst thing ever, a necessary evil, or not that bad?
1
20
26
Carriers
Articles navigation
Carrier Week Recap
Talk Mobile Carriers Week was one of our most contentious weeks of Talk Mobile yet, as carrier tend to be such a subject. We dove right in, tackling what carriers are doing right, what they're doing wrong, and how we can fix it all. Really it all boiled down to "give me the phones I want, don't make me pay too much for them, and give me my data free of encumbrances." Is that really too much to ask?
As always, your feedback is tremendously important to us and continues to help shape and refine Talk Mobile. Sure, we're in the home stretch for Talk Mobile 2013 at this point, but we still really want to hear what you think. To that point, there's a comments section at the bottom of this page for you to sound off. Tell us what's great, tell us what sucks - we want to hear it all!
From conception, Talk Mobile was about elevating the conversation. This isn't just the words that we bloggers put on the page, no, it's about you in the community too. We hoped and expected that Talk Mobile would be able to pull that off, but this Mobile Nations community stepped up beyond our expectations. Every time we recalibrate our expectations, you all blow them away.
We've picked out the best comments from the past week and have them presented below. If yours has been picked as a winning comment, keep an eye on your email, because we have some awesome prizes to send your way!
As in previous weeks, we've put together a quick survey to gather some quantifiable data about your thoughts and behaviors when it comes to carriers. And because we like you a lot, completing the survey will enter you for a chance to win a $100 gift card to Best Buy. Incentive? Bribe? Do you care? You can take the survey right here!
Talk Mobile 2013 Week Seven: Carriers
Day 1: Carriers: the lesser of all evils
Day 2: Why do carriers suck so much?
Day 3: Wherever, whenever: Why you can't just use any phone on any carrier
Day 4: Can we end carrier exclusives and bloatware?
Day 5: Net neutrality, VoLTE, and the future of carriers
Day One Winning Comment!
Day Two Winning Comment!
Day Three Winning Comment!
Day Four Winning Comment!
Day Five Winning Comment!
Conclusion and what's next
Carriers play an important role in our mobile ecosystem, one that's easy to overlook but yet impossible to ignore. If it weren't for carriers, we wouldn't have the smartphones to begin with. They provide us with phone calls, text messages, raw internet data, and much more.
But yet, the relationship between carrier and customer seems to be all too hostile at times. Carriers are understandably always looking to pad their bottom line, but all too often that seems to come at the expensive of a customer-friendly feature or interference with our devices.
We all want a future where we can get along nicely with carriers, not worrying about how our data is treated or if we're paying too much for roaming or what apps have been installed on our phones. But getting there won't be easy, because unless enough customers can make their case, those that do care to vocalize are going to be in so small of a minority that the carriers just won't care.
With carriers week done and closed, it's time to move on to week 8: mobile creativity. We're going to look at photography, video, recording, podcasting, and mobile business. It's going to be another exciting, fascinating, and informative week of Talk Mobile discussions!
Now it's your turn. We want to know: what did you think of Talk Mobile Carriers week? Tell us what you loved, what you hated, what you want to see more of, less of, and changed. Whatever you want - we're listening, because the floor is yours.
Be an expert in 5 minutes
Get the latest news from Android Central, your trusted companion in the world of Android