Taking a look at the iPhone SE vs. some of Android's best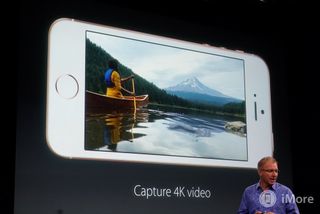 The iPhone SE is upon us. And if we're going to compare it to what's available in the Android world, we need to rethink things a little bit. This isn't the top-shelf iPhone. But neither is it a bargain basement deal. It packs good iPhone specs in a smaller body than the top dogs. But it also does so at a price point that makes sense for Apple — and might not make sense if we were looking at the same sort of thing in the Android world.
So let's take a look at the new iPhone SE specs alongside the iPhone 6S Plus (for high-end Apple context), as well as up against the Moto X Pure Edition, and the Nexus 6P. Why those two Android phones and not the newer Samsung Galaxy S7 or upcoming LG G5? Price, for one. The GS7 can be nearly twice the price of the iPhone SE (depending on which storage option you go for Samsung's latest). And we'll assume the LG G5 will come in closer to the high end than not. So the Moto X makes sense in that respect, as does the Nexus 6P. We're talking between $400 and $500 here. The Nexus 5X could well be compared, too, but we tend to recommend the Nexus 6P more than the smaller one.
It's not really an apples-to-apples comparison (sorry!) in specs in any event — the iPhone just does more with less than anyone else. And it's nearly impossible to find something that's worth buying in this sort of diminutive size. But this comparison should give you a pretty good idea of what's going down on the other side of nerdville.
More: What you need to know from Apple's March 2016 event!{.cta.large}
Category
Moto X Pure Edition
Nexus 6P
iPhone 6s Plus
iPhone SE
Operating System
Android 6.0
Android 6.0
iOS 9.3
iOS 9.3
Display
5.7-inch
2560x1440
IPS TFT LCD
5.7-inch
2560x1440
AMOLED
5.5-inch
1920x1080
LCD
4-inch
1136x640
LCD
Processor
Quad-core Snapdragon 808
Octa-core Snapdragon 810
Apple A9
Apple A9
Storage
16/32/64GB
32/64/128GB
16/64/128GB
16/64GB
Expandable
microSD
Up to 128GB
No
No
No
RAM
4GB
3GB
2GB
2GB
Rear Camera
21MP f/2.0
PDAF
12.3MP f/2.0
12MP f/2.2
OIS
12MP f/2.2
Front Camera
5MP f/2.0
8MP f/2.4
5MP f/2.2
1.2MP f/2.4
Connectivity
Wi-Fi 802.11ac
Bluetooth v4.1 LE
ANT+, USB 2.0, NFC
Wi-Fi 802.11ac
Bluetooth v4.2 LE
USB-C, NFC
Wi-Fi 802.11ac
Bluetooth v4.2
Wi-Fi 802.11ac
Bluetooth
Charging
micro-USB
Fast charging
Quick Charge 2.0
USB-C
Rapid charging
Lightning port
Lightning port
Battery
3000 mAh
3450 mAh
2750 mAh
n/a
Water resistance
Nano-coating
No
No
No | No
Security
Lock screen code
One-touch fingerprint sensor
One-touch fingerprint sensor
One-touch fingerprint sensor
Dimensions
153.9 x 76.2 x 6.1 to 11.06 mm
159.3 x 77.8 x 7.3 mm
158.2 x 77.9 x 7.3 mm
123.8 x 58.6 x 7.6 mm
Weight
179g
178g
192g
113g
Starting price
$399
$499
$749
$399
Read the Article wrong, here's my edit. :P

Phil, for the MXPE, it has 3gb ram & comes in 16/32/64GB of memory.

And the Snapdragon 808 is hexa core, not quad.

Things I heard today. "Revolutionary" "innovation" "so exciting" "worked so hard" LIKE COME ON. All parts are not new already. They are so committed to recycling that they are recycling the old parts into new phones... Posted via the Android Central App

Then again, listening to Sammy s CEO you d thing they reinvented the wheel too but at least many a Android OEM has some legitimate claims they re doing something new. Apple however knows like no other what resonates with the 90% of folks who don't know much about tech. Posted via the Android Central App

Yeah, but if your going to say things like that Apple could say "if it wasn't for iOS you'd all still be using Nokia's"

It does take a lot of hard work to polish old parts and make a shiny new +urd.

It's also hard to keep 100's of millions of customers happy, but they do it every year. Android does too, but seriously how hard can it be to please people that blame themselves when their phone goes into a boot loop, or lags or has memory bleed or has battery drain or can't perform a basic function? apple doesn't get to play the blame game (is it android? Maybe it's Verizon fault? No, no call Samsung and tell them about it! But what if it's Qualcomm? Oh wait it's the users fault...duh! You thought antennagate was bad... Can you Imagine if they had released some junk like lollipop?

Its only kind of trollish. There's a point in there.

Most android devices have none of those issues. Only ignorant, biased fangirls like yourself emphasize such nonsense

When you want to talk about numbers the ALL Android devices count. When you want to talk about quality then only the good phones count. I've been an Android user for years but I am no fanboy, there are still too many problems with Android and way too many crap devices out there that are released with alpha quality and never get updated.

Was an Android user for years! Brought a iPhone 6s on launch and all of a sudden I don't feel frustrated with the micro lags any more because they don't exist. Each to their own I never thought I would turn into an "iSheep" but now that I have I wont be going back to Android in the foreseeable future...

Let's be real for a sec: if/when Apple sells a metric butt-ton of these, it will (hopefully) spark a "me too" movement in Android OEMs to cash in on smaller phone buyers who have been left in the cold due everybody's fixation with phones that are basically giant razor blades which require bizarre tentacle fingers to comfortably use with one hand. The current logic with android devices is "small phones don't sell," but that's often because they either outright suck or have at least one major deal-breaker hardware spec that's unacceptably bad. The ripple effect of the SE could contribute to changing that.

That was my first thought as well. I hate current cell phone sizes, or the fact that if I want a small phone, I have to grab some old crap with outdated specs. I am actually even debating picking up the iPhone SE, so i have something small with a good camera when out and about. The above comparison makes no sense. The whole point of the iPhone SE is its SIZE. Add a few 4 inch Android phones to the list instead, and we'll see who wins.

Which is why I want the iPhone SE to succeed. I want these Android OEMs to take what they do with their 5" + flagships and do the same thing in the 4" range. Posted via the Android Central App on the Moto X Pure Edition

True this. My wife has been for way too long with a Samsung S4 mini because there is actually nothing worth to upgrade to.

Well, maybe it's because in the USA is hard to get (at least that's what I've heard), but the Compact variant of the Xperia Z series is a worthy upgrade (all of them are superior to the S4 mini). Even if you compare it to the 4" iPhone SE, the size is comparable and you get 0.6" more of screen state. You can compare sizes at Phone Arena (iPhone SE is not listed, but it shares the 5s dimensions). Trust me, I've also had a S4 mini, and upgraded to a Z3 Compact without hesitation. It's a little bigger but it's the smaller flagship you can get right now (Z5 adds a better camera and fingerprint sensor).

The wife has 3 requirements: Smallish phone, good/decent camera and dual sim. There are not Sony Zs with dual sim around here (Germany) as far as I know. There is the Sony M4 Dual sim but then I am not so sure it is worth the upgrade. P.S., You can actually find some imported Sony Zs dual sim phones but then you will have problems with guarantee if something goes wrong. Been there, done that, bitten by Samsung.

That's how you're supposed to talk about your products. Posted via the Android Central App on the Moto X Pure Edition

1.2mp front camera? My goodness. Posted via the Android Central App

Apple calls it "throw back" Posted via the Android Central App

A throwback is almost never a good thing in technology Posted on my Galaxy s5

Yet apple will sell this throw back device but the buckets... it's just sad lol Posted via the Android Central App

I doubt they will. Posted via the Android Central App

Sad? How? There are actually a LOT of people who hung onto their 4-5S because they preferred the styling of it over the new 6 series. Those people are going to buy this phone. This is actually a very smart business move for Apple.

I think they hung on to their phones because basically they are still great phones and satisfy most people's needs. If it does what you want why throw more money at a newer phone just to have the latest? Posted via the Android Central App

Of course that's part of it. But a lot of people think the design of those phones is much better.
I have an iPhone 6 in addition to my LG so I lurk on iPhone sites and this is what people say.

So is VR a bad thing then? Posted via the Android Central App

If your nintendo Posted via the Android Central App

Not bad, just a niche. Only people with a nerdy bent are going to put those things on their head.

My question is: why aren't you comparing it with the only Android phone that competes with it, namely the Z5 Compact? Posted via the Android Central App

Agreed, I know the title indicates against "Android's Best", but it would seem to make more sense to at least compare it against Android's small form factor phones. Small size the the whole reason the iPhone SE exists.

Because you need to take more than size into account.

And the Z5C checks everything the others you picked do, including the price... Posted via the Android Central App

Phil doesn't take criticism well. You should know that by now.

What the Z5C lacks is marketshare and mindshare. We weren't going to compare every phone here in any case.

You certainly aren't helping with the mindshare... should be educating people. Z5C IS the closest competitor. Rename the site Samsung Central and call it a day. Posted via the Android Central App

Yeah, not gonna apologize for covering the biggest phone in the Android ecosystem better than anyone else. But seriously, the new Xperia X phones are NICE. Can't wait for those to finally roll out.

and not come to the us and not sell and sony never sell them in the us again Posted from my Nexus 6/Nexus 7 2013/Surface Pro 3

Wow, maybe if you wouldn't praise lagwhiz all the time and actually cover GREAT phones, people would buy them instead of the crappy Samsung phones. Trust me, I know what I'm saying, I used to be a Samsung owner, now Im an Xperia owner and I'm NEVER going back. But then again, Sony probably doesn't buy coverage... :)

I dunno, the phone was released basically 100% because of its size. Everything else is the same as the other, larger models. Size does matter, in this instance. (ZING!)

Huh? Posted from my Nexus 6/Nexus 7 2013/Surface Pro 3

True, but you also need to take size into account.

Seems like a good phone for comparison's sake.

Been on Android since the original G1 but I think I'm going to switch sides for this - I just can't get a very good small phone on Android. I loved my Z3 Compact but it's STILL not even patched against Stagefright (and of course don't ask about Marshmallow), and the Z5 Compact ships without a fingerprint sensor if I want the American version with a warranty. Otherwise my options for a good small phone on Android are...nothing.

Be patient. Hopefully Android OEMs will follow with their own versions. Here's hoping anyway. For me, the Nexus 5 was/is the sweet spot. Posted via the Android Central App

Yeah, I hope so - read a rumor that a Galaxy S7 mini was being considered. To me the Nexus 5 was still much too big (actually for me it was the worst Android phone I've owned - terrible battery, poor camera, strongly disliked the size and feel - though I'm the only one who thinks that), so we'll see. We've reached the point where almost all of the Google services I use, from Music to Keep to Maps, etc, are available on the iPhone, so aside from Google Now integration (which I will hate to lose) I'm not sure it's going to be a difficult transition.

I use an iPhone/iPad + G3/Sony tablet every day and the transition is fine as long as I stick to universal cloud services like Google/etc. :)

Thanks, I appreciate that insight!

Yep. The S7 mini will be coming soon. It will probably have a crippled set of features like all the Galaxy minis before. Posted via the Android Central App

Go ahead, i dare u.... Posted via the Android Central App

Not going to jump but I hope the giant Android trend takes a break and manufacturers introduce some smaller more "pocketable" phones for us to choose from. Phil's cup holder is getting pretty lonely these days :)))

why does RAM say n/a? the iphone SE does not use RAM?

That's not a spec Apple gives up willingly.

Rumors are saying 1 GB, which matches the iPhone 6 and is less than the 6S.

If it were 2gb RAM, it would have been listed. N/A = 1gb IMO Posted via the Android Central App

I take it that the RAM is not known at this point for the SE.

It's a budget device. $499 gets you one whole gig of RAM. And a 1.2mp FFC for facetime grain. Duh /s What a steal. Posted via the Android Central App

Of course. But who actually buys a 16 gig in 2016? So it's actually $499 to be usable. Posted via the Android Central App

People that want to run out of memory in a couple months. Posted via the Samsung Galaxy Note 5 on the Sprint Network

It shoots 4k video. With 12 gigs of storage and no expansion. That should be good for several minutes ;) Posted via the Android Central App

People who only need 16GB. You are one of those "My requirements are everyone's requirements" guys.

no one only needs 16. after the OS your left with 10-12. thats not enough for apps, let alone music, video, pictures, etc...

Yup ios doesn't need ram. It runs on wishes and hopes. Posted via the Android Central App

It's also apparently why 'more android users than ever are moving to iOS'. They aren't really.

Just add "in the USA" to everything said in an AC article.

So if you want to compare the new smaller iPhone to and Android device why don't you compare it to smaller screen sizes like the 5X instead of the 6P. You missed the boat here.

I'd say most likely because the price ranges are so similar that it's hard not to compare these other phones. Not saying it makes a whole lot of sense to some, but it will to others who would like to be a bit wiser with their own money.

Would like a 4 inch phone. Probably 4.5 is ideal. Posted via the Android Central App

Apple doesn't make 32gb devices. You got a small typo. But we're all human. It happens lol Posted via the Android Central App

The iPad pro 12.9, iPhone 6 and iPad mini 2 beg to differ Posted via the Android Central App

there is no 32GB iPhone 6.

I'm excited for the iPhone SE because I hope it influences more small Android devices with high-end specs. Posted via the Android Central App on the Moto X Pure Edition

Where are the high end specs? Posted via the Android Central App

Pretty much matching the 6S. Posted via the Android Central App on the Moto X Pure Edition

Which isn't high end, except in price.

It's got a decent camera, a very good processor, decent screen, very good build quality - the RAM and screen resolution are low and batteries are small, but they still get good battery life and are decent at keeping up with most tasks and generally very good at presenting a fast UI. I'm pretty hardcore in the Nexus camp, but I think it's hard to deny that Apple makes a quality product that is well rounded, even if every spec isn't top of the line.

And in performance. Posted via the Android Central App

I agree with you. Lots of other people are saying specs are low end but that really isn't the case.
Great build quality.
Perfectly adequate ppi (higher than Z5/Z3 compacts)
high end processor
high end camera (this will easily be on par with any other $400 phone)
Fingerprint sensor I am not crazy about the rumored 1GB of ram but that is only speculation at this point.
16GB of starting storage isn't ideal but there are a lot of android phones that start at 16GB. Although many have up-gradable storage so I get why people aren't crazy about the storage. But an upgrade is an option. Up to this point, people, myself included, have considered the Z5 compact (and Z3 compact before it) to be the only flagship android phones in the sub 5" size range. This phone is pretty much better in every area and costs about the same or less. I really hope that this launch will create some competition in this space. It is long overdue.
In-case people say I am some kind of Apple Fan Boy, I have owned 18 phones since the fall of 2010. All but one were android phones (I used a 6+ for about 4 months). I freaking love android and personally prefer phones that are larger than 5" but my wife prefers phones in the sub 5" range and that segment has been all but dry for years.

Only thing is that base storage is still 16GB, which I still consider unacceptable. Other than that, the specs are pretty darn good. And people, stop judging processor performance using just core count and GHz. Processors don't work that way all the time. Instructions-per-clock also needs to be accounted for. It's probably the most important piece of processor performance you've never heard of. Intel's desktop processors and Apple's current 64-bit processors all focus on IPC performance over core count and GHz. Know the Exynos 8890 and Snapdragon 820? Those 2 also focus on IPC performance.

I agree, and $100 is a tough sell to 64GB when it is only a $400 phone and when 32GB would probably be enough of an upgrade for most. 25% is a lot to pay just for a bump in storage.
But even at $500, you won't get a phone with a better SoC or camera.

Yup. That's the only relevant spec that's lacking. But it's lacking across the entire iPhone line as well. Posted via the Android Central App on the Moto X Pure Edition

How is this phone "better in every area" than Z5/Z3 Compact? It has an inferior Sony camera, a smaller screen on a pretty much similar real size, no expandable storage, far worse battery life for sure and less RAM for sure. How come is "better" again? Geez.

Come on, at least throw the Z5 compact in there. Size is a big selling point with this iPhone, so putting it up against two 5.7 inch phones doesn't make sense

...but the reason the iPhone SE exists is to sell iPhones at lower price points, not necessarily because of size.

Price point, yes. More important in other markets (outside the US). But also Apple probably has data that shows people are holding on to the 5, 5C, and 5S because the 6 is too big for them. Either way, they want that chunk of 4-inch iPhone users on newer hardware to further but into the Apple ecosystem (like Apple Pay). Posted via the Android Central App on the Moto X Pure Edition

Except outside the US the price for the SE starts at I believe $550. Not really affordable unless you're in the US.

Comparing like sized Android phones to the iPhone SE, can be a separate article. This is not the last we'll hear about the iPhone SE, on AC. This is just the beginning. Reading the first paragraph, explained to me, what was being compared, so I had no reservations as why Phil chose these Android devices.
Maybe it would have made you feel more comfortable to have the heading use the word price, or somthing of that nature. "Take a look at the iPhone SE vs Android's best, at the same price point."
iphone 5, 5c and 5s users just might be licking there chops at a new 4 inch Apple device. I definitely think the 4 inch device market has given way to the bigger screens, but wallets talk louder than words, in this big money business.
It will be interesting to see how the market responds to this new 4 inch device.

+1. Well said! N6/9
Posted via the Android Central App

I like how for Water Resistant it has No | No for the SE...LMAO!

It's not like its that common of a feature yet. They could have just as easily used wireless charging yes/no as a criterion, and it would probably be more useful for anybody who never dropped their phone in a toilet or tried to take it into the shower with them.

LOL I Like how 9,000,000 other android device also aren't water resistant LMAO.... /s
Keep your phone out of water. I have Never had a water resistant phone. Guess how many got water damage... BIG FAT ZERO.

Apple listened to their customers... Can't be mad for that. It lacks the punches of the iPhone 6s, but the size of the ever popular 5s- are you serious? meanwhile making it more affordable for users who don't care about size and just want the apple product.

Recycling the 5s design and calling it innovative all while selling it at 499$ Yup they sure listened. Lol. Posted via the Android Central App

It lacks the punches? Actually, it has most of the specs of the 6s so this doesn't make sense. There are a few that aren't present, but that's about it really.

Still means there is a sizable rump of the Jobs crowd left at Apple who have some influence.

Good god the iPhone 6s + is so overpriced it's not even funny. Sheesh.

I had an iPhone 6s Plus before I got my S7 edge and I hated it. The only thing I liked about it was the amazing battery life.

The only issue I have with the 6s is that weights like 2KG

It's going to be the best 4inch phone you can buy state side for now. I'm not an apple person but for someone who's looking for a real high in small phone in the US I'd have to point them towards this Posted via the Android Central App

It's the only 4inch phone, it'll kill in China it'll kill with every white girl in the United States Posted via the Android Central App

Why only white girls? Posted via the Android Central App

Yep, it's difficult to find a phone on the smaller side with nice specs. Generally everything else sucks.

My next phone! lol Posted via the Android Central App

I know these are the best of Android, but the iPhone SE isn't the best of ios. I think a better comparison would have been the
1. Nexus 5X
2. Honor 5X
3. Sony Z5 Compact
4. Alcatel Idol 3 or 4S These just feel to be more in the same league as the iPhone SE Posted with my awesome Gold S6 Edge+

I think it's fine because the iphone 5se whatever the crap uses the 6s cpu/gpu and back camera. It's an ios flagship from 2015 shrunken down. So using top end Android priced around the same is only fair. Posted via the Android Central App

I get that. The perfect match in my opinion would be the Nexus 5X. About the same price point, 12MP camera on both, 808 vs A9 granted I'd rather take the A9. The 5X is still top tier Posted with my awesome Gold S6 Edge+

But it's not fair. The whole point of this phone is that it's small. It'd be fair to say, "There's no equivalent in the Android world."

this phone seems to threaten your fanboyism. you really have a lot to say about this phone.
you troll it because you can't wrap your head around a 4" $399 phone running circles around your current device in ever category other than selfies.

I'm thinking it's more of a bang for the buck comparison than going on size. Because 4-inches is very tiny even for me, and I am in the smaller phone camp (with small being 4.7 - 5.2)

IMO the Sony Z5 Compact is Androids direct competitor at this point, spec and price wise. Suppose to be the same price now: http://www.gsmarena.com/sony_xperia_z5_compact_gets_100_price_cut_in_us-... On a similar note, I really hope Android manufactures take note. I'm really sick of these huge 5.2"+ phones as of late. Perfect size would be 4.5"-4.7" IMO.

But you can only match the iPhone SE on bang-for-buck if you have something that's the same size. The purpose of the SE isn't to be cheap, it's to be small. Someone buying the SE isn't interested in a 5+" phone, so what value is this comparison?

Exactly. Apple was never about being price competitive. There really isn't a 4 inch android phone to compete with it Posted with my awesome Gold S6 Edge+

I'm really tempted to purchase it and use it for those times I don't need the large display of the 6P. Posted via the Android Central App

why not try the blu vivo air LTE? It's 4.8 and badass or maybe the one plus X which is beautiful, all much cheaper than this........you can get the blu for 139.00

The SE is on my radar because it works on my carrier (VZW), has most iPhone flagship specs, and will actually see software updates.

Nexus Posted via my glorious Nexus 6P

He said he's got a Nexus 6p already.

Yup. I even had the 5X alongside the 6P for a couple months, but I ended up selling it. The 5X was a nice size, but having two devices running the exact same software wasn't as exciting as I thought it would be. I'm no longer into rooting/modding my devices so installing a rom wasn't an option for me.

I would hardly say Snapdragon 410 is comparable in any way to the A9. Camera is also mediocre and I don't think a 2050 mAH battery is going to stand up like it would on iOS.
I am not saying it is a bad product but asking someone why they would choose the SE instead is just silly. Performance, battery life, and camera are just about the most important things for a modern smartphone. Taking a step down on all three is a serious change.

Didn't know much about the MXPE, if it was available here in SA it'd probably be a phone I'd think about purchasing Posted via the Android Central App

Can't help but think of Windows 98 SE when I hear this.

Lol my iPhone 5s back to new...I can sell 499.. Thank you---apple... Posted via the Android Central App

Lol sell it now for more! Call it pre-release beta Posted via the Android Central App

Moto X Pure Edition has 3 GB of RAM not 4 GB!

4 inches? Has it been designed specifically for Tiny Trump hands? Posted via the Android Central App

Bernie Clinton Posted via the Samsung Galaxy Note 5 on the Sprint Network

Trump has "Big, beautiful hands that are very powerful."

Haha! I said the same thing on social media "Finally! Apple designed a phone small enough for Donald Trump's tiny hands!".

Why and how is this useful? If you want to compare the new iPhone SE, compared it with the best android phones with 4" screen.

Can you even get a phone that small anymore? That's the size of a child's toy phone. It's tiny. Posted via the Android Central App

Please list those amazing 4" Android phones you have in your magical land.

I'm surprised after actually seeing the specs. The 2 articles I read before setting this article made it out like the iPhone SE had the same exact specs and features as the iPhone 6, but a smaller form factor with a much smaller price. I thought it sounded like an amazing deal. Now, after seeing the specs, or at least what we know of them so far, it puts the lower price tag in perspective. Still, $400 seems like a great price for a lot of people wanting a new iPhone. It reminds me of what Google & Nexus did with the Nexus 5x. Posted via the Android Central App

The 5x isn't really that small though, in the grand scheme of things. Its about as tall as a G3 but a bit narrower.

The battery on the crapple 6s was already pretty terrible, imagine on something even smaller with the same specs?!?! lol, I hope it is magical. Not even a 720p screen?? Im sure it will have some retina in it, making it better. lol

I like android and all but people like you give us a bad name.

Actually the battery is almost as large as the one in the 6S (only 73 mAh less), so with the much smaller screen it might get better battery life than the standard 6S.

I'd say the only competition is a compact xperia phone. Otherwise anything with decent specs in Android is much larger and a stupid comparison. The best thing about Apple doing this is most Android manufacturers tend to copy them so we will probably see smaller, high end phones in a year or two. I don't necessarily want a 4.0" phone but something with flagship specs in a 4.7-5" package would be ideal.

After try using s7ege for 14 days... I will not go back to iphone anytime soon....=) Posted via the Android Central App

So when will iphone customers start camping out for this? Posted via the Samsung Galaxy Note 5 on the Sprint Network

Who the hell wants a 4 in phone

My mother in law for one, who still uses a flip phone but would like a smaller form factor iPhone as her first smartphone. She can FaceTime with us and see her grandson, etc. This is perfect for someone like her. Note: I hate Apple products personally, but recognize there's a market and niche for this type of device. Is it the regulars on AC? Certainly not. But my mother in law isn't spending her time here. I'm sure many other mothers or fathers/in laws would be in the same boat. Or parents buying their kids their first iPhone they have to have and will ultimately destroy, etc. Or someone who needs a phone on each operating system, etc. There's a definite market for this device. N6/9
Posted via the Android Central App

It's so lame that Apple doesn't immediately release specs like battery size and ram
Still this could be a good option for a few who really dislike medium to large smartphones and wan't something small

They think they are above spec sheets. Nah. Consumers are smart these days. People wondered why safari was reloading all the time on their 6+. Yep, 1 gig of RAM which was promptly fixed in the 6s. Nice. Posted via the Android Central App

They sell an experience, not a spec sheet. Posted via the Android Central App on the Moto X Pure Edition

Specs likely don't matter to the general consumer. Posted via the Android Central App on the Moto X Pure Edition

Specs likely don't matter to the general consumer. Posted via the Android Central App on the Moto X Pure Edition

The fruit company is really running low on ideas if this what they have for a new phone. Posted via the Android Central App

Still annoyed that OEMs put 16GB into base models. I don't know anyone on Android or iOS who has been happy long-term with a device that had that little storage in any device from the last few years. That said, the 64GB version is priced pretty reasonably; for those who like smaller screens, like iOS, and you can accept that small front camera. I was surprised to see Apple labeling the SE a retina display - it looks like the display comes in just a bit under 300ppi; I thought Steve Jobs once defined retina display as a minimum of 300ppi for a device held at a typical distance as a smartphone ... although maybe their marketing department just decided "meh, close enough if we round it up".

Especially when it's all said and done with the os and u got like 8.8 gigs available. It's time to revolt Posted via the Android Central App

Hey, that's not fair! Apple gives you 5 WHOLE GB of free storage with iCloud too!
/s

I don't know if I could see a 4in. iPhone. My 5.7in. Note 4 is beginning to get small. Posted via Galaxy Note 4

Same here i cant understand people making it a great phone im sure after a couple of months all those android users that changed side for the SE wil magicaly come.back to their android phone like nothing happened I garantee it! Posted via the Android Central App

Long live the Note4! Posted via the Android Central App

So what is so special about this phone? Posted via the Android Central App

The camping out part is what makes it special. The phone itself, isn't. Posted via the Samsung Galaxy Note 5 on the Sprint Network

Nice Posted via the Android Central App

It's small and powerful. Some people still want their phones to be small, and Apple is happy to give them something good.

So they can get their glasses out to read the text? Posted via the Samsung Galaxy Note 5 on the Sprint Network

Don't forget there was a time when 4" was a big phone, and they were great. There are plenty of reasons why someone could want a small phone.

I don't know why people are ******* on the SE because it looks like the 5S. In my opinion, the 5S is the best-designed iPhone they've ever made. The 6 and now 6S is so slippery, I hope