T-Mobile now offers free roadside assistance with its SyncUp connected car solution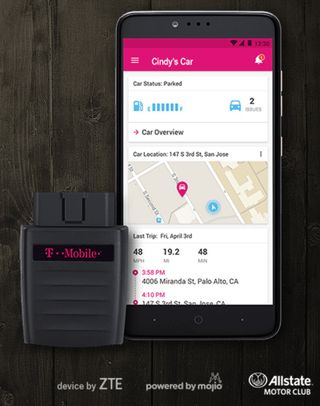 Last November, T-Mobile did what a lot of wireless carriers are doing: it got into the connected car game (opens in new tab). But it did so cautiously, launching a small tool called SyncUp Drive in partnership with ZTE and Mojio that plugs into the OBD-II port of any car made after 1996.
The idea is to not only give its connected users a way to monitor their car's health, but to provide a 4G LTE hotspot to passengers, along with other useful information. Multiple cars in a family can talk to one another to provide updates on whereabouts without having to text or make an unsafe call, while drivers also get a readout of potentially dangerous behavior and speeding alerts.
Now, T-Mobile says that after demand was double its initial forecasts, it is launching free roadside assistance with Allstate Motor Club (opens in new tab). Anyone who buys a SyncUp Drive and at least 2GB of data per month on a 2-year plan gets the roadside assistance included. T-Mobile says that the addition was the biggest request from existing customers. The SyncUp Drive product itself is also down to $48 from $150.
To receive free roadside assistance, existing customers just need to update the SyncUp Drive app (opens in new tab) in the Play Store.
Do you use SyncUp Drive? If so, how do you like it? Let us know in the comments!
See at T-Mobile (opens in new tab)
Daniel Bader was a former Android Central Editor-in-Chief and Executive Editor for iMore and Windows Central.
Good luck calling for roadside assistance with no service.

2008 called, it wants its T-Mobile gripe back.

Try not to break down in Virginia. https://photos.google.com/share/AF1QipNeu6w7nR2QWdmjvH1-jQi4RJWwfBlhUf6Y...

It's great where I live and travel. Never been to Virginia. Sorry.

Lmao, he shows a coverage map of the mountains in Va. Interstate 81, 64, 85 all have coverage, what's your point?

T-Mobile might cover 99% of Verizon customers, but at best T-Mobile covers about 80% of the same area.

Seriously. These false coverage comments are just getting old.

I provided a screen shot of their coverage map!

And I'm sure that if you actually looked closely at the spots where T-Mo doesn't have coverage, they'd be places that absolutely nobody lives. T-Mo has near spotless service most everywhere I've driven, especially on major highways and freeways, which is probably when you'd need this service. If you live in nowhere rural Alabama, then you probably already have another provider.

Wkm, TMobile collects data from the users phones to make the map. Feel smart now ?

I don't understand your point?

Yeah and the screenshot clearly shows coverage on all the interstates. Majority of the blacked out areas are in the mountains. Are you a hillbilly by chance?

Go to T-Mobile's website in this same area, click the Verizon button and watch all these areas fill up with coverage.

Yeah in my six months with sterling T-Mobile reception, having service to call roadside assistance was a crap shoot. But if you have good service where you live, it's a pretty novel idea.

T mobile should pay me for being a Hot Spot in traffic..... JMHO

Here in the Upper Peninsula of Michigan , you would be SOL. You can't even buy T-Mobile service up here.

Good to know, since I'll be visiting there for the first time in a month or two.

So those people who got the free third line can use this absolutely free. Great deal.
Android Central Newsletter
Get the best of Android Central in in your inbox, every day!
Thank you for signing up to Android Central. You will receive a verification email shortly.
There was a problem. Please refresh the page and try again.