T-Mobile introduces the HTC One S live from New York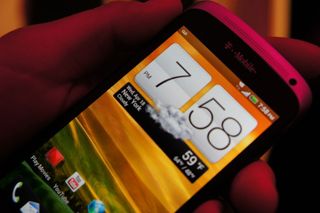 T-Mobile threw a little get-together high above New York's Meatpacking district tonight, and we were there to catch a glimpse at the star of the show: the HTC One S. The carrier was celebrating the launch of its cut of the One line, the 4.3-inch mid-leveler packing the same dual-core S4 processor and 8 MP camera as its big brother, the One X. We've already put the S though its paces these past few weeks, but we couldn't help fawning over it again tonight. While the screen isn't top of the line, the size, Sense 4.0+ Ice Cream Sandwich, and camera have us downright smitten. And while the S was the guest of honor, T-Mobile included some other goodies for its guests, including a look at its new ad campaign (yes, Carly was there) and a live performance from Dale Earnhardt Jr. Jr.
You can check out our hands-on with T-Mobile's HTC One S here. It'll be available next week, April 25, for $199 on contract. Hit the break for some shots from tonight's gathering.
Why does this carrier always get the crappier version of any phone while their competition get the better version?

I was thinking the same thing. Why would they not choose/get the high end phone?

You call it crappy but that's subjective based on each person. Personally, I think its great. I am going to purchase one off contract. But I suspect which carrier gets what phone is is based off who will pay what price for exclusivity for a certain time? I don't really know that was a wild guess.

Its the new phone pricing that they use. The good phones cost way too much since Tmobile make you pay full retail for your phone over the remainder of your contract. No subsidies with Tmobile.!

It is just not right. T-Mobile always gets stuck with aeconds.

how is this phone priced the same as the X?

Maybe because this is aluminum vs plastic (polycarbonate) on the one X.

I was thinking the same thing. At this point, I still want the galaxy nexus.

Can someone please help me understand what us son superior about Qualcomms S4 compared to Nvidia's Tegra 3? One is quad-core, one is dual-core, but I've heard some saying the S4 is better,...WHY???

s4 is based on brand new arm cortex a15... tegra 3 is based on older cortex a9.

Things like larger cache, faster cache, out of order execution, speculative execution, new instructions that operate on larger memory words, storing instructions in less memory.... If that doesn't mean anything to you you'll just have to have faith and believe. You could google arm 15 for some articles such as https://en.wikipedia.org/wiki/ARM_Cortex-A15_MPCore , http://www.arm.com/products/processors/cortex-a/cortex-a15.php , and http://www.wired.com/cloudline/2011/10/meet-arms-cortex-a15-the-future-o... It's like the improvement going from a 80286 to a 80386 to 80486 to Pentium to ... to I5 sandybridge Intel processors. It's basically the same architecture and instruction set but vastly improved performance.
A single I5 is probably faster than 50 80286's.

OK thx! So what about A15 architecture is so great? Other than that's the newest? Please be specific.

S4 is uses a 28 nanometer (or is it 22 nanometers? I can't remember) design as opposed to A9's 40 nanometers. This allows for a more power efficient, yet speedier processor.

And this is why I have a Galaxy Nexus instead of a t-mobile phone. out of all the carriers??? T-Mobile YOU SHOULD HAVE THE ONE-X. You can use a damn tegra 3 on your network (No LTE). You could have gotten the same version as the international (more or less). Lets see what your loyal customers get compared to the other guys. NO LTE
No exclusive phones to brag about
The b-list of phones Lumia 710 versus the 900, Htc One S vs One X
Motorola doesn't want to touch you
Apple doesn't want to be seen near you
High chance of being non existent in 2-3 years Its slowly becoming the big 3 not 4

Here is what I don't Understand: How is this phone the same price as the Evo LTE or One X? The One X is bigger with noticeably better screen technology. The Evo LTE bests the One X by having a bigger battery, an SD card slot (in addition to its 16 GB internal storage) dedicated camera button and a kickstand, while managing to be the same size and thickness as the One X. Yet, they are all the same price.. Maybe T-Mobile is the smart one here. They could be making a bigger profit by having the One S. I'd bet that they reasoned that the average consumer would not be able to tell the difference between the One X and One S and assume that they were the same phone, thereby, charging the same price as AT&T. The Evo is a different beast. It has a reputation to keep, which is being the best phone out there when its released.

That was one of many reason why i left T-mobile.

Well, I have T-mobile.. unlimited talk & texts and 4GB of data for $59.99.... no other company will ever beat that. Their network might not be LTE but I`ve graced the 30 Mbps marks when I had the Amaze 4G. The only reason why I`m dissapointed is because I wanted a 720p phone and T-Mobile will not have one for at least 5 or 6 more months so..... I ditched the Amaze 4G and Enter the Galaxy nexus.... a little slower speeds because the G-Nex has a cap of 21 mbps on the data, but I`m glad to trade that off for a 720p screen and Ice Cream Sandwich.... I`m in love with my phone and I`m in love with my monthly bill. :)

That is a great plan, I have unlimited Talk & Text with 5 GB of data before they start to throttle for 79.99. I thought I had a great deal. I also get ass kicking speeds and it's tough to let that go.

It only T-Mobile didn't have to use AWS bands for their HSPA+ data .

NO MEMORY MEANS NO BUY. How the heck can HTC make a modern phone without enough memory. No sd-card, small battery, come on T-Mobile why do you keep pushing out the 2nd rate phones. If T-Mobile didn't push out 14 mb down in my area I would send them packing. I have a great plan with ridiculous fast speeds but they constantly supply their customers with 2nd rate garbage. Even their Samsung GS2 was the worst model of them all. I ended up getting that phone.
I also have a contract with Verizon, keeps my sanity. I am tempted to switch to AT&T and get the Note with LTE in my area.
T-Mobile just has ass kicking speeds in my area. It is very hard to let that go. Please get better phones. Maybe the Samsung GS3??????? Sorry for ranting, sore subject being a phone geek.

More than likely the One S was designed for T-Mobile. IRC the Galaxy SII for T-Mobile was equipped with Snapdragon S3 rather than Exynos, because the baseband can use T-Mobile's network to it's full capacity @ 42mpbs versus the Exynos could only use up 21mpbs. So while the One S gives up Tegra 3 & MicroSD, you get the nice Aluminum casing, a better form factor in my opinion, and (potentially) full access to the T-Mobile "4G" network.
Android Central Newsletter
Thank you for signing up to Android Central. You will receive a verification email shortly.
There was a problem. Please refresh the page and try again.