SwiftKey gets faster and leaner with latest update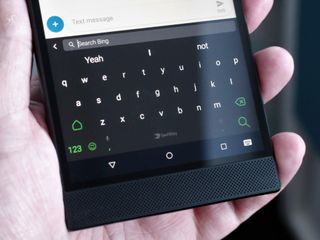 If SwiftKey is your keyboard of choice, you may notice the app is a little faster after its latest update. The Microsoft-owned keyboard has received a substantial speed boost, making it "on average 20 percent faster loading" than its closest competitor, the SwiftKey team claims. Further, SwiftKey says it has reduced lag by more than 50 percent in its internal testing.
Here's a full rundown of the improvements SwiftKey has made in its latest update:
SwiftKey is on average 20% faster loading than our closest competitor across a range of devices, and as much as twice as fast on first load after a phone restart
SwiftKey has the smallest app install size on fresh install – without sacrificing features or functionality – on some devices this is as much as half the size
Internal testing shows improved frame rendering, reducing lag by over 50%, even on older phones
SwiftKey says that it arrived at its speed claims after testing its keyboard versus GBoard 7.6.13, Baidu 8.2.1, and TouchPal 6.9.1 on a variety of Android devices. All keyboards were set to English US for the language, but the team claims it has seen similar performance improvements with other languages.
Your mileage may vary in terms of pure speed, but the main takeaway is that SwiftKey should generally be faster and smaller, particularly with fresh installs. If you want to give it a shot for yourself, you can grab SwiftKey from Google Play now.
See at Google Play (opens in new tab)
Personally the best and smartest keyboard I've used.

Have been using SwiftKey for years ans love it. But the latest update still hasn't fixed the Pie sizing problem.:(

I see no difference than before. Still great though.

It's long been my keyboard... But c'mon... 20% faster on tiny fractions of a second is progress, but it's tiny... And it's not so say the previous version was slow.

At least Swiftkey has figured out how too add a clipboard, unlike GBoard.

Can I change the search bar to use Google Search?

I wish there was a hot key for different languages, at least similar to the long tap of the side bar on gboard.

I've been using Swiftkey neural, which looks like it's been abandoned- should I be switching?

I've been using Gboard for the past two years, but I'll give SwiftKey another try and see if the lag has improved.

It might be a bit faster, doesn't seem like it to me. But the prediction is still abysmal (many of its "suggestions" are insanely incongruous) and have been since Microsoft bought it and started "improving" it. But, oddly, they put it on their Windows 10 Mobile and it was incredibly accurate.
Android Central Newsletter
Get the best of Android Central in in your inbox, every day!
Thank you for signing up to Android Central. You will receive a verification email shortly.
There was a problem. Please refresh the page and try again.