SwiftKey Flow brings trace input to leading Android keyboard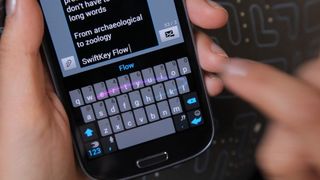 SwiftKey has announced a brand new version of its popular keyboard app for Android, dubbed SwiftKey Flow. Launching "soon," SwiftKey Flow will bring continuous input -- similar to what's found in Swype and others -- to SwiftKey, while retaining the personalized prediction tech for which it's is best known.
An evolution of the intelligent prediction software used in SwiftKey 3 powers the flow-based input, meaning it's sensitive to context, as well as individual typing styles. SwiftKey Flow will also allow users to switch between the two input modes on the fly depending on their preference, or how many hands they have free.
Android Central had the chance to demo SwiftKey Flow recently, and we were impressed with the speed and accuracy of its new trace input features. We noticed that the keyboard analyzes the pattern your finger takes in real time, rather than waiting until the pattern is complete, allowing predictions to be built up on the fly. Overall, it's an incredibly speedy typing experience.
The SwiftKey Flow beta test will begin "within weeks" for those registered on SwiftKey's VIP community site (opens in new tab), ahead of an eventual launch on Google Play.
Check out the demo video above. We've got today's full press release after the break.
SwiftKey Flow brings gesture input to Android's best selling keyboard
(Oct 25 2012) London, UK—The team behind Android's best-selling keyboard today unveils SwiftKey Flow, a new typing approach that combines the mind-reading capabilities of SwiftKey's engine with the ability to glide your finger across a phone's screen to type words.
The new app harnesses the unrivalled predictive power of SwiftKey to give a completely new take on continuous input, offering real-time prediction as a user begins to 'flow' a word on the keys. This allows the word to be inputted by simply letting go of the screen as soon as the word is predicted, saving valuable time and effort. The user is also able to select relevant next-word predictions based on SwiftKey's knowledge of their writing habits.
SwiftKey Flow has been engineered to simultaneously support both the traditional multi-touch tapping style as well as gliding. This empowers the user to seamlessly switch between the two modes as they please, 'flowing' a quick text if they only have one hand free, or tapping out a longer note with both hands at speed. Add the fact that SwiftKey constantly predicts the next word in a sentence and the user may not even have to tap or flow at all for some words.
A video of SwiftKey Flow in action is available on the SwiftKey blog, and the app's team plan to start beta testing it with their VIP community within weeks. Anyone wishing to take part is encouraged to sign up at http://vip.swiftkey.net/.
SwiftKey CEO Jon Reynolds said: "We know our users have different tastes and habits - this way they'll get to choose what style of writing suits them best without compromising the power of the predictions. We've been hard at work on SwiftKey Flow over the last year and it's great to finally be able to give you a sneak peek. I'm confident our users will be blown away once they get their hands on it."
SwiftKey Flow is the latest innovation from the London-based company, which recently celebrated hitting 10 million downloads of its original SwiftKey app. A No.1 bestselling app on Google Play in 30 countries, SwiftKey is available in 44 languages and counting.
Using cutting-edge artificial intelligence, SwiftKey Flow learns as it is used to build a personalised prediction profile specific to each user. This can be improved by giving the keyboard access to a user's SMS, email, Facebook and Twitter archives. When writing a text, email or tweet, the profile is used to correct typos in context, predict a word as it is being traced, or suggest the most likely next word in a sentence. SwiftKey correctly predicts 30% of next words before any characters are entered, and 84% of next words are correctly predicted after just two characters. The engine is so powerful, it is capable of predicting in up to three languages at once.
In the last year, SwiftKey won a people's voice Webby Award for mobile experimentation and innovation, most innovative app at the GSMA awards at Mobile World Congress and also best startup at the Guardian Digital Innovation awards. Its bespoke product for clinicians using touchscreens, SwiftKey Healthcare, recently won the best enterprise Appster at the Apps World conference.
Android Central Newsletter
Get instant access to breaking news, the hottest reviews, great deals and helpful tips
Alex was with Android Central for over a decade, producing written and video content for the site, and served as global Executive Editor from 2016 to 2022.
After the most recent swype update, I think I'll try this out.

Will this be a separate App to be purchased? or included in the current swiftkey app that i already bought.

I would, unfortunately, assume that its another app. I had no issue paying 3.99 for Swiftkey 3, but I don't feel the same about buying a second Swiftkey app.

so then dont!! Why do you expect developers to put work into an app and then give it away for free. Do you work for free????

kb2755 says: "...I had no issue paying 3.99 for Swiftkey 3" I just don't want to pay twice for very similar apps. I take the same issue with the whole Angry Birds collection. But as Alex has responded, it is the same app in an update (what I was hoping for). Carry on being ignorant elsewhere.

If it's anything like the update to Swiftkey 3, your actual Swiftkey 3 app will not update. Instead, you will need to find flow in the play store. It will just show as purchased.

Awesome. I've had nothing but good experiences with SwiftKey support, and adding it to the app you've already purchased goes even a step further. I love SwiftKey, and this is a great addition.

great news alex woot woot.

Am I the only one who's had trouble seeing the benefits of SwiftKey over the basic Android keyboard? Out of the two, I liked Android's default keyboard better. Looks nicer, and it does a good job of guessing words, etc. That said, when I tried Swype, I fell in love with that, so maybe when this version comes out, I'll give it a shot. P.S. Nice tune in the video. Wub wub wub wub...

Yup, rocking beat. That is all. :)

Yes, you're the only one. Actually it's because you failed to use SwiftKey long enough for it to learn your language style. SwiftKey isn't about the typing. It's about entire word predictions before you even type the first character. You have to train it, and after a week or two it knows what words you will type next before you do. Then you just pick entry words from the suggestions.

Unless you write similar texts or tweets often, this isn't going to work for many people. Swiftkey's predictions are great, but you can't always rely on them to be perfect if you use your phone for more than responding to texts in the same way.

I find the algorithm for selecting the next word to be very smart, even when I've never typed the same thing before. For example, if you type "Morgan" the predictions for the next word are "Stanley" and "Freeman". I know that I've never typed either of those words before.

I've actually had fun with Swiftkey where I type a random word, and then just keep hitting the next suggested word for a while and see what you get.

Never thought about trying that.
Let's see how it goes; I'll start with 'Dog' - random word that I don't use that much. Dog Breeds starting with the best way to get the best way to get the best way to get I seem to have unending loop. I guess I use the works: best, way, to, get, a lot.
Take two starting with 'Community'. Community College, and I have the ram with me. This is going to be my new time-killer; to hell with games.

>"Am I the only one who's had trouble seeing the benefits of SwiftKey over the basic Android keyboard?" Yes. I've been using SwiftKey since the original beta for the first version (which entitled me to buy it for a buck and I've gotten every update since) and it just keeps getting better and better with it's core psychic word prediction leading the way. I tried Swype a couple of times and after about 30 minutes, I always switched back. The novelty of dragging your finger around wears off quickly when you realize and time savings you may have had get erased when Swype believes it knows what word you want (instead of putting up a pick list) and you have to keep reentering that one word over and over. It's also best on smaller-screened phones.

The default Android keyboard has come a long way.

This works great for me because I have friends with Russian, Indian and other long names. This predicts those names with correct spelling 99% of the time. I wish that it has a custom shortcut/dictionary like BlackBerries.

Check out "Multi-ling keyboard" , you can add 3478238 languages and also it has the Blackberry ability to add custom shortcuts, so type "lu" and turns into "I love you", or whatever the hell you want.

I felt the same way until SwiftKey 3 was released, this version they far exceeded the stock Android as far as the auto correct and predictive text. Personally I preferred swiping over typing but constantly switch between the two. However with SwiftKey flow it's the best of both worlds.

if they make this a part of swiftkey without the option of being able to turn it off, Im going back to stock or adaptxt....swype is the most overrated android app evahhh

I'm so sick and tired of the Swype "beta" BS and the BS to get it installed. I do however really like swype so I'm hoping this is a worthy alternative!

Meh. The whole point of SwiftKey is to NOT type anything, and instead simply pick words from the list of selections it offers by understanding your writing style. People who use Swype spend all their time planning their finger movements such that reaching for the selection list actually slows them down. Swype users don't select suggested word very often. Some never do. I just don't think the two typing styles work well with each other. There is a fundamentally different though process going on with Swype users than with list pickers.

Alternatively, it could be a good idea as a way to convert swype users.
I myself am a swype user, and having heard of SwiftKey, decided not to go for it simply because I dreaded having to go back to a non-swype keyboard whilst it learned my style. The ability to continue swype-ing, whilst SwiftKey learns my writing style, then once it has learned my style, wean myself off swype and towards the predictions, would be a big selling point to me and i would assume, other swype users.

Right there with you. Couldn't have said it better.

You nailed it! Been using Swype for years so going back to tap tap tap on the keyboard is really tough. When the GNEX came out I was lost until someone got us a hacked copy of swype to install and use. The beta releases have been getting better lately so we will see. I will check SwiftKey Flow out just to see how it compares.

If they could get custom layout and a portrait layout like Thumbkey keyboard, that would be awesome!

Try SwiftKey Tablet. Seperate app, but it has various landscape layouts, including a couple of different split keyboards

I will be trying this out. I loved the predictive accuracy of Swiftkey but I found myself trying to swipe my finger whenever I used the program (which produced bizarre results). I spent some time learning how to Swype and now I cannot reprogram my brain back to clicking on each key. Swype really needs to step up their game now as even the default keyboard on my S3 had a swipe ability.

This is what I've been asking for a year ago! Swype capabilities with Swiftkey predictions! I can't wait for this!

Have you tried TouchPal? It does all of this, and you can customize it, and best of all IT'S FREE. I paid for SwiftKey 3, I've tried it a bunch of times but I always go back to TouchPal. Plus, the voice input is spot on as well.

I would be interested in trying out the beta, as I dont desire to root my device so that I can delete the Sprint watered-down version of Swype that they installed.

This might be the best of two worlds... SwiftKey and Swype.

Well Swype does have predicitive capabilities. But I agree, I am excited about this.

Please say it has that neon trace when you swype?!?!

This is awesome! I've been a beta tester for SwiftKey since it came out and I've suggested this feature many times. I'm always trying new keyboards and getting in on beta programs, but I always come back to SwiftKey after a few days. The latest Swype beta was the best version they've had so far, but the predictions in SwiftKey just can't be beat. Their customer support is top notch as well.

Am I the only one who got a little giddy when they started showing off the swiping with real-time predictions? So glad that AndroidCentral posted the story a few months ago with info to sign up for Swiftkey VIP. Thanks guys!

I signed up for the beta. Can't wait to try it out.

Does anyone else have problems with SwiftKey on their Asus TF tablets? When I have it attached to the dock it still puts the text prediction at the bottom of the screen. Thumb Keyboard gets it right and only shows that when using the tablet undocked. Why can't SwiftKey?

I am entirely way too giddy about this upcoming feature - even MORE excited than the Jelly Bean update for my Galaxy S III, probably because I have an idea of when this beta will be coming. :P This is a huge blow to Swype, however. Especially with the live predictions showing up as you are tracing. Amazing!

Interesting that last week Swype releases their latest beta which includes themes, that in my opinion was the only thing they were lacking. Now Swiftkey fires back with an upcoming version including swiping. Due to Swiftkey already having themes, and the top predictive ability, adding swiping could just put them ahead to stay. This is personally my favorite genre of smartphone apps. I say that because the keyboard is generally the function one will use the most on their smartphone.

Swiftkey 3 is a great keyboard (so much better than the stock keyboard). Swype Beta is even better (for me). So the combination of a swiping Swiftkey looks awesome!

Tell you what, if the incorporate google's voice translation (or have the option to) on the voice operation of the keyboard - I'd pay $50 for this app. I love swype, and I really liked swiftkey's prediction (although swype has proven to be much faster), so the combo will be a fantastic blend of both inputs...awesome. The stock GS3 keyboard had the same idea (swype + prediction) - but unfortunately sucked. It did, however, incorporate google's voice input, with continuous speaking/translation allowed. I get the feeling with the release of google glass people will finally be paying a lot more attention to voice operation. Alex, did you try the voice input? Was it the stock google mic or another version like Swype's Dragon?

Stock trial Swiftkey has google voice input....god I really hope they don't bring this out for $50! I might have to eat my words! On another note...I'm secretly so pumped that Apple users won't get this! I'm guessing it's going to be a pretty big game changer!

http://www.swiftkey.net/flow/ register here.... I didn't read everyone's post to see if the link had been posted, just did! Hope it helps

That Neon tracer is SICK!

As much as I'm excited for this I'm not signing up for the beta. I got went from SwiftKey X to SwiftKey 3 Beta to SwiftKey 3. It all that app switching SwiftKey forgot everything about my typing that it had learned. I had to start over. :( I just (im)patiently wait for the update.

Interesting; I've been using Swype for a long time and I tried the demo of SwiftKey 3 a while ago and didn't like it. I got too used to sliding my finger across the keyboard. I will at least check out the demo of SwiftKey flow to see how it works and compares to Swype.

I know a lot of people that like the Swiftkey prediction but can't leave their ability to swipe across the keyboard...Looking forward to this update.

I simply can't use phone/tablet keyboards that require me to peck out letters. Predictive or not, the pecking fingers annoy the hell out of me, so I've been using Swype. This will at least get me to go back and check Swiftkey out again...

I hope this is great. I've been using Swype for a couple years now and love it, I've bought and messed with Swiftkey as well and love it's good predictions. If I can get both in one app, then I'm in.

This....yes please. However, dear Swiftkey. I love your product, but as I have posted in your support forums, please fix your wakelock issues on my Dinc2. (Yes I've uninstalled, reinstalled, wiped, blah blah, posted in their support forum...). Darn thing sitting overnight logs about 300+ wake locks and decimates my battery. I love the keyboard, and this would be even better, but for now I have to keep it disabled :-(

I tried registering for swype beta but it tells me my email is invalid. SwiftKey FTW! I can't wait to get my email containing my SwiftKey Flow Beta apk!

ICS stock keyboard has swipe (trace) option... I've been getting by with it but it's not the best. Can't with for this to land!

Thank god it's not a new app because I already bought the phone and tablet app. I am certainly not going to buy another one.

that traced effect is good enough a reason to buy swiftkey. like the wand of some cool magician. too bad it looks real fake and probably not appear in the actual app. just a marketing technique.

I have used a multitude of keyboards over the years (SwiftKey, Swype, etc.) and SwiftKey is actually my favorite. Now you are telling me that it has all the benefits of SwiftKey and the tracing of Swype? Someone's chocolate in their peanut butter!
Android Central Newsletter
Get instant access to breaking news, the hottest reviews, great deals and helpful tips
Thank you for signing up to Android Central. You will receive a verification email shortly.
There was a problem. Please refresh the page and try again.