Starbucks refreshes its app for its new Rewards program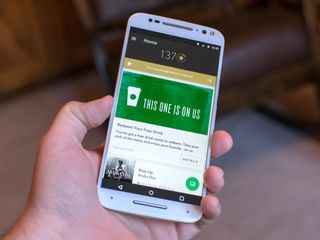 With the latest update to the Starbucks app, the company has paved the way for its revamped Starbucks Rewards program. The app now includes a new dashboard that gathers your stars, rewards, offers, and more.
The latest update to the Starbucks app features the following.
A brand new dashboard where you see your stars, rewards, offers, music and more, all in one place.
Star Balance – keep track of the number of Stars you've earned and how many you need until your next Star Reward.
Redeem offers – now you can redeem offers (like earned free drinks and food!) with your mobile order.
Improved mobile ordering experience for VoiceOver users.
You can grab the latest update for the Starbucks app from the Google Play Store (opens in new tab) now.
Woohoo! This new system will be great for me. I think I figured it out once that if your average order is over $5.00, then the new system is better, otherwise, you'll hate it. (The new system is 2 stars per dollar spent, rather than 1 star per visit. -- 300 stars for gold, 125 stars for reward.) My spouse and I average over $8.00 each time we go, so instead of a reward every 12 trips, it'll be after 8 now. My only negative is that I'm not thrilled about the dashboard. Still, the ability to use rewards when ordering through the app (omg, finally!) makes up for that.

The biggest plus is the rewards through app. I work for Starbucks and that's the biggest feedback we have been giving them to add to the app for what seems like ages now. During the training for the new app they didn't even tell us that functionality was added we actually found out to when we opened that it was added.

I average $2.00 per transaction so boo for me. :( Posted from my S7e/Note 4/iPad Pro

I'm not sure what I think of the new rewards plan. Seems like they want you to spend more to get the same or less Posted via the Android Central App

Yeah, that's probably a fair statement. However, it does fix one issue with the old reward system. That is, you used to get the same benefit for buying a short coffee as you did for buying 12 venti cappucinos and 12 food items (at once). A visit was a visit. Now, you get rewards based on how much you spend, rather than how often you visit. As I said earlier, if you tend to spend less than $5.00 per visit, it definitely sucks for you, and you'll hate the new system; but if you tend to spend more than $5.00 per visit, it's fantastic. One thing to keep in mind though... they've stated that they plan to have monthly "double star" days, so if you're the <$5/visit kind of person, you definitely want to try to take advantage of those.

Eh, the old system was actually useful. If the free upgrade to gold is true, then I will get there this year. Otherwise I probably wouldn't hit gold for 2 years Posted via the Android Central App

And for folks who aren't gold...there is an April promo that boosts you to gold after using the app once or paying with a a registered gift card. Posted via the Android Central App

Guess I will have to grab a coffee this Friday Posted via the Android Central App

yeah i saw that. if you're going to give gold status away to everyone, then 1. don't make a big deal about me having it. ever. and 2. why the hell is there even a green status?

Cafe bustello ftw. Everything else is irrelevant Posted via the Android Central App

would be awesome if I could just sign in :) I am hoping it is just a little blip until everything is worked out

After not being able to sign in for a couple days, was able to sign in this morning after the update.

The tip function seems to have disappeared from my update. And history is blank. At least recents is still in tack.

Haven't been able to use this app for years, always get a system error has occurred when trying to sign in. Dealt with customer service, they are unhelpful. Thank god my Dunkin app works. Posted via the Android Central App
Android Central Newsletter
Get the best of Android Central in in your inbox, every day!
Thank you for signing up to Android Central. You will receive a verification email shortly.
There was a problem. Please refresh the page and try again.