Sprint and LG are working together to make the first 5G phone in the U.S.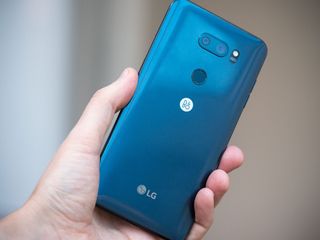 Motorola may have already shown off a 5G Moto Mod for its new Moto Z3, but that accessory isn't due to be released until early 2019 — and even then, it's just an add-on that attaches to the back of your phone. Another device to purchase, another device to keep charged, and another device to carry with you at all times.
For 5G to really start taking off, we're going to need to start seeing phones with integrated 5G radios built directly in, and LG is teaming up with Sprint to make that happen.
Unfortunately, neither company has given much info on the phone; we don't know whether to expect the LG G8 to be 5G-capable or if this is a different phone entirely, but either way the companies are looking to ship this 5G phone in the first half of 2019.
Sprint says its 5G-capable Massive MIMO cell sites can deliver up to 10 times the capacity of its existing LTE systems — at first, it'll roll out in Atlanta, Chicago, Dallas, Houston, Kansas City, Los Angeles, New York City, Phoenix, and Washington D.C., but of course, the 5G network will expand to other markets over time.
Read more: Sprint's nationwide 5G network will launch in the first half of 2019
Hayato was a product reviewer and video editor for Android Central.
Wonder if this had anything to do with the T-Mobile merger?

Remember 2010, when Sprint was the first to bring us 4G with WiMAX. If anything, they were the first to disappoint.

I do remember. Grand Rapids Mi was one of the first cities to get it. At the time it was awesome. Had the HTC Evo 4g. Downside battery lasted about 8 hours. We complain now about battery life, but some of the youngsters have no idea how great they have it.

I loved the HTC EVO. Took Sprint almost a year to Wimax in my city. I did get to enjoy Wimax on the EVO 3D. The battery life was horrible. Lol

This is hilarious considering Sprint still has markets with NO LTE (3g only) in the year 2018. Quite pathetic to say the least...

So does Verizon, so does At&t, so does TMobile....what's your point? Sprint isn't the only one with those regards...

"Sprint says its 5G-capable Massive MIMO cell sites can deliver up to 10 times the capacity of its existing LTE systems". Is this really saying much? If you are on Sprint like I am, and have been for years, it means very little. I live in an area where I can barely get a single. Now if I go a few blocks, I get really good signal and speeds. The only reason I have not switched is because I have been waiting on the merger with T-Mobile. If it doesn't go through, bye-bye Sprint.

I wouldn't wait one bit. Time to switch, you are waisting money. Even if the deal falls through it will be a couple years before full throttle. I switched from Sprint to T-Mobile Aug 6th. Very happy, coverage has doubled and speeds have tripled. I was with Sprint for 10 years. I have a unlocked phone , if you do don't hesitate.

What type of plan do you have? Are you paying more or less on T-Mobile? My plan with Sprint is good. This is one reason I am staying with Sprint for now. Let me know the name of your plan so I can look it up.

T-Mobile One plan. We have four lines but there are a couple discounts included for veteran and senior. So with those included, the plan is cheaper which also includes leases for S8 and a Note 8. I'm sure your situation is probably different. Also Netfix is included. Take a look .

Thanks. I'll look into it for sure.

I remeber WiMAX. Never got to 12 Noon without having to swap batteries. And the aftermarket extended batteries were huge and inefficient! I am about ready for a Pixel3. But I think I will wait till more 5G phones are out maybe 18-24 months from now to get one and coverage is more widespread.
Android Central Newsletter
Get the best of Android Central in in your inbox, every day!
Thank you for signing up to Android Central. You will receive a verification email shortly.
There was a problem. Please refresh the page and try again.