Spotify is getting into the content game with its own original podcasts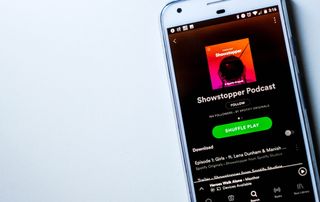 The Spotify Originals, as they're called, are a family of podcasts that've been greenlighted by the green-logo'd music service. The first three titles — Showstopper, Unpacked, and The Chris Lighty Story (working title) — are different series that explore music's impact on society. Here's a quick, abridged rundown on what each of these podcasts are about as I've interpreted from the official press release:
Showstopper: This is the one that's already available. It's about TV shows and their music soundtracks.
Unpacked: This Spotify podcast focuses on the creative communities built around music festivals, and goes live on March 14. Broad City's music supervisor and Spotify's Michele Santucci travel around the world interviewing very creative people. And they kick things off by covering South by Southwest.
The Chris Lighty Show: This is the working title. It could be anything else by the time the podcast premieres in April. This show is about how Chris Lighty shaped the careers of some of hip hop's greatest artists, including Missy Elliot, Foxy Brown, and — before he was P.Diddy — Puff Daddy.
Weirdly, there's no immediately obvious podcast landing page of any sort to advertise these new Spotify Originals, but I managed to find one by typing in "Showstopper Podcast." You could also just click here (opens in new tab) to launch it in your Spotify app.
Florence Ion was formerly an editor and columnist at Android Central. She writes about Android-powered devices of all types and explores their usefulness in her everyday life. You can follow her on Twitter or watch her Tuesday nights on All About Android.
Android Central Newsletter
Get the best of Android Central in in your inbox, every day!
Thank you for signing up to Android Central. You will receive a verification email shortly.
There was a problem. Please refresh the page and try again.