Spotify adding new music discovery features, and entire Metallica catalog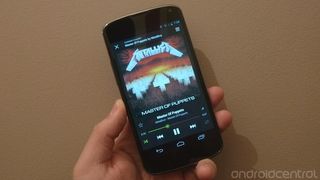 Today is a big day for music streaming service Spotify and its users. They're introducing a whole bunch of new music discovery features, some of which will eventually go 'cross-platform.' But, they're also introducing the entire back catalog of one of the most well-known rock bands in history. Spotify users, say hello to Metallica.
We'll start there, because this is huge news. There have been noticeable holes in Spotify's library since day one, some of which have been filled, but the Metallica shaped hole ever remained. The drought ends today with the addition of 30 years worth of music from the legendary rockers. Every single album, every single song. This one's going to keep us going all through the weekend.
With that out of the way, the new discovery features being rolled out are pretty interesting. Initially we're looking at desktop only features rolling out in the coming weeks, with a full 'cross-platform' upgrade in 2013. There are two main portions to it, so we'll take you through them one at a time.
First up is the follow tab. Essentially, this is a way for you to find out what music comes recommended by your 'most trusted musical influences,' be this Facebook friends, musicians or celebrities. This includes the President of the United States. Yes, Barack Obama has apparently signed up to share his playlists with the world.
The second is the Discover tab. Using 'the best technology and social tools,' Spotify basically wants to provide you with a constant feed of music you might actually like. This is great news if, like me, you're not too keen on seeing Justin Bieber under the recommended albums section all too often. Both sections are in their infancy with an initial list of musicians and celebrities signed up, but this will surely grow with time.
They're also giving a boost to the overall experience of using Spotify, to make it better to use and easier to do simple tasks. Currently, adding a new album to your collection involves creating a new playlist for it, then adding it to that playlist. Finally, the extra step is being removed and hitting the '+' icon will add the album to your collection.
Mobile push notifications are also being introduced. When new music hits the catalog from artists you follow, Spotify will send you a mobile alert letting you know about it.
Click on past the break for the full press release.
Music discovery on Spotify gets personal
Finding the music that fits your life just got a whole lot simpler
December 6, 2012: With great power comes great responsibility. Snoop Dogg or The Stones? Skrillex or Shakira? Marley or Metallica? Sure, millions of songs in your pocket has changed the way you listen to music, but can you figure out what to play on a lazy Sunday afternoon?
From today, music discovery becomes truly personal. It becomes central to the Spotify experience as the service brings artists and fans closer together than ever before.
Spotify's latest, greatest upgrade will see a whole host of powerful discovery features introduced across its desktop, mobile and new web player platforms over the coming weeks.
"Users tell us they don't know what to listen to, and artists tell us they want to connect more closely with fans" says Daniel Ek, CEO and founder at Spotify. "So we're creating a new and personalised way of finding great music."
Here's what's coming...
Introducing the all-new Follow tab. Now you can get music recommendations from only your most trusted musical influences. Follow friends, artists, influencers and media to get updated on what they're listening to in real time.
The Follow tab also shows you your Facebook friends, as well as recommending you friends and trendsetters you may find interesting. You'll also be able to see who you follow and who follows your profile.
Simply click on the Follow button of friends, artists, trendsetters, editors and experts to connect with the people who turn you on to the music you love.
Artists can now share their music with the world like never before.
Want to hear Obama's playlist as he prepares for a big speech? Or check out what David Guetta is listening to this week? Now you can. Artists, celebrities and media from around the world are ready to share their music with you, including:
Metallica, Barack Obama, Katy Perry, David Guetta, Justin Bieber, KCRW, Bruno Mars, Huffington Post, Pearl Jam, People Magazine, Entertainment Weekly, Lady Antebellum, Trey Songz, Wiz Khalifa, Slash
Also making its grand debut: the all-new Discover tab. Your hunt for the right music is over. Combining the best technology and social tools with content from Pitchfork, Songkick and Tunigo, and many more, Spotify's Discover feed continually seeks out the most relevant content and brings it right to you. The page will include:
New single and album releases from the artists you follow
All the music and playlists shared by influencers you follow
Intelligent recommendations based on your listening history including music, reviews, and concerts
Plus, we've made a ton of additional improvements:
Introducing Audio Preview - with our new Audio Preview feature you can dip into new music without moving away from the song you're playing. If you like what you hear you can save it for later or start it right away.
New Collection - a new way to save music that you love, or want to listen to at a later time. No more having to create a playlist for your favourite album, just click the 'add' symbol and it will be added to your collection.
Mobile push notifications for new album releases - never miss new music from your favourite artists ever again. As soon as new music from artists you follow hits Spotify, you'll receive a mobile alert.
Additional improvements include - a more curated social feed; better personalised Profile page; redesigned Artist pages.
"Our music influences are as individual as we are," says Ek. "Maybe you discover new songs or artists by reading reviews, listening to the radio, or sharing with friends. Maybe you go to a lot of concerts, love making cool playlists, or want to know what the people you care about are getting in to. Spotify now brings all of this together."
Spotify's Follow features will roll out as part of a desktop app update in the coming weeks, with a full cross-platform upgrade arriving next year.
To view Spotify's full presentation given today in New York, please visit our YouTube channel: http://www.youtube.com/spotify
Sign up for Black Friday email alerts!
Get the hottest deals available in your inbox plus news, reviews, opinion, analysis and more from the Android Central team.