Sony Xperia Z1 now in stock at UK retailers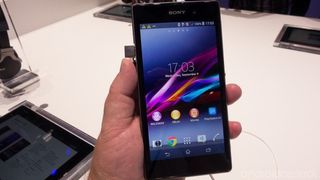 Right on schedule, the first Sony Xperia Z1 stock has started to arrive at independent UK retailers, with Clove Technology and Digital Phone Co both listing the device for sale. SIM-free prices are in the £550-560 range, so you'll certainly pay a premium for the Z1's high-end internals, which include a Snapdragon 800 quad-core CPU and 20.7-megapixel camera with Sony G lens.
If you're planning on picking up an Xperia Z1 in the UK, hit the comments and let us know. If you're still on the fence, you can check out our hands-on feature from IFA for a closer look at the phone.
Source: Clove (opens in new tab), Digital Phone Co (opens in new tab); via: Xperia Blog (opens in new tab)
Alex was with Android Central for over a decade, producing written and video content for the site, and served as global Executive Editor from 2016 to 2022.
Currently have an iPhone 4S but am moving away from Apple and have pre-ordered a purple Z1 from Carphone Warehouse on EE.
Doesn't appear to be a delivery date for the purple ones yet though so I'm trying to be patient... One of my main reasons for moving away from the iPhone is the lack of expandable storage. I hate that you pay a huge premium for something as basic as an extra 16Gb of storage with the iPhone, it's a total ripoff and they're just not worth the expense now, compared to other phones that are available. The Z1 and other phones coming out now seem to be miles ahead.

AC must review this phone!!! Seriously I'm pumped for Sony with the Z1, Z Ultra and QX lens.

Google need to get Sony to do the next Nexus... Posted via Android Central App

In the back of my mind I am wondering if Sony and Google held off on a Google Edition Experia Z because it paled in comparison to the S4 and One. I remember Sony saying they would have a Google Edition Z but so much time has passed that maybe it will be a Z1 instead.

I totally agree Posted via Android Central App

The question I have is when are we getting some love in the States?

Exactly. If this comes to Sprint with tri-band lte, I might leave Samsung for this phone. Posted via Android Central App

The C6906 version is the one that supports AT&Ts LTE bands, but nobody has any idea of where it is. I'm excited for this phone, but if they drag their feet on getting it to the US I'll have to move on to another phone on the shortlist that support MicroSD.

Going to go to the shops and try it out today, outside of the size, screen and software it seems top notch in every other field. Huge ass battery, best android camera by a long shot, very nice design, great hardware and build. The Software shouldn't be too bad as sony always releases AOSP for their flagship devices, the screen I wish was as good as the bigger Z phone. The size of the original Z felt a little unwieldy which also worries me.

Got to play with the Z Ultra the other day. It is quite simply the most gorgeous (and fast) mobile device to ever exist. (Yup, nicer than the Z1.) It is a pity Sony knobled it with an inferior camera and lack of any apps than can benefit from the 'anything pointy can be a stylus' feature. (I have a Samsung Galaxy Note 8 and the stylus integration is tops, as is the performance, but it's not exactly pretty!) Oh to have the Galaxy Note 8 software in the Ultra body, with an 8" screen.

What apps are you missing from the Ultra? There are a couple of apps and games that benefits from stylus control including different note takers, image editors, ScummVM etc. Photoshop Touch in tablet mode is nice to operate with the stylus etc. I don't really like the Samsung way too much since all those features are tied to the TW framework, something that goes out of the door when an alternative ROM is flashed (Paranoid Android, PAC or CM etc). On the Ultra, the stylus is integrated in such a way that it gives enhanced flexibility with the app selection while the device itself is pretty much unbloated.

Hey AC, can you reach out to someone at AT&T or Sony and find out why the US is getting the shaft with the last two Sony flagships? Z/Z1. T-Mobile isn't big enough to touch on. Posted via Android Central App

You can buy the ZL from Sony and run it on the AT&T network just fine. Plus the bonus is that you don't have to wait for AT&T to bloat up the software and delay the updates because it feels like it.

I would love to know if the display is decent or not... handson made it seem like the original Z wich was only decent if you were looking straight at it. LG or HTC displays look way beeter (i really want this phoen :P) I like rich saturated colors (don't have to be amoled like :P) and good viewing angles.

The z got a lot of stick for the screen but it doesn't bother me as 99.9percent of the time your looking straight on at the screen anyway, my problem/question is is it worth the jump to the new z1? Posted via Android Central App

I seriously like the look of the Z1! Thought the Z was real nice and if I was in line for an upgrade I'd be giving this a go. Looking forward to a full review. It's a real shame Sony mobiles don't seem to get the kudos they deserve on AC. Posted via Android Central App

Mine is at a sorting facility in Pennsylvania right now. Wish I could just drive down and grab it. Expected late Thursday.
Android Central Newsletter
Get the best of Android Central in in your inbox, every day!
Thank you for signing up to Android Central. You will receive a verification email shortly.
There was a problem. Please refresh the page and try again.