Sony WH1000XM3 vs. Sony MDR-1000X: Should you upgrade?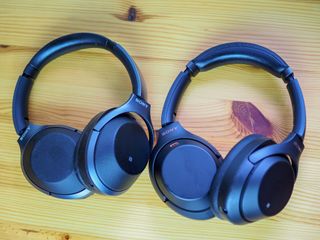 (Image credit: Daniel Bader / Android Central)
Sony WH1000XM3
The WH1000XM3 puts all of Sony's expertise on headphones to use, combining the best active noise canceling we've ever heard with great sound quality, excellent battery life, and convenient gesture controls.
Sony WH1000XM3
Unrivaled noise canceling
Intuitive gesture controls
USB-C charging
Google Assistant-compatible
Bulkier than Bose QC35
Assistant replaces Ambient Sound onboard control
Sony MDR-1000X
The original 1000X headphones may not be quite as good as the M3, but they still sound great and provide good enough noise canceling for frequent travelers.
Sony MDR-1000X
Still offers great sound.
Compact and easy to travel with.
Easy to find for cheap used
NFC for easy Bluetooth pairing
Noise canceling not as good as the 1000XM3
Micro-USB
Consider the upgrade
The original MDR-1000X over-the-ear headphones established Sony as a player in the active noise-canceling space, taking on Bose's wildly popular QC35 headphones in the same category. A few revisions later, the new WH1000XM3s improve upon nearly everything that made the MDR-1000X great, and in many people's eyes (and ears) have finally earned the claim of being the very best noise-canceling headphones on the market.
On top of having great active noise-canceling, the MDR-1000X introduced a variety of intuitive new features that made them easier and more convenient to use. You could tap your Android phone to the side of the left cup (denoted by an NFC logo) to instantly pair with the headphones without having to dig through Bluetooth settings. You could pause or skip through tracks with swiping gestures on the right cup.
In addition, the MDR-1000X knew when to let sound back in. With noise-canceling engaged, you could place a hand over the right cup to instantly filter certain frequencies back into the headphones using built-in microphones, allowing you to carry on a conversation without taking the headphones off. There was also a separate Ambient Sound mode that allowed you to let those frequencies in without holding the right cup.
Two years later, the WH1000XM3 improves on the original headphones in nearly every way. Sony has included its new QN1 processor, which adds support for 32-bit audio processing and improves noise-canceling — Sony claims the 1000XM3 performs 4x better than the XM2, which was already a significant improvement over the MDR-1000X.
They're more comfortable than previous models as well, thanks to a lighter, sturdier construction and thinner earpads. That construction, while still mostly plastic to retain its lightweight, is also less prone to cracking over time — an issue the MDR-1000X was known to have. The WH1000XM3 also now support USB-C charging, rather than Micro-USB, and can provide up to 5 hours of playback from just a 10-minute charge. With a full charge, you can expect about 30 hours of playback with ANC.
Both headphones can be adjusted through Sony's Headphones Connect software, but only the newer WH1000XM3 allows you to adjust how much surrounding noise comes in with Ambient Sound mode, as well as how much to block out noise-canceling. You can also use Google Assistant on the 1000XM3, activated by pressing the Ambient Sound toggle button (enabled through software).
Even if you already have the original MDR-1000X, it's worth considering the upgrade to the 1000XM3 — assuming you'll make use of the improved noise-canceling and USB-C charging. For frequent travelers, it's a no-brainer. The MDR-1000X certainly still hold up great, though, and while they haven't gone down in retail pricing, you can easily find a good deal on them through resale sites.
ANC exemplified
The very best noise-canceling headphones on the market.
Sony improved nearly every aspect of its 1000X headphones with the M3, from sound quality to noise-canceling, assistive controls, and USB-C charging. These are well worth the money.
Still holds up
The originators are still a fantastic option.
For home use and the occasional flight or train ride, the MDR-1000X is still a fantastic offering — but you'll want to find a good deal on a used pair.
Get the Android Central Newsletter
Instant access to breaking news, the hottest reviews, great deals and helpful tips.
Hayato was a product reviewer and video editor for Android Central.