Sony says it's stopping development of its Xperia Home launcher [Update]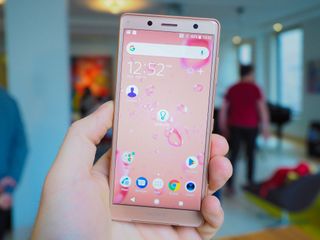 Updated June 15, 2018: Sony's announcement of ending development for Xperia Home left us wondering what the future would hold, but thanks to a developer for the launcher, Erika Prymus, we now have a better idea as to what's going on. According to Erika, "The reason for discontinuing new feature development in the current Xperia Home Application is that we are developing a new Home Application." We don't know what the new launcher will look like or what features it'll have, but chances are we'll get to see it with one of Sony's next flagships.
Most Android OEMs outfit their phones with their own skin on top of Android, and with that, a custom launcher. Sony's phones have long come with the Xperia Home launcher, and following the latest update that landed on June 11, development for it will be ending.
As noted by moderator Erika Prymus for the Xperia Home Open Beta on Google+:
In this "maintenance phase", Xperia Home will no longer receive new features. There will still be updates down the road, but they'll strictly be focused on removing bugs "for as long as deemed necessary."
Additionally, this transition also means that the Xperia Home Open Beta program will be ending.
The latest update to Xperia Home (11.3.A.0.17) prior to this switch was mostly focused on bug fixes anyways. As noted by Sony, some of the highlights include fixes for widgets not updating, crashes when trying to open a photo from search, and more.
What does this mean for the future of launchers on Sony phones? Although Xperia Home will probably keep on chugging for a while to come, it's likely that Sony's either looking to create an all-new experience or just go the Nokia route and mimic the Pixel Launcher. I'd prefer to see the latter of those two things, but only time will tell.
Are you a Sony fan? What do you think about the end of Xperia Home?
Get the Android Central Newsletter
Instant access to breaking news, the hottest reviews, great deals and helpful tips.
Joe Maring was a Senior Editor for Android Central between 2017 and 2021. You can reach him on Twitter at @JoeMaring1.
Originally the Xperia Home launcher was just OK with me. Being able to use icon packs changed the experience for me though. It does make me wonder what's next there though.

Nokia don't mimic the Pixel Launcher, they use Launcher 3 which is the AOSP Android Launcher. All Nokia do is add Google Apps and their own additions on top.

Yes Nokia, mimic the Pixel launcher, it's the best launcher on Android and now I'm using it legit with my Pixel lol.

No, they don't and I have a Nokia 8 so I know EXACTLY what I'm talking about. The default launcher looks absolutely nothing like the Pixel launcher which I also have installed. Everyone has Launcher 3 as it's the stock Android launcher. Let me guess, you downloaded the Nokia Z Launcher from the Store which is nothing like the launcher that ships on Nokia devices.

Hopefully, they will stop making smartphones, too.

How does Sony not making phones benefits you?

Sony probably took his lunch money and ran over his dog. 😀

That sounds like a "I only like, buy, and own a Samsung device....and my feeble, one track mind, only cares about what I like comment" to me

Please Sony add ceasing production of your mediocre phones.

Lol iPixel fanboy on the loose. 😀

Sony offers one of the best audio experiences in smartphones. Just because the phones are expensive that doesn't mean they are mediocre.

simply keep it pixel like

I've never liked the Sony software experience... Now, Sony hardware with stock Android would be very interesting indeed!

Stock Android is incredibly boring so its really a lose/lose situation. I always heard there would be stock non root Android theming available for years now but guess not. Android is becoming as dull as IOS especially with many manufacturers ending bootloader unlocks, etc...

Stock Android is the best, no blog and unnecessary gimmicks masquerading as features.

Well... Somebody is masquerading as an expert. 🤔

Stock Android is boring. Just like the Pixel version of Edge Sense is boring because Google cut its balls off.

What do you want added to stock that you can't add yourself?
I really like to customise my own phone and the less that needs uninstalling, blocking or disabling the better.

Which means they will stop redoing the Android animation framework for their own launcher when Google is already doing their version of it and enhancing it every iteration. They should just license the Pixel launcher and add minimal customisations on top.

Ehh, they seem to be hell-bent on removing the best parts of Xperias. Audio jack gone. Best implementation of fingerprint scanner gone. Iconic and gorgeous design gone. Now, a great launcher gone. What goes next? Their Music and Gallery apps? Xperia themes? I really don't want to know.