Sony's 'no more leaks' sign gets leaked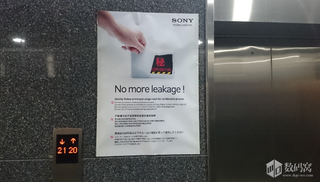 When it comes to information about upcoming handsets, Sony has proved to be a rather leaky organization. We were hearing details about its current flagship phone, the Xperia Z1, some four months ahead of its announcement. Understandably, Sony higher-ups want to put a stop to this trend, and so anti-leaking posters have been deployed throughout the company's headquarters. Naturally, that poster itself has now been leaked online.
Images first appeared on Chinese forum Digi-Wo showing warnings in English, Chinese and Japanese, instructing those with "confidential phones" to "strictly follow prototype usage rules." These include not using devices without a "protective cover," not showing them to outsiders unless under NDA, not uploading images to social networks and interestingly, not using third-party benchmarking apps. The online components of benchmark apps have provided accurate hardware info for many Android devices in the past, including unreleased Sony phones.
Time will tell whether Sony's new anti-leaks strategy pays off, however rumors of a possible Xperia Z1 "mini" and a Z2 are already circulating online, with the latter tipped for a CES 2014 unveiling.
Source: Digi-Wo; via: XperiaBlog (opens in new tab)
Alex was with Android Central for over a decade, producing written and video content for the site, and served as global Executive Editor from 2016 to 2022.
Was this sign on the restroom door? Posted from my Nexus 4 via Android Central App

Seems to be next to elevator but I guess whole office gets splashed with those :)

The splash suggests he might have gotten it.

This is shameful for Sony...

No matters not like the USA will see any sony phones in the market. And if they do it'll be six months after it has released. Posted via Android Central App

I guess whoever is doing this has an obsession of revealing company info, leaking a poster of a notice on stopping leaking, that's messed up. Posted via Android Central App

I find ironic that a "don't leak" sign has been leaked! Hahahaha

If Sony didn't see this one coming they must've been looking at it on an angle.

The irony. Posted via Android Central App

I can't get over the elevator lights. Are they upside down on the 21.5 floor?

I think there's two elevators and they're on say floor 10 and the lights just say one elevator is on floor 21 going down and the other is on floor 20 going up?

You are exactly right, that is how elevators work. I can't believe that no one has seen an elevator with that type of indicator before

Welcome...to the WORLD...OF TOMORROW!

When Sony zooms then enhances then zooms then enhances the reflection, this leaker will surely be fired. Posted via Android Central App

Yyyyeeaahhhh...that should stop the leaks... Posted via Android Central App. Galaxy Note II

Hahahah... Sony, smh. Posted via the Android Central App on my Note 2

What kind of elevator is this? You can go up the 20th or down the 21st. Where the hell is this place? God was is happening. Mindf*ck. Posted via Android Central App

This is in Sony's top secret underground testing facility. So the numbers would go the other way. Posted via Android Central App

guess people dont ride elevators in corpate buildings huh? You know elevator's count down/up the floors its passing right? I.E the elevator was going up from the 15th floor to the 25th floor the numbers would have the up arrow to show the car is riding up and the numbers would read 15 - 16 - 17 - 18 - 19 - 20 Etc. 25 the same goes if the car is travling down ... arrow down 20 - 19 - 18 - 17....in laymans term,The left car is travling downwards and is on the 21st floor and the right car is going upwards and is on the 20th floor....

It's funny that even this poster leaked!! :-)

I thought at first glance that it was something to promote the fact that Xperia Z1 is waterproof...

So a Z1 mini it is coming!! posted from chingaTuMadre EPN

Time for adult diapers! Posted via Android Central App via HTC One Motorola Droid Bionic Has Been Stolen
Android Central Newsletter
Get the best of Android Central in in your inbox, every day!
Thank you for signing up to Android Central. You will receive a verification email shortly.
There was a problem. Please refresh the page and try again.