Sony Google TV update v2.1.1 arriving, Logitech Revue update news to follow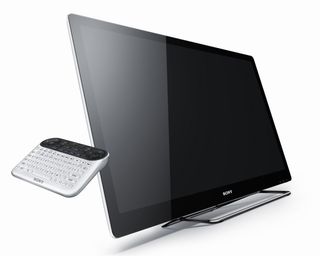 It's been a while since we heard of any updates coming to the Sony Google TV and even longer the Logitech Revue but there is some action finally happening on that front as we now know thanks to an update from Google TV Developers.
The Sony Google TV has an update on the way that in addition to adding support for watching movies purchased through Google Play also includes support for watching videos via the YouTube Movies page.
Logitech Revue owners aren't so lucky as of yet though, don't fret as the Google TV developer team has noted there is some update news coming your way as well sooner rather than later.
Source: Google TV Developers
Android Central Newsletter
Get instant access to breaking news, the hottest reviews, great deals and helpful tips
Really? The Revue? I thought we got left in the dust haha. Thats really welcoming news :)

No kidding. I use the Revue everyday. The best $50 I ever spent! I'm glad it isn't forgotten (yet).

I got it at $90. But hardly use it because I don't have a cble box in my bedroom.. just my 360, which I used for games, movies & shows(Netflix & Crackle), and sports via the ESPN app. But when I do use it the few times a week, I do miss it.

With a cable box the experience is better. However, no need for it. If you use Spotlight, youtube and download and install: 1. TVLiner
2. Eclipse.TV
3. IceStream
4. PanaClips
5. PPTV (Media Player) This along with a Netflix account and a digital OTA Antennae for local channels on your TV, makes the Revue an AWESOME box. If they could finally get PLEX working right, you could ditch PlayOn subscription and save there. For true "cord cutters" I suggest combining a Roku, OTA and GTV box. I only pay $16 a month for Netflix and Hulu Plus (On the Roku). I used to pay $90 a month to DirecTV so this is certainly worth considering. Even if you want to go completely "free" and not pay for Netflix, PlayOn and Hulu Plus, you will still be happy by using the 5 apps I listed above. Hope you enjoy better your GTV experience with the tips I suggested. You won't be disappointed.

I always forget I own a Revue... It just sits next to my tv and the must I ever use it is if I can't find my remote for the TV and use the keyboard.

U know there is an app that can control ur Google tv? I with ur phone or tablet, and can turn off/on ur tv

Thats what I use for the most part. Love just whipping my phone out of my pocket and turning my TV on. Generally get a lot of Ooos and Ahhss from the people who havent seen it before haha

Glad were not forgotten too. keep the updates and fixes coming. Will stay tuned for more info.

I just got a Logitech Revue and I'm loving it so far. Can't wait to see what the update brings.

If they do not fix the ability to stream Pandora and watch tv at the same time on Logitech Revue I am going to stomp my feet and cross my arms.

Yay! I love my Sony google tv, and I'd love it more with an MLB app. Sigh...watching in the browser works great, but it seems odd that there's no app.

Lots of apps are still missing in Google TV, like Slingbox, HBOGo, Amazon Instant Video, PlayOn TV, NFL. All this though can be access through browser. But like you said, it could be better if its a native app. I do like my Sony Google TV.

This update came out several days ago.

I'm still waiting for my sony blu-ray update. Did anyone recieve the update yet? I love my google tv, but the play store needs for support from developers. I hope the update is good.

What kind of V2.1.1 update is that ? Is it an update of one of the Android apps ?

he system software version of the Sony/Google TV
Android Central Newsletter
Get instant access to breaking news, the hottest reviews, great deals and helpful tips
Thank you for signing up to Android Central. You will receive a verification email shortly.
There was a problem. Please refresh the page and try again.