Sony Ericsson MWC invite suggests more Xperia phones to come next month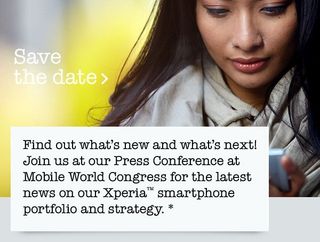 After CES, the next big event in the smartphone and tablet world is Mobile World Congress, which runs during the last week of February in Barcelona. Today Sony Ericsson began sending out invites for its MWC 2012 press conference. The invite says that SE will reveal more about its Xperia "portfolio and strategy" at its press conference, suggesting that we'll likely see more of its 2012 line-up. We'll be there, of course, bringing you full coverage of whatever's on show.
In related news, a Tweet from Orange UK's Conor Maples (opens in new tab) confirms that the network will carry Sony's new flagship phone the Xperia S. Rival networks O2 and Three have already declared their intention to offer the device, as we reported yesterday.
Alex was with Android Central for over a decade, producing written and video content for the site, and served as global Executive Editor from 2016 to 2022.
well it appears ces will not be anything great for smartphone announcements but it looks like next month could be.

Just as a heads up it is not Sony Ericsson anymore....

It's Sony Ericsson on our invite :)

Aren't theses phones Vanilla and have unlocked bootloaders?

Unfortunately Vanillish is the best we can get from manufacturers if their merciful enough to give us that unless we get a Nexus. Carriers require manufacturers to skin/bloat devices because of agreements that have with certain businesses (Slacker, Blockbuster, etc). Seeing that carrier demand skins and bloat, they add their own bloat on the premise that it already isn't stock Android so it doesn't matter as they can get paid too.

Why would a carrier require a Manufacture to skin a phone? I under stand bloatware, but to skin a phone. The skins are, manufacture created, to add more functionality to devices, and differentiate the devices from other manufactures devices. Carriers make their extra income from the bloatware, they could care less if a phone is skinned or not. I would think that even a Vanilla Android device would be susceptible to Carrier bloat, due to the fact that carriers buy the devices from the manufacture, thus enabling them to make changes as they see fit. Just as Consumers can buy devices, and make changes as they see fit. Vanilla devices, that are not Nexus, are still dependent on Carrier OTAs, because the carriers are buy not only the devices but also the rights to the devices.

According to Motorola's Sanjay Jha, carriers don't want stock Android. http://mobile.theverge.com/2012/1/10/2697939/motorolas-sanjay-jha-verizo... "The vast majority of changes that we make to the OS are to meet the requirements. Manufacturers make what carriers request, not the other way around, so if you don't like a device blame the carrier. They make the decision to include ridiculously low internal storage (see Xperia Play), bloatware galore (see any Verizon non-Nexus phone), and ridiculously short battery life due to small battery sizes (see Thunderbolt). Carrier see stock Android as bad for business as in being "boring" (translation: not the proven iOS) and not bringing in revenues from peoples five-year-old kids purchasing V Cast content and Slacker subscriptions on their devices when they're unaware .

Crossing my fingers for an Xperia Play 2 with a dual-core/quad-core processor, 1 GB of RAM, LTE, real clickable thumbsticks (somehow/some way), and at least 16 GB eMMC storage.

Im interested in seeing what sony has this year now they are a little more comfortable with android. Im was a noto fan but lately i am dissapoint

If Sony makes an Xperia Play 2, I'll stick with them. If they don't I'll switch back to Motorola when Google finally buys them.
Android Central Newsletter
Thank you for signing up to Android Central. You will receive a verification email shortly.
There was a problem. Please refresh the page and try again.