Sony Ericsson & EA offering 4 free downloads for the Xperia Play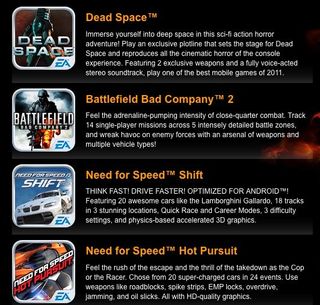 Have an Xperia Play that is in need of some new games? If so, Sony Ericsson & EA Games has you covered. Now you can get four of the hottest Xperia Play game titles for free.
Battlefield Bad Company 2
Dead Space
Need for Speed Hot Pursuit
Need for Speed SHIFT
Sony Ericsson & EA Games has been working together to make more and more titles available for Xperia Play users and the titles listed above will be available for for free until January 15, 2012. You can jump on past the break for some of the demo video or if you'd rather just get to downloading you can hit the source link for more info.
Source: Get In The Game
EA sucks these game should be out for all android phones that have at least 1gz.I do have all of these games on my evo 3d with nfs shift in stereoscopic 3d. I guess you can say i got them free to but i did buy NFS shift as its the only one EA will sell me for my phone

Only problem with this is all the games will install to the sdcard except for NFS:Hot Pursuit, and its in the 13mb range. If the phone had more internal memory it wouldnt be an issue, fail on the part of SE for lack of memory and also on EA for not allowing it to install or be moved to the sdcard.

Sounds like a good deal, unless you already have the xperia play stateside, otherwise you are pretty much SOL. Apparently, you are supposed to buy the phone from now to jan 15 of next year? What about customers like me who got it earlier?!
L
Android Central Newsletter
Get the best of Android Central in in your inbox, every day!
Thank you for signing up to Android Central. You will receive a verification email shortly.
There was a problem. Please refresh the page and try again.