So, what Android stuff did you get for Christmas?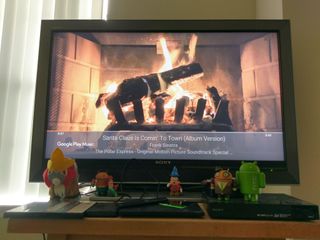 By now, the wrapping is balled up and in the garbage, and family is on their way back home (still stuck in traffic, if Google Maps is correct), and you're sitting with some cool new stuff.
Android or not, we want to know: What did you get?
Anecdotally, it seems like mobile VR — Samsung Gear VR and Google Daydream alike — was the hit of the season, with plenty of people reporting new add-ons to go with their shiny new phones.
Amazon's Echo was also a winner — the company continues to be backordered — along with Fitbits and other fitness-focused wearables.
So, good? Bad? Regifting? Let us know what you got, and we'll share ours, too!
Get the Android Central Newsletter
Instant access to breaking news, the hottest reviews, great deals and helpful tips.
Daniel Bader was a former Android Central Editor-in-Chief and Executive Editor for iMore and Windows Central.
Why not just say "the holidays" before some nutjob gets offended lol And I got a Chromecast

Actually, "Holidays" would be more accurate. Chanukah, Christmas, New Year's... :)

Who gives new year's gifts though? Is that a thing?

Well, different cultures. Like in Japan, kids often receive money gifts from relatives for New Years every year.

True enough, but it'd be a stretch to call a decorated envelope with a few thousand yen stuffed inside android stuff.

Well, I grew up getting gifts from Santa on Jan 1 :) and Christmas is celebrated according to Orthodox Christian tradition, which has nothing to do with gifts. Though , I never heard from those I know (from Atheists to Muslims) that someone was offended by hearing Merry Christmas. For most of the people it just means happy times for the kids and reason for family gatherings, etc.
So, I don't see how is that still a thing

No I largely agree on that, I'm an atheist myself, when someone says "merry Christmas" to me I just take it for the gesture of good will that it is (usually) intended as and say it back. On the other side, if a person or company prefers "happy holidays" or anything else that's their business, and should also be taken as the gesture of good will that it's intended as. But the festival that became Christmas predates Christianity anyway, the Christians only adopted it because the pagans refused to give it up. So it's not really celebrated according to orthodox Christian tradition at all.

"WE celebrate according to [our] Orthodox tradition" - it's a one of a kind :)
I meant how we go about those days - in a specific manner, not how everybody should do it or what they should mean for others.
And when it comes to accuracy of dates and stuff , of course everyone should know that Jesus wasn't born on Dec 25 or Jan 7 :)
Early Christians wanted to place celebration in the most accommodating time for pagans.
Besides that, I agree with everything you said

Because we celebrate Christmas. We call Hanukkah by its proper name for those who celebrate. So, call Christmas, Christmas. Don't be ignorant.

How can you see with your head that far up your ass?

Seems to me like you're the one with the head up your ass. It's called Christmas. If you call it anything else you're just being ignorant. And stupid.

Got the new S3 Frontier, a pretty cool soundbar, and some other odds and ends

I also got the S3 Frontier, loving it!!!

Google Home. Seems to be working well with Chromecast...both video and audio.

I got a Home as well. I love being able to cast things to my TVs with my voice.

Got the Google Pixel. 😎😎😎

Actually, I got the Google Pixel XL

Got the wife and I a Fitbit 2 also a Amazon Echo and an Echo Dot.

Are those run using Android software?

I got pretty much one of everything for the Google Store. Went a lil crazy this year.

I got a Google Pixel a month ago, and a Google Home on Christmas morning

Ooh, that's expensive right, enjoy

a Mi Box Android TV and already put kodi on it

Cklips, don't forget to add a VPN to that setup

Got a GHome. The kids love it. We set it up and immediately started playing some Christmas music.

A few dots, an HTC 10 and accessories. Some got the ZTE axon 7, 3d printed pebble charging stand.

Vizio 38" sound bar. Once we learned to completely ignore the Vizio phone app and just update the software using the remote control and hook up Google Cast, we were in business. It makes a great addition to our dining room as a standalone sound system that anyone in the house can use. The Google Home is something I'll be getting next week with some of my cash gifts.

A droid RAZR HD because my g3 is stuck in a bootloop. Better than using my old droid x2

Still have my razr HD Maxx. Works well enough on WiFi.
Light skinned phones age well and the razr's are as light as they get.

Replace the battery on the G3 and it should fix the issue. Only use quality batteries cells from Japan or the LG batteries. If nothing else it will be a backup phone or you can sell it. Back on topic, I replaced my older Chromecast with a newer one.

A MiBox, components of the AC staff's ardent recommendations. I like it, but slightly annoyed that casting Netflix video to it just opens its native Netflix app and asks me to select a profile. That's an odd caveat to Google cast which has proven quite an annoyance this weekend.

Reluctantly got my kids cheap used iphon5s... what a nightmare setting those up under my wife's account. They are 12. So we did the parent access thing.. stupid iTunes and app store constantly nagging for passwords.. took an hour.. lol had we got androids they would have been up and running in 5 minutes waaaa.. I got nothing for my self lol

Haha I can relate. Stuff for the kids, nothing for yourself.
I know what you mean about the apple updates my pops has an imac and it's always asking to connect to the cloud and other stuff. Ugh I can't stand apple.
And tbh, I have two phones in circulation, the note 4 and a s5. Both are part of a dying breed; they both have removable batteries. I'm holding on to them until I find a worthy successor. Removable batteries mean so much to me. It sux the s5 isn't gear vr compatible

I got wifey a fitbit charge 2, myself a pixel XL, and she got me Daydream VR! I also gave her my Nexus 6P and she gave up her iPhone. So i added another member to the Android user community! Also bought Google Home and Wifi in November! Twas a good Android holiday! Now we both have Android tablets and phones and our home is all Googled out!

I didn't get a damn thing because I'm a single mom of 3 and my family sucks!

Kjthomas, the love you give to your kids and the love you get from your kids is worth more than anything in the world. I applaud your efforts, 3 is a handful. Keep up the good work.

Agreed. The feeling I get from giving gifts is better than receiving

Sorry mama.. I would of got you something..

Gear S2 w/3G connectivity

The wife got me a Asus Zenwatch 3.. I got her a Zenwatch 2 and Google Home..

Pixel XL is on the way thanks to the wife.

I got a second gen ChromeCast to replace my first gen one that was starting to show its age! ^^

How so? (showing age). I have a 1st gen Chromecast but don't use much. It shares a Playroom TV with a Roku Stick and my son does not live with me most of the time. I did notice that when I told Google Home to play a Netflix show on that TV, it took about 20 seconds or so to stream in HD.

The amazing thing about Chromecast is that is used mini applets. It's not really possible to "show its age". Ultra is the only actual upgrade.

My newer one doesn't seem to stutter like the gen 1 did. That is what I'm seeing from mine. I just picked up the latest one myself. I might use the older one on a second TV one day (when I get one).

Google Home and Chromecast Ultra

Nothing tech related. My wife knows better than to try and shop tech for me.

I got the Google Home and Jaybird X3 headphones.

Google home, Huawei watch, Philips hue, and a generic VR head set

Google home, Chromecast and Chromecast Audio

TP-Link Google OnHub and a Google Home. Both make me want smarter stuff in the home whether or not I actually need it :)

I got a playstation vr. Pretty cool new toy!!

I got myself a gear s3 frontier. Finally came today! So far it's pretty awesome.

Google Home and Chromecast.

I got a Google Home and I'm loving it.

I got Moto 360 2nd Gen, A Fossil Q Founder 2.0, some Aukey power bank which I have yet to open from friends and family and I bought myself a OnePlus 3T.

An Android auto compatible head unit for my car

Google WiFi and a Xiaomi Mi Box to go with the Pixel phone I got a month ago. Good times!

Google home ,pixel XL,daydream,and a echo dot. Kinda like the dot too. Hey Alexa,hey Google is kinda fun to ask either. Lol. Daydream is rediculous. On the last level of hunters gate. And can't wait for the next boss on twilight pioneers!

Another Google Home and Acacia Pearl Scale

Not "Android Stuff" per se, but I am typing this on the Acer R11 I got for Christmas....

I picked up a Gear VR and a force band Monday. Tried them both out today.

Got the Pixel when it first launched, so no Android device this Christmas. But I did get my first Chromebook. Bought the Acer Chromebook R13 from Best Buy on Christmas Eve.
Still contemplating on getting the Google Home. See no practical value in getting one at this point. But if the price ever goes down to under $100 again, might snag one just to play around with it.

I got my wife a new Honda Pilot with built in Android Auto, she got me a Google Home. Very happy with both, so far! Had a few initial hiccups getting Android Auto to work right with our Galaxy S6, but looks like we've got that mostly ironed out.

Sweet, I'll be your wife next Christmas. I'll take one in silver :p

LOL, it actually is silver.

Oh if that isn't a sign, I don't know what is. Tech package too please :P

I actually got a brand new Pebble Time and I love it. I already know all the issues that may come but till then I'm rocking this perfectly capable and amazing device.

Google Home, Anki Overdrive Starter Kit, Chinese knockoff cardboard viewer.

I got myself a Pixel XL, Google Home and Nest thermostat. I love my new toys 😊.

Got my daughter a Yoga Book, Android version. She's a digital artist, and has used a bamboo drawing pad on her desktop for years. She loves its beautiful design, and portability. She says the screen is great. She says it is quite responsive too. And she hasn't missed a step drawing with it. She's testing out drawing apps now. It sounds like a gift winner.

I got a Samsung Galaxy View and I have to say, it's very cool. Since I have Sling, it acts like a mini TV that I can carry around my house.

Not really Android specific, but I did get a Logitech K480 bluetooth keyboard for use with my Android devices. It replaces a cheep no-name bluetooth keyboard I used for three years that ultimately failed. This one is very nicely constructed and has a selector to let you easily switch between three paired devices. I mostly use the keyboard for note-taking while roasting coffee and/or brewing beer.

I got an NVIDIA Shield 8" tablet.

Samsung Fast Wireless Charger

I got a Asus ZenPad 3S 10