Snapdragon 660: Benchmarks, impressions and everything you need to know!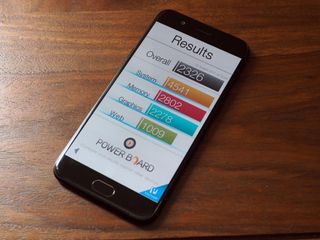 Qualcomm made the switch to the 14nm manufacturing node with the Snapdragon 820, which started rolling out at the beginning of 2016. The company also made the 14nm node accessible to the mid-range segment with the Snapdragon 625, the successor to the Snapdragon 617. The 14 FinFET node allowed for vastly increased efficiency, with the SD625 consuming 35% less energy when compared to the 28nm SD617.
As a result, the Snapdragon 625 turned out to be extremely popular, powering everything from the $150 Redmi Note 4 to the $500 BlackBerry KEYone. Looking ahead to the latter half of 2017, Qualcomm has rolled out key updates to the Snapdragon 600 series with two new chipsets — the Snapdragon 630 and the Snapdragon 660.
The Snapdragon 630 is the direct successor to the Snapdragon 625, offering 30% faster cores, support for Bluetooth 5, a faster LTE modem, USB 3.1 with USB-C, a new ISP, and Quick Charge 4.0.
The Snapdragon 660 is the more interesting of the two, as it is the successor to the Snapdragon 653. The Snapdragon 660 is designed to bring flagship-class performance to the mid-range segment, with Qualcomm rolling out a slew of updates.
The chipset features custom Kryo cores — a first for this segment, a new Adreno 512 GPU, Snapdragon X12 LTE modem with download speeds of 600Mbps and 3x carrier aggregation, Wi-Fi ac with 2x2 MU-MIMO, a Spectra 160 image signal processor, Bluetooth 5, Quick Charge 4.0, and USB 3.1. Qualcomm is touting a 20% increase in performance when compared to the SD653 from the new Kryo 260 cores, and a 30% uptick for the GPU.
Before we delve in, a look at the specs on offer with the Snapdragon 660.
Snapdragon 660 specs
Category
Snapdragon 660
Snapdragon 653
CPU
Four 2.2GHz Kryo 260 cores
Four 1.8GHz Kryo 260 cores
Four 1.95GHz Cortex A72 cores
Four 1.44GHz Cortex A53 cores
GPU
Adreno 512
850MHz
Adreno 510
600MHz
Memory
Dual-channel LPDDR4 at 1866MHz
29.9GB/s
Dual-channel LPDDR3 at 933MHz
14.9GB/s
LTE
Snapdragon X12 LTE (Cat. 12)
600Mbps downlink, 150Mbps uplink
3x20MHz CA, 256-QAM
Snapdragon X9 LTE (Cat. 7)
300Mbps downlink, 150Mbps uplink
2x20MHz CA, 64-QAM
Wi-Fi
Wi-Fi ac Wave2
Max 867Mbps throughput
2x2 MU-MIMO
Wi-Fi ac Wave2
Max 433Mbps throughput
ISP
14-bit Spectra 160
24MP single, dual 16MP
Zero shutter lag, hybrid autofocus, optical zoom
Dual ISP
21MP single
Bluetooth
Bluetooth 5
Bluetooth 4.1
Fast charging
Quick Charge 4.0
Quick Charge 3.0
Node
14nm LPP (Low Power Plus)
28nm HPm (High Performance Mobile)
There's no information on the underlying ARM core the Kryo 260 is based on, but it's likely Qualcomm is using a semi-custom design, much like what it did with the Kryo 280 on the Snapdragon 835. The core configuration is split into two sectors — performance and efficiency, with the former featuring four 2.2GHz cores and the latter four 1.8GHz cores.
The Spectra 160 is particularly interesting, as it enables a lot of camera experiences that have thus far been limited to flagship chipsets. The ISP supports hybrid autofocus, dual rear camera setups (up to 16MP for each imaging sensor), dual photodiode autofocus, smooth optical zoom, and EIS for video.
Snapdragon 660 benchmarks
The OPPO R11 is the first phone to feature the Snapdragon 660, and it gives us an early look at how the Snapdragon 660 fares when compared to the likes of the Snapdragon 652, Snapdragon 835, and others.
AnTuTu
AnTuTu Benchmark
| Device | Overall score |
| --- | --- |
| OPPO R11 (SD660) | 118525 |
| Smartron srt.phone (SD652) | 78923 |
| Xiaomi Mi 6 (SD835) | 158292 |
| Samsung Galaxy S8+ (Exynos 8895) | 170219 |
| Google Pixel XL (SD821) | 132728 |
| Lenovo Z2 Plus (SD820) | 133341 |
| Moto Z2 Play (SD626) | 68644 |
| Redmi Note 4 (SD625) | 62230 |
Geekbench
Geekbench 4.0
| Device | Single-core | Multi-core |
| --- | --- | --- |
| OPPO R11 (SD660) | 1608 | 5848 |
| Smartron srt.phone (SD652) | 1425 | 2815 |
| Xiaomi Mi 6 (SD835) | 1919 | 6095 |
| Samsung Galaxy S8+ (Exynos 8895) | 1996 | 6441 |
| Google Pixel XL (SD821) | 1604 | 4162 |
| Lenovo Z2 Plus (SD820) | 1692 | 3239 |
| Moto Z2 Play (SD626) | 911 | 4594 |
| Redmi Note 4 (SD625) | 843 | 2754 |
Basemark
Basemark OS II
| Device | Overall score |
| --- | --- |
| OPPO R11 (SD660) | 2326 |
| Smartron srt.phone (SD652) | 1535 |
| Xiaomi Mi 6 (SD835) | 3424 |
| Samsung Galaxy S8+ (Exynos 8895) | 2597 |
| Google Pixel XL (SD821) | 2340 |
| Lenovo Z2 Plus (SD820) | 2127 |
| Moto Z2 Play (SD626) | 1221 |
| Redmi Note 4 (SD625) | 1082 |
Octane 2.0
Google Octane 2.0
| Device | Overall score |
| --- | --- |
| OPPO R11 (SD660) | 9342 |
| Smartron srt.phone (SD652) | 8683 |
| Xiaomi Mi 6 (SD835) | 11658 |
| Samsung Galaxy S8+ (Exynos 8895) | 8076 |
| Google Pixel XL (SD821) | 8032 |
| Lenovo Z2 Plus (SD820) | 6364 |
| Moto Z2 Play (SD626) | 4828 |
| Redmi Note 4 (SD625) | 3887 |
GFXBench
GFXBench GL Benchmark
| Device | Car chase | Manhattan |
| --- | --- | --- |
| OPPO R11 (SD660) | 8.6 | 15 |
| Smartron srt.phone (SD652) | 5.9 | 9.9 |
| Xiaomi Mi 6 (SD835) | 22 | 37 |
| Samsung Galaxy S8+ (Exynos 8895) | 25 | 41 |
| Google Pixel XL (SD821) | 19 | 30 |
| Lenovo Z2 Plus (SD820) | 19 | 32 |
| Moto Z2 Play (SD626) | 3.5 | 6.5 |
| Redmi Note 4 (SD625) | 3.4 | 6.2 |
3DMark
3DMark (Sling Shot Extreme)
| Device | Overall score |
| --- | --- |
| OPPO R11 (SD660) | 1354 |
| Smartron srt.phone (SD652) | 900 |
| Xiaomi Mi 6 (SD835) | 3321 |
| Samsung Galaxy S8+ (Exynos 8895) | 2575 |
| Google Pixel XL (SD821) | 2655 |
| Lenovo Z2 Plus (SD820) | 2347 |
| Moto Z2 Play (SD626) | 469 |
| Redmi Note 4 (SD625) | 455 |
The benchmarks show a performance increase across the board for the Snapdragon 660, with the chipset coming close to last year's flagship SoCs. That's consistent with what I've seen in the two weeks I used the R11. There's a noticeable uptick in battery life as well from the likes of the Snapdragon 650/652/653.
For now, the main issue with the Snapdragon 660 is its availability, or lack thereof. The OPPO R11 is limited to Asia, and won't be available outside of the region anytime soon. More devices powered by the Snapdragon 660 should be rolling out in Q4, and if recent rumors are any indication, the Moto X4 will be the first phone to be powered by the Snapdragon 660 in the U.S.
Once it becomes mainstream, I think it will quickly become one of the most popular mid-range chips on the market; from a CPU perspective, it benchmarks close to the Snapdragon 835 in some respects, and handily beats every other budget SoC on the market. Lots to look forward to!
Harish Jonnalagadda is a Senior Editor overseeing Asia at Android Central. He leads the site's coverage of Chinese phone brands, contributing to reviews, features, and buying guides. He also writes about storage servers, audio products, and the semiconductor industry. Contact him on Twitter at @chunkynerd.
Thanks for explaining, I was confused on the 660 vs the 835

These benchmarks are amazing. It looks like it should be a very attractive option for battery life and performance.

I agree. The 625 in my Lenovo P2 seems quite snappy enough for most tasks. This chip benchmarks twice as fast so should be good enough for most people's needs.

The 660 sounds like an obvious choice for any non-flagship device. The battery life of the 625 series was obscene so hopefully this iteration retains that glory!

Nice article, thanks for this. The Moto X4 is so much more attractive to me with the prospect of the SD660 & a 3800mah battery vs conflicting reports of the SD630 and a 3000mah battery.

Looking forward to the day when this level of performance and efficiency will be available in the sub $200 market. It will come. Eventually.

I don't think the pricepoint will be that far away from $200, honestly. I'm betting/hoping in the 250-300 range.

If it really is $200, or close to it, then Flagships will have a tough time then! Getting near flagship level performance, with the added bonus of having better battery will make me consider only the midrange market.

In terms of daily use and overall efficiency, I love the 821 in the G6. The improvements made to processors over the last 1.5 years convinced me that the latest 835, 836 isn't what most people need.

I just picked up my G6 a few days ago and I totally agree. The 821 is a great chip. These modern chips are so good that for me, nearly all of them are powerful enough so know I want the more battery efficient chips. I think I'll look for a 6xx snapdragon in my next phone. No reason for a normal person like me to get a flagship SOC.

I agree. I mean unless you want to play the very newest, most demanding games I bet you wouldn't notice a difference in performance.

Even demanding games are running pretty good. I have a phone that comes with the snapdragon 625 and I can play NOVA 3 Commando, a graphic heavy game, with minimal issue.

Looking like the 660 will be an amazing value option, especially if you're not running demanding 3D applications.

Will the X4 have the 660? There's an "Everything you need to know" article on this site which says 630 in multiple places.

Over 110k point with a "midrange soc" that was still unbelievable two years ago....Hope some phones will feature it :D like a new version of the bb keyone with one limited edition with ip68 rating on the way, i hope it have that soc in.

This is the chip mid-rangers should be using, and not those lowly 400s!

I haven't seen those 400s in any midrange devices, they are always in the cheapest low end phones available.

What no one will acknowledge is how expensive the chip is right now. The 660 probably costs about the same as a 820 right now. Remember how the 625 came out as the 617 replacement but was only on $400 phones for a whole year. Same thing is going to happen to the 660. One of the reasons it won't be on the Moto X4. We won't see it on anything in the states for a year and then it definitely will not be below $400. Keep dreaming all you $200 people... I'm looking forward to sd450 phones due out Q4. Those Actually could be around $200...

Give me the 630, battery life is addictive and I love my Lenovo P2.

For a mid-range the 660 processer sounds very interesting. Bluetooth5 & Quick Charge4.0. I think this will become a very popular processer in the future!

I just lost my HTC 10, had it for 15 days :).
Came from the M8 and battery life on the 10 was not that great, in your opinion, which smartphone should I get now? Cheers

How much are you looking to spend?

500 tops. Pixel 1, maybe?

Ah ok! Well, if software updates are important a used Pixel might be up your alley. Likewise, maybe a 1+5 or the Moto Z2 Play would be a good fit. All good phones for just under $500.

Thanks for the suggestions. I value smoothness more than updates, and better than HTC only the Pixel.
And I don't think I need to buy a second hand Pixel, they cost 500 euros new now. But is it worth it? Maybe I should wait for for the Pixel 2, maybe some things were corrected: Waterproofing, better DAC, better battery, wireless charging, more scratch resistant, etc..

the screenshot clearly shows kryo 280, but the article says 260. am i missing something?

This looks absolutely incredible! Midrange phones are becoming so good that aside from the camera I see no real reason to pursue flagships anymore.

There's always a catch. While this seems like a excellent chip, there's gonna be a compromise. The gpu would be so much better if they included the adreno 530 into the mix instead of budetising it. Since there's a newer flagship level gpu, there's no real reasoning not to use it.

Mobile CPU's have really put Intel and AMD to shame...the improvement has been phenomenal. Early next year there will be a 10nm version so thats what? 40-50% improvement there? Makes you wonder how smart phones are going to be able to sell in the future when a basic CPU does everything you need. The only thing really is the camera and maybe the screen. Even that has a law of diminishing returns as you can only see so much PPI.
Android Central Newsletter
Get the best of Android Central in in your inbox, every day!
Thank you for signing up to Android Central. You will receive a verification email shortly.
There was a problem. Please refresh the page and try again.