Should you buy an unlocked phone in the UK?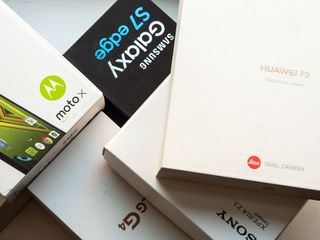 When it's time to buy a new phone, most of us turn to the four major UK networks operators, or one of the many smaller networks that piggyback on them. But as cheaper smartphones become better and better, and the urge to upgrade to the latest and greatest handsets grows, you may have been considering the alternative — simply buying a phone unlocked and popping in your SIM.
Unlike other parts of the world, buying a new, unlocked smartphone isn't a new concept for British consumers. But if you're thinking of taking the plunge, there are a few factors worth considering. Check past the break for a quick primer on buying an unlocked phone in the UK.
Why go unlocked?
First, a few obvious advantages. If you buy an unlocked phone outright, you'll trade a higher up-front cost for lower monthly fees from your network provider. The big players like EE (opens in new tab), O2 (opens in new tab), Vodafone (opens in new tab) and Three (opens in new tab) have cheaper SIM-only plans that let you bring your own phone to their network as opposed to picking up a subsidized handset on contract. And so with a few exceptions, you're generally better off in the long run.
Buying unlocked also lets you avoid getting roped into the credit agreements involved with taking out a contract, as you can always take advantage of the many great Pay As You Go deals out there.
Because you're not paying towards the cost of your phone across the life of your contract, you'll pay less each month. In many cases you'll also be able to opt for a shorter contract — many providers offer 12-month SIM-only deals. Some, including Three, even have rolling one-month contracts that let you cancel at any time.
UK providers use (for the most part) the same standards and cellular frequencies, and so unlocked phones sold in the UK will work across any of the country's mobile networks — from the big four to smaller players like GiffGaff and Virgin Media.
An unlocked phone isn't tied to any particular network, and for that reason it'll often have greater resale value when you're done with it. That's alongside the freedom you'll gain from being able to switch between providers without changing your handset. And if you're traveling abroad, it's easy to switch to a local SIM in an unlocked device, avoiding potentially expensive roaming charges.
And in the Android and Windows world, unlocked phones often have the benefit of receiving software updates before their carrier-branded siblings, as manufacturers don't need to wait for networks to add their own cruft into the mix before pushing new firmware out.
Finally, it's worth remembering that budget phones like Motorola's Moto G can be so cheap to buy outright that it's often not worth getting roped into a multi-year contract when you can pay £100 or so upfront and be done with it. The cheaper the phone you're buying, the more incentive you have to go unlocked.
How to make sure you're buying unlocked
If you're buying on the high street, Carphone Warehouse (opens in new tab) is the biggest nationwide option for buying new unlocked phones. If you're buying a Samsung phone, it's also worth considering the firm's collection of Samsung Experience Stores (opens in new tab). At the time of writing there are 15 throughout the UK. All are operated by Carphone Warehouse, and as such prices are pretty much the same.
And of course if you're buying an iPhone, your local Apple Store will gladly sell you an unlocked 4, 4.7 or 5.5-inch model of your choosing.
While Carphone Warehouse (and its Samsung stores) will sell you unlocked phones at their full retail price, it's worth remembering that phones bought on contract at CPW are generally the SIM-unlocked versions. So if you're buying on-contract with Carphone you can often get the best of both worlds — a subsidized price for your phone, and and unlocked handset in your pocket.
The same goes for Carphone Warehouse's online-only subsidiary, BuyMobiles.net.
Buying unlocked on the high street is often expensive, though. And there are a number of smaller independent retailers like Unlocked Mobiles, Clove (opens in new tab) and even eBay sellers (opens in new tab) that are often cheaper. With the latter, it's always best to exercise common sense and buy from reputable sellers with high feedback scores — especially with something as valuable as a smartphone.
Retail behemoth Amazon (opens in new tab) is also worth considering — however prices tend to fluctuate wildly depending on seller, and it's worth double-checking model numbers to ensure you're getting the unlocked UK or European version of the handset you want.
Are there any trade-offs? Things to watch out for?
Aside from the fact that you're paying more up front, there are a few potential caveats to be aware of.
Depending on the model you're choosing and the vagaries of your carrier's contract deals, there are times when it can be cheaper in the medium or long-term to pick up a subsidized phone on contract, sell that phone and use your own unlocked handset instead. For example, if a carrier wants to get rid of stock of a certain model, it might offer it with a tiny upfront price and a monthly fee not far off its SIM-only prices. In this case, if you're happy being locked into a contract for the standard 24 months, it might be worth taking the plunge.
The other thing worth considering is specialized built-in services like Wifi calling and VoLTE (voice over LTE). Traditionally these have been restricted to carrier-branded versions of phones — with the exception of the iPhone. Although this is slowly starting to change with unlocked versions of newer Android phones like the Samsung Galaxy S7 and HTC 10, it's worth checking before you buy if these features are important to you.
UK readers, did you buy your phone unlocked, or are you using a carrier-branded model? Do you plan to change the way you buy next time around? Hit the comments and let us know
Get the Android Central Newsletter
Instant access to breaking news, the hottest reviews, great deals and helpful tips.
Alex was with Android Central for over a decade, producing written and video content for the site, and served as global Executive Editor from 2016 to 2022.
18 months ago I was looking for a new contract and EE was the only network I could nearly get 4g reception.. £13.99 a month with 500mb of data.... Shopping around got me a Moto G lte (4.5" screen) on same EE contract 500mb etc at the same monthly cost.. just needed to sign for 24 months... Bargain.
still got the G now i use a Moto X and end of contract I'm changing to N6 ( I got very cheap at £245!) and wi fi calling... For me going unlocked has worked out perfect...
just needed some careful shopping around. Posted via the Android Central App

Whilst I would prefer to buy an unlocked phone full price, I didn't have the funds available this time around so got my s7 edge on contract, but from carphone Warehouse. So the handset is unlocked without any carrier software slowing updates to worry about. I've already had 2 updates from Samsung and the latest even enabled wifi calling which originally was an EE branded only feature. So best of both worlds for me Posted via the Android Central App

SIM free Nexus 5X for me from the Google Store alongside 12 month SIM only contract from 3 - £12 per month for 600 minutes and 4GB data. It's a set up that does me nicely.

I bought a Oneplus2, and I've got a virgin media sim which uses EE network. Only costs £5 per month for 500 mb, happy days! Posted via the Android Central App

I'm on a 1gb plan and I rarely use more than 500mb to be honest. I'm on WiFi most of the time, and mobile data where I live is pretty slow, so it's hard to use too much. Posted via the Android Central App

I too am on a 1GB 3G plan and use about half of that lol. But that's because I live in India and 4G is just starting here and is not available where I live. I use WiFi when I'm at home and use mobile data mostly for WhatsApp messaging and never for music/video streaming. Posted via the Android Central App

I've been buying unlocked phones for 4+ years now, in the UK. My first was a Nexus 4, then I switched to a Moto X 2014 (which I kind of hated - the overwhelmingly positive reviews from sites like this really did a disservice there I think!), and abandoned that recently to switch to a Nexus 6P. I've been on a bunch of networks over the years, but my current network is Three, which is pretty great - particularly due to Feel At Home.

Sim free nexus 6P. Been off contract now for 4 years. To be honest I just don't like any of the major network operators! I've never been with one that's treats customers like people... Posted via the Android Central App

IPhones purchased sim free by any other means than the official apple store do not become sim free after the 1st sim goes in, they are locked to whatever network sim you choose to pick. If you want to have an iPhone that gives you the freedom continually to move between networks then you have to obtain one via the apple store.
Personally I have an unlocked Nexus 6P on a 4G 10gb data plan, the rest unlimited on a sim free plan with EE, existing customers can also pick up even better deals with discounted sim only plans with your current provider like I recently did with EE, a 4G 16gb, unlimited minutes/texts, was £35 a month, now £16.49 a month.
30 day rolling sim plans don't offer the same incentives as 12 month plans for obvious reasons but generally speaking paying between £15 to £25 a month is going to get you a pretty good deal. Posted via the Android Central App

Never had a phone on contract, always unlocked, sim free. Currently have had the Note 4 for 19 months and still loving it. May save my pennies for the Note 6 if it fits the bill. Posted via the Android Central App

Something to note if you're a Tesco Mobile customer, like me... Unlocked phones don't always work on their network. I know that seems completely counterintuitive, but I've been caught out by it before. I bought an unlocked Xperia Z, expecting it to work on their network. Nope. Even manually inputting the APN info did nothing. Tesco just didn't support it. Luckily, the place I'd bought it from happily swapped it out for an O2 model which did work (I know!). Which brings me to my next point, which is you can get some great deals on used phones. I buy from CEX personally. They have a store in my town, and include one year warranty, so it's really easy for me to get support if there's a problem.

Year old flagship for < £300, £10 month rolling contract, sorted. Posted via the Android Central App

Strange, I'm curious as to how it would've played with o2 or giffgaff (or any other o2 MVNO). It's best to assume I'm being sarcastic. if I'm ever serious I'll type "/s" to make it clear.

Oh I would love to have tried Giff Gaff but O2 has appalling reception in my area.. Posted via the Android Central App

Bought my Moto X Style at CEX for £290 after Christmas. Guy bought three (white, black and 64gb) and sold them to the Fulham branch for virtually half price after he opened the boxes. Deal!
I had bought 7 Sony Ericsson P910i from their branches: and they mispriced the Lenovo Thinkpad 14" i3 I'm writing on for £235 virtually new.
Some phones are overpriced though, so I would treat it like Amazon.

Yeah, if you are looking for a new phone like the S7, it will be almost full price. And you can still buy a Moto Razr (the Android version) for like £80, which is clearly madness, especially sat on a shelf next to a £70 Moto G 2nd gen. But generally speaking they're pretty good prices. A GS6 will currently cost about £300, if a GS7 costs that much this time next year, I'm getting one. Posted via the Android Central App

Wow, contacts in the UK are only 1 year? In the US they are 2 years and it sucks. Lucky UK-ians Sprint LG G4, ZVA.

I'm on a 1 month contract. Posted via the Android Central App

A 12 month contract plan is a rare occurrence, normally on mid to low range handsets, 90%+ are 2 year deals some offering to separate the phone plan away from the price tariff, so you could pay off the cost of the handset before your 2 year deal is up. Sim only deals offer either 30 day rolling or 12 month plans, many network's like EE offer discounts for say paperless bills and additional lines. Posted via the Android Central App

Yeah, as said above 24 month contracts are the norm. Though I don't do contracts personally. And the word you're searching for is "Britons" lol. It's best to assume I'm being sarcastic. if I'm ever serious I'll type "/s" to make it clear.

A contract where you also receive a handset are generally for two years.
But if you don't need the latest and greatest phone, we have the option of a SIM-only contract. These can be rolling monthly deals, or 12 month contracts. There are some great SIM-only deals around.

30 days, 12 months are the options available for SIM-only contracts. For the phone included it's 24 months as standard. Posted via the Android Central App

ITS ALL ABOUT THE DATA.......!!!! UK networks aren't stupid, they know it, we know it...... Posted via the Android Central App

One of the best deals I had was with Virgin, PAYG monthly contract sim, unlimited everything for £20 pm. 3G only. Occasionaly regret giving it up! Went with BT 4G £10 pm 2Gig data, 500 minutes and unlimited sms. Yet to even get near my limits Posted via the Android Central App

I'm on EE PAYG, I top up £15 per month and get 500 mins, Unlimited Texts and 3.5GB of double speed 4G data. Can't go wrong in my opinion Posted via the Android Central App

I've got my Sony Z5 from Amazon in December, was 450, now is 400. On the high street it's still 500. I am on a rolling contract with 3 for 21 per month I've got everything unlimited, except tethering which is limited at 4 gb. Pleased so far, the only downside is the reception, which might be tricky indoors. Sony Z5

I've been unlocked now since my first android phone, the HTC Desire (original).
Used to be expensive back then though as sim contracts still high price.
Will never get a contract phone again. EVER.
Current deal, £14 4gb data, ultd calls/texts on Three.
Can't beat sim only deals
Watch out for offers too. Vodafone recently had the 20gb data 13 month sim only for £16pm, normally £22. If you. Drop lucky you can do really well. Great article Alex. Probably making those over the pond a bit pig sick? Posted via the Android Central App

Unlocked is often the ONLY way to go when you've lived in the UK less than three years. Most carriers/CPW won't sell you a subsidised phone on contract until you've been here that long. But no matter... splitting my time between UK and US, the best (and simplest) deal I've found in either country is pairing my unlocked Moto X with Three's contract-free £20 Add-on (used to be unlimited data, now 12GB) featuring Feel At Home. It's nice not having to juggle SIM cards when I travel back and forth, and works in most other countries I visit. Now lets add Netherlands and Germany, Three!!!!

EE offer free EU roaming with your minutes and texts but not data with their sim only plans, Vodafone go one better, allowing you to use your UK plan throughout the EU at a higher price, the problem with the Three network is that their plans regarding roaming only offer 16/18 countries. Posted via the Android Central App

Currently have an unlocked Nexus 5X, bought from Carphone Warehouse. I don't think I'll ever buy a contract/carrier phone, the freedom with an unlocked phone is too good to give up. E.g. I'm. currently on giffgaff as a payg customer, but they recently put their prices up. Since I have an unlocked phone I can move very easily to Three's payg sim, which has the cheapest payg rates in the UK Posted via the Android Central App

Bought a moto X Play unlocked, direct from Motorola, specifically for the battery life. Mobile contract is an add on to my infinity broadband, and costs £5/month for 50 mins, 500mb, and unlimited texts. There is so much free Wi-Fi all over the UK I never hit my data limit and use WhatsApp often for calls.
Previously Nexus 4, then 5, both unlocked of course, but battery life was too limited on both. Don't ever remember owning a carrier locked phone, why would I? Posted via the Android Central App

Myself and my friends and family in the UK never buy phones on contract. Thats dead. I think my last contract phone was over 12 years ago. Mugs game!

NO ONE should buy phones to carriers. It's never good business for the consumer. Never.

Not sure about now, but I did get a an HTC Desire X (£180 street price at the time) from O2 some five years ago on a £10/month contract, so basically I ended up buying the phone and paying £60 for my phone bill over 2 years. It was a Christmas deal, but nonetheless, sometimes, you can get decent deals, not on flagship phones though.

Bought my S6 last June, £640 direct from Samsung. Over the course of a two year sim only contract it costs less, although obviously the initial outlay is higher. No bloatware though. O2 actually had the phone sim free from them, at a cost of £729, with their bloatware! I'll only ever buy unlocked phones Posted via the Android Central App

I have Galaxy S7 unlocked and happily saw that the latest update enabled Three's VoLTE on my handset. Woohoo! Posted via the Android Central App

Bought my g3 outright and have been on 12 month sim only deals for a while. Currently on bt (who use ee network) as I get 600 minutes. Unlimited texts and 2gb of data for £10 per month. It was the best deal I could get at the time.
I've seen relatives take out a contract For 24 months and not renew. They just keep paying the same amount each month. Until I pointed out they were paying for a phone they had already paid off... They were pretty please when I pointed it out and they changed for a much cheaper sim deal.
(slightly off topic but another friend changed a mobile and told everyone that they had a new number. They had no idea they could transfer the number with them!!!) Posted via the Android Central App

It amazing how many people do that. I've had a friend pay a whopping £35 a month for a year after his contract, until I educated him on how to go SIM only. It's a bit mean of the networks to not tell you you've come to the end of your contract, but I guess, why would they ? All you have to do is phone them up and say "My contracts ended, I don't want to upgrade, can I go on a SIM only plan", and you'll instantly save loads of money.

Instantly, after half an hour of them trying to sell you a new 'deal' on a new contract, and not taking no for an answer. Gawd I hated that so much that I've never gone back to those networks. Not in any way disputing your comment BTW. Just taking a chance to rant about terrible customer service . Posted via the Android Central App

You have to know how to talk to them, Zebra. I've never spend more than 5 minutes ending a contract, by simply quoting a better price i would be getting elsewhere (leaving Sky Fibre for Vrigin and leaving O2 for Three). In both cases, I asked them if they can match the price, and if not to end my contract. Alternatively, if they don't let you go, tell them that you have officially given them notice just now, hang up and cancel your direct debit to them, as you are not obligated to listen to their horseshit.

I purchased a BlackBerry Z10 from O2 in the UK which came unlocked and I had been waiting for a new updated touchscreen model to replace it. O2 decided to no longer offer new BlackBerry handsets once my 2 year contract was up and to add insult to injury they introduced their Refresh tariff which separates handsets from SIM, 4 months into my Z10 contract with no option to transfer to it at no cost. I was interested in upgrading to the BlackBerry Priv to gain access to the apps only available on Google Play; and had to do so through Carphone Warehouse due to O2 not offering the handset themselves. I didn't want to change phone provider so this was my only option, being unemployed, to buy the phone and remain with O2. I still had to buy a combined handset & SIM contract for 24 months. Posted via the Android Central App

I stopped contracts when i lost my HTC desire in North West London at the time was upset but forced me down the unlocked route and never looked back. UK is very flexible and i would never even consider going contract again ever Posted via the Android Central App

I can't speak for older professionals, who spend hours on the phone (although even then unlimited call plans are avaiable from £12p/m on Three), but for students unlocked really is the way to go. You can pick up a Vodafone Smart Ultra Six (or any of their cheaper offerings) with Snapdragon 615, 2GB RAM, 16GB memory, SD card slot and a really nice full HD display for £99 (+£1 to unlock it using eBay pretty much instantly, which is perfectly legal). I don't really call or text much, and just use skype and messenger instead (4g always on). With Three pay as you go, I end up spending about £50 a year on my phone bill.