Should You Buy a Revolution Smart Toaster?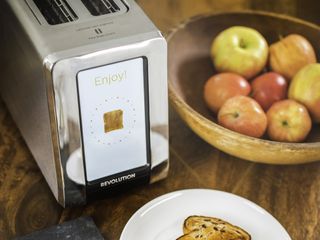 (Image credit: RevCook)
Best answer: It depends on what you're willing to spend. While the Revolution Smart Toaster is amazing, it carries a pretty high price tag. You can get a very similar feature package with the four Slice Countdown Metal Toaster by Cuisinart, at less than a third of the price.
Get in on the ground floor of a new category of smart appliances
There's not a doubt in my mind about this being the best smart toaster on the market today and would make an excellent addition to any smart kitchen. Not only is it the best, but it is also the only smart toaster available and the first of its kind. But do we really need all this power? There is no denying that this is an amazing product with some really cool features, but the price tag definitely reflects that.
Revolution Cooking took everything your old toaster was, threw it out the window, and gave every little thing an upgrade, including the crumb tray. The big draw is the user-friendly touch screen display. It has no dials and no push-down levers. After inserting your bread into the slots, you simply select the type of food you're toasting from the pictures provided and then whether it is fresh, frozen, or needs a reheat. Then, you just touch your desired bread darkness, hit start, and let the toaster do its thing. When not in use, it will simply display the date and time in either analog or digital, your choice.
Hot commodity or just burnt toast
No one will say this toaster isn't amazing but is the number of extras it offers worth the $300 price tag? It doesn't really offer anything new outside of making sure you don't burn your toast anymore or ensuring those frozen waffles are actually cooked all the way through.
As much as I love the fact that it will tell you when it's time to clean the crumb tray, life has trained me to check those every time I clean my kitchen. While it is really cool and helpful, it's not really something that will have me running to the store to pick one up.
Easier on the wallet, all the features
If you want something like a smart toaster but without the price tag, the Cuisinart Countdown Metal Toaster may be just the ticket. It comes with your basic toasting features and adds a couple of extras to sweeten the pot. This model has a four-slice capacity, especially great for families, but there is also a two-slice model. Another common feature is the cancel button; if you've set your toaster a little too high and it's already at your preferred doneness, just hit the button and boom, no burned bread.
If you are looking beyond basic features, the Cuisinart toaster boasts seven doneness settings to ensure you get the toastiness you're looking for. It also has a countdown timer on the LCD display, so no guessing and being surprised when it finally pops up. One of the things that I really liked about the Revolution Smart Toaster is its ability to slowly raise your toast instead of just having it pop up randomly, but that's the only thing you're really missing if you go with the Cuisinart.
The best feature this toaster offers is the settings; you have your basic toast setting, but you also get defrost, reheat, and a bagel setting. You can even combine settings if, for example, you have a frozen bagel you want to toast. Just hit both of those buttons, and in a few minutes, you have a nice and toasty bagel. It has just enough by way of advanced features and style to make it worth its price tag without fear of breaking the bank.
So, which toaster is right for you?
Either of these toasters would make an excellent addition to your home. They both offer more than just basic features and give you more control over the whole toasting experience. The only real question left is, how much are you willing to pay for the smart experience?
If you really don't mind paying for the latest and greatest in toast making, the Revolution Toaster is the only choice; really, there's nothing else like it out there. However, if you want many of the same features minus the price tag and the "Smart" name, the Cuisinart will do a fine job with your toasted goods.
The Smart
(opens in new tab)
Revolution R180 High Speed Smart Toaster
The toaster of the future
The Revolution Smart Toaster is hands down the best toaster available, and with 63 available settings, and the new InstaGlo heating system, it's sure to meet all your toasting needs.
The High Functioning
(opens in new tab)
Cuisinart Countdown Metal Toaster
The bells and whistles that won't break the bank
The Cuisinart Countdown Metal Toaster offers near smart features helping you achieve all your toasty desires, including seven shade settings and four heating categories. Cast in stylish stainless steel housing, it'll keep your countertops looking clean and modern.
Get the Android Central Newsletter
Instant access to breaking news, the hottest reviews, great deals and helpful tips.