Should you buy a Google Pixel Stand?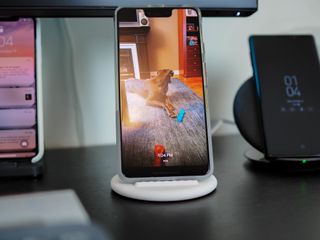 Best answer: The Pixel Stand is a great wireless charging stand that works well with your new Pixel 3, charging it more quickly than other wireless chargers. But it's also expensive. Unless you need the Ambient Mode and Google Assistant features, or you need fast charging, you may be better off buying a reliable wireless charger from Samsung or a similar brand.
Why the Pixel Stand is better than a typical Qi charger
The Google Pixel Stand is an outstanding piece of equipment. At its core, it's a wireless charger supporting speeds of 10 watts, which is faster than the typical wireless charging stand or puck. You can place any compatible phone on it, from the Galaxy S9 to the iPhone X, and it'll work as a standard Qi charger.
However, what's most interesting about the Pixel Stand is what it can do while charging a Pixel 3. Once paired with Google's new phone, it begins an "Ambient Display on steroids" of sorts, providing quick access to Google Assistant by voice or touch, along with shortcuts to popular Assistant commands like "What's the weather" and "Play news". These options cycle on a regular basis, prompting you to tap them when you want to take a break from work, for instance.
If you have a Nest Hello doorbell, which I do, the Stand also acts as a conduit for talking to the person at the front door. I didn't even know about this feature until I received a UPS package a few days ago and the delivery man's face showed up on my desk. I tapped the blue "Talk" button on the screen and told him I'd be right now. It was a pretty seamless, high-quality experience, and one that I didn't know I wanted until it happened.
A better photo frame
Perhaps the best — and my favorite — feature of the Pixel Stand is its ability to turn the Pixel 3 into a digital photo frame. Like Chromecast's Ambient Mode, which was recreated on Google's Smart Displays, a Pixel 3 on the Stand can show albums and highlights from Google Photos, which makes for a memorable distraction while working at a desk or when waking up in the morning.
While the "photo frame" feature doesn't display at all times — the phone cycles between showing photos and the regular ambient display throughout the day, it's a truly delightful addition to the Stand's feature set, and in my opinion, justifies the charger's relatively high price on its own.
A faster charge
The Pixel Stand charges the Pixel 3 at 10W, which is slightly faster than most wireless chargers on the market, many of which top out at 5W or 7.5W. This means you can get your phone back to 100% faster in about two hours, faster than most other wireless chargers, though just over half as quickly as the Pixel 3's included 18W wired cable.
But Google recently confirmed that it limits the Pixel 3's wireless charging speeds to 5W on standard Qi charging stands, which effectively limits their usefulness with the phone. In a statement, the company says that "We're working with our partners in the Made for Google program to get fast 10W chargers certified for use with Pixel 3 (Belkin announced its 10W Pixel 3 charger already which will launch in the coming weeks). Pixel Stand and Pixel 3 work together through the protocol we've developed for fast charging. Everything else charges at the industry standard Qi 5W."
That means the Pixel 3 effectively supports two charging standards — a faster proprietary standard that works with the Pixel Stand and other upcoming "Made for Google" products, like Belkin's — and the slower Qi standard at 5W.
Overall, it's not a great look for Google, but it definitely makes the case stronger for buying a Pixel Stand
Is it too expensive?
Maybe, unless you need all the features. I really like the Pixel Stand's design and its feature set. I like that it charges via USB-C cable, which is included in the box. I appreciate that it doesn't display a bright, distracting LED as many other wireless chargers do, so it's safe to keep next to your bed.
At the same time, $79 is a lot of money to pay for a thing that does the same thing as a much cheaper product, so if you can live without the ambient display and photo frame, you can safely spend less on a wireless charger.
Pixel 3 synergy
Great on its own, better with a Pixel 3
On its own, the Pixel Stand is an attractive, functional wireless charger. Paired with Google's latest phone, it's one of the best desk accessories around.
For a bit less
Samsung Fast Charge Wireless Charging Stand 2018
One of the best wireless chargers around
Samsung knows a thing or two about wireless chargers, and its latest stand is attractive, fast, and has a fan to keep your phone cool. But it charges the Pixel 3 more slowly than the Pixel Stand.
Get the Android Central Newsletter
Instant access to breaking news, the hottest reviews, great deals and helpful tips.
Daniel Bader was a former Android Central Editor-in-Chief and Executive Editor for iMore and Windows Central.