Shazam for Android can now automatically discover what music you're listening to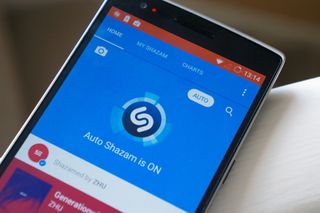 Shazam has rolled out an update for Android, which introduces the ability for the app to automatically discover what music is currently being played. This allows users of the app to discover new music without having to tap the Shazam button each and every time.
All you need to do is fire up the app, enable the AUTO selector on the home screen and you're set to go. Now whenever you hear some fantastic beats when out and about the app will automatically listen out and reveal what you need to buy next.
Clement Haider, Shazam's Senior Product Manager for Android, commented on the update release:
You'll be able to download the app (opens in new tab) (as well as the latest update with auto Shazam) from the Play Store.
Get the Android Central Newsletter
Instant access to breaking news, the hottest reviews, great deals and helpful tips.
Looks really nice, but what about the battery iife ? Posted via the Android Central App

wrong use of "too" in headline

Wait I could have sworn you could already set it to start listening as soon as you open the app...? I haven't used it in a while, but I'm almost positive that was a setting already. Posted via the Android Central App

There is a Shazam button widget you can put on your home screen for that purpose. When you tap the button, it starts the app right in listening mode. That widget's been extremely useful for me and I was very glad when they first added it. As for this, eh, I don't know. It seems like it would affect battery life a lot more. I'll just stick with the button widget. :)

Yes - it is already a setting and has been for a long time (Settings -> Shazam on startup). Selecting Auto puts a shortcut in the notification tray but it doesn't appear to start ID'ing songs on startup. The purpose is not clear. I need to do some more testing.

This will be handy Posted via the Android Central App

So it's always listening...seems kind of weird to me. I can see how it's useful to some though. Posted via the Android Central App

It's just music Posted from my cracked Nexus 6/Nexus 7 2013/Surface Pro 3

And listening in on our conversations :D :D :D :D Posted via HTC 10

Shazam results: You are arguing with your wife again. Twice so far this week. Google Nexus 6P

What frustrates me if that there scrolling lyrics have disappeared. They were about the only reason I ever used Shazam... singing along on road trips! Posted via the 10

Just say "ok Google. What's the name of this song?". Been doing this for awhile.