Seidio SURFACE kickstand case for Nexus 4 review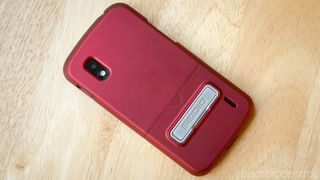 The Nexus 4's design has a lot of great features, but one of them isn't durability. With big plates of glass on both sides of the device and easily scuffed plastic around the sides, we wouldn't blame you one bit for wanting a case wrapped around it. Or like many of us, you may have gone without a case on your Nexus 4 at first, and now about 6 months in it has picked up some wear and is in need of a little facelift.
Seidio makes many great cases, and it now offers what is called the SURFACE kickstand case for the Nexus 4, and it's designed to take a beating and add a little bit of functionality and style while it does it. Read along after the break for a closer look.
Like many hard shell cases, the Seidio SURFACE kickstand case attaches to the phone by coming in two pieces — the top two-thirds and bottom one-third — that slide over the ends of the phone and attach in the middle. The downside is having a seam where the two halves meet, but fortunately the placement means you'll likely never run your fingers across it. It also seals plenty tight so that it won't snag on clothing.
The case is a hard plastic with a soft touch coating, which along with the increased thickness gives your Nexus 4 an additional bit of grip. That thickness doesn't get in the way of the ports and buttons, which have adequately sized openings around them save for the charging port which interfered with just one of our many USB cables. The lip created by the case around the screen is just high enough to protect the screen when placed face-down, but not big enough to cause any usability issues — a tough balance to strike.
A little bonus can be found on the back of the case, and that is of course the kickstand which props the device up at an angle that is good for watching longer content while sitting on a table. The kickstand is made of some sort of metal material, and has a satisfying click when it is opened and closed. The mechanism is well shrouded to prevent accidental openings as well.
The Seidio SURFACE kickstand case is available now from ShopAndroid for $29.95, and comes in black, blue, red and white color options.
Image 1 of 14
Android Central Newsletter
Get instant access to breaking news, the hottest reviews, great deals and helpful tips
Andrew was an Executive Editor, U.S. at Android Central between 2012 and 2020.
I have this case and can definitely recommend it. Posted via Android Central App

Same for me. Very nice, sturdy and the kickstand is at the perfect angle.

If my Ballistic Case for the Nexus 4 wasn't doing the job after several months, I would be buying this case just cause they supported my phone with a product even when others ( I'm NOT looking at you Otterbox, and I never will ) didn't step up...

So you're not going to talk about how new users might find it impossible to get off.... HTC ONE ~ Android Central App

Yup until you read the instructions in the box :P . True its hard to remove when you try to strongarm it without doing it correctly, but if you do what the case says it comes right off. Posted via Android Central App

We don't need no stinkin' instructions. That would be too easy

Ya I had one of these on my HTC Inspire. Trying to remove it without knowing the 'trick' is almost impossible. Posted via Android Central App

Which is the sign of a good design, really. You want a hard case to stay on the device, not come off so easily that it'll fall apart in your pocket or with a small drop.

I bought the Seidio CONVERT Combo w/ Metal Kickstand. It is the Surface case with extra hardware for protection and has a belt clip. I love the kickstand in these cases as it lifts the speaker off the table so that you can hear the alarm clearly. That and other reasons. These are great cases. I've always been an Otterbox fan but......we all know the story about that.

I really like Seidio cases, but I really don't want a kickstand and recently they have been putting them on every model. If this had no kickstand I would pick it up in a second.

Um...leave the kickstand retracted? Just a suggestion.

It's just pretty darn ugly imo. Don't really like the idea of having the main feature of the case and not using it. Posted via Android Central App

I just don't even... What? Posted via Android Central App

Why is it farfetched that I wouldn't buy a case with a kickstand if I didn't intend on using the kickstand?

I'm not sure why people are mystified by this. I like kickstands, but if I didn't intend to use it, I'd consider it an eyesore. That said, Seidio does make similar cases sans kickstand.

I don't even... Posted via Droid RAZR M on the Android Central App

Kick stands........ kick stands? Really? What ever happened to just leaning your phone against something and praying to the phone gods that it didn't slip and fall? You know you've all done it. Posted via Android Central App

Is it thin enough to Qi charge? Posted using the new, kick ass Android Central App

You mean Cha-Cha-Chia Charge? Posted via Android Central App

I read that it was but the metal kickstand causes too much heat to build up.

Sorry don't have one to test with personally, but the indications are that no, it won't wireless charge because the case is too thick.

This is incorrect. I'm charging mine right now. You have to place it so that the kickstand bar is at the very bottom of the orb. But it does charge.

Why would a Nexus 4 review need a case?

Best case company so far for someone who lives needing a kickstand case. Very low profile, only wish I didn't change tester phones so fast that they made one for every model I end up carrying.

Very true. I love their active edition case. Rugged and still slim, plus they come with holster for those that need one Via Android Central App from a Galaxy Note 2

So Does it work with the wireless charger or not?

No it does not work, spoke to the Seidio Customer Service, they've tested NFC and wireless charging. NFC is apparently not affected, charging does not work. Same with Ballistic which I use now. Not sure if will be doing this any longer as I am not prepared to sacrifice wireless charging yet...

Yes, it does. I was charging my Nexus 4 this afternoon with the case on. Promise.

I doubt it fits in the first place; the wireless charging back for the S4 makes the phone thicker. The case is sized to fit over the normal S4.

Well then it's a huge plus that this is for the nexus 4 and not the galaxy s4. :)

$30? To me that's a bit steep. I bought some generic rugged case with a kickstand and it included a belt holster off amazon for $7. I was soooo surprised how rugged and well put together it is. I couldn't be happier with my "work" case. I just don't think I could spring that type of cash for a case. $20 is my limit.

What case did you get? Link? I purchased a rugged case on Amazon for $7 and although it was rugged and very secure it didn't work because it required 2 hands to remove it from the holster. The seidio cases are all very well designed and are quickly removed from their holster. Plus you can get them at a great price on Amazon. Most generic cases on Amazon usually will always have a flaw. Via Android Central App from a Galaxy Note 2

I found this on Amazon for $20 (not including shipping) and it arrived today. We'll worth the $20, no doubt. Posted via Android Central App

I have same case for note 2 and after about 3 to 6 weeks the case is unusable. With the slightest bump it comes apart. Hopefully they fixed this with this version. Via Android Central App from a Galaxy Note 2

I would love to know if its available for sgs3 and if 30$ is for one or the pack of different colors? Posted via Android Central App

I don't understand why the prices are so high in these accessories for the Nexus 4 still as if it were just released. Bottom line, by a bumper and be through with it. Nexus 5 on the way anyway so im not buying anything else this late in the game. Posted via Android Central App
Android Central Newsletter
Get instant access to breaking news, the hottest reviews, great deals and helpful tips
Thank you for signing up to Android Central. You will receive a verification email shortly.
There was a problem. Please refresh the page and try again.