Scope review - the all-seeing eye of social networks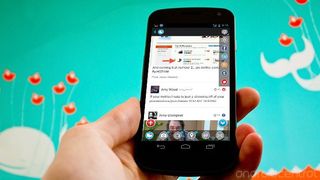 Scope is the current incarnation of a venerable social networking app that gives users quick access to Facebook, Twitter, Foursquare, Tumblr, and Instagram. I've been registered with SocialScope since its early days on BlackBerry, and was pretty surprised not only by how much it has changed, but also that it is yet again in a closed beta format.
Style
Scope has a particularly sharp and fast user interface. There's a really nice hideable shortcut bar that allows users to hop between social networks in a heartbeat, while you can flip through both networks and content types with swipes. There are smooth, fast animations between every screen,
There are definitely some design queues taken from Path, namely the add post button in the bottom-left that explodes out into a number of different content types, such as photograph, text post, or location.
Function
The app's name is fitting, seeing as its strongest suit is the large scope which it encompasses. Facebook, Twitter, Foursquare, Tumblr, and Instagram feeds can all be viewed individually or as a master conglomerated list. Feeds can also be presented based on content type across all networks, such as photos, videos, check-ins, mentions, and messages. Of course, you can always just drink from the firehose and view everything. Most of the basic functions are there, such as commenting, liking, and sharing items, but you can't do much with deeper stuff, like editing profiles or viewing events.
Likewise, users can broadcast to more than one network simultaneously, even if that content includes location, image, or text. Online socialites that use all of these hubs are just as likely to have more than one account, but unfortunately Scope doesn't offer multi-account support. Also, Instagram doesn't allow third party picture sharing, so its utility in Scope is limited to viewing only.
There are some handy notification settings, including ringtone, vibrate, and light options. There's also muting on a per-user basis, for particularly chatty friends that you don't quite want to remove. Scope does a great job of matching contacts across networks, allowing you to view profiles with links to whatever networks on which you're also friends.
In terms of performance, Scope is exceptionally responsive and snappy. There's very little clutter and I haven't had a crash to date. Notifications don't always pop up, and I regularly get a message that there are issues connecting to Twitter (even though it seems to be operating just fine). The only real downside to Scope right now is that users need to be invited to the service to use it, and despite years of development on BlackBerry, there's still a big fat "beta" tag on it. To be fair, it's only been on Android since January.
Pros
Sharp, modern user interface
Excellent variety of social networks
Cons
Still relies on invites for access
Limited depth of functions
Conclusion
While Scope could stand to plug into a few more social networks (Google Plus is conspicuously absent), all of the big ones are covered well, and all have at least a few different content types in common. While I wouldn't necessarily ditch dedicated apps for each network, light users may be able to get all of their important social networking done from Scope alone. Heavy-duty users will appreciate the breadth of visibility offered by Scope, while still being able to drill into extended functions in dedicated apps.
Scope is awesome and free. Even in its current "beta" state, I would say it's worth the hassle of trying to wrangle an invite.
Android Central Newsletter
Get instant access to breaking news, the hottest reviews, great deals and helpful tips
Simon has been covering mobile since before the first iPhone came out. After producing news articles, podcasts, review videos, and everything in between, he's now helping industry partners get the word about their latest products. Get in touch with him at simon@futurenet.com.
Con: NO WIDGET.
That was the main reason I was soooo disappointed when, after two years, I finally got an invite code. And I know it's not their fault Google+ doesn't have a write-API yet, but they do have a read-API available, so why not include it?

Sure Spook, no widget is a deal breaker by nature now !!!
And a real CON

Thank you Simon for the review of the app,
But Flipboard is doing the job, really, fine and it has the Google+ integrated.
You can't share to all social networks instantaneously, but still you can share a post from a network (Facebook) to another (Twitter) Thank you.
This app would have been the best if it only had the Google+ and a nice set of widgets
A million thank you Simon, once again

Simon, I was surprised to see it in Beta, too. I was also surprised that my old SocialScope log-in worked, 2+ years after I last used it on my old BlackBerry. While, I look forward to re-evaluating Scope again the future, I found this current Beta to be lacking and broken. I don't know about you, but I kept getting a message in my my notification pane saying that Scope couldn't connect to Twitter. It would sync with my Twitter account just fine and show my timeline, but anytime I wanted to send a Tweet I'd be kicked out to TweetCaster Pro.

I believe that anyone that wants to use it without needing an invite code can use it if they get it from the Amazon Appstore. http://www.amazon.com/Facebook-Twitter-Tumblr-Instagram-Foursquare/dp/B0... Unfortunately, if you do get it from Amazon, updates are likely to be behind the Google Play store so you will not be up to date as quickly. Solid app I have been trying out for almost a month now.

I went through the scope website and got my code within seconds. Now to see how I like the app.

I really tried to use this app, even uninstalled Twitter to force me into it but in the end, I went back. I'll start with the cons: No widget (as mentioned above)
Dodgy notifications which became annoying. Pro's: The interface is nice, reminds me a bit of Tweetdeck when it still worked.
Facebook and Instagram (and the others) tied in and the ability to mute people.

I used invite code: androidcentral, and was in. Google search helped me with an invite code.

I been using it for awhile.
Tested the app and gave out my suggestions.
Its fast, but it def needs more features that the main apps have.
Your description for LIGHT USERS is exactly what the current version is for. Its a decent app, very fast. Good to see all in one one timeline that is fluid but created for the people who dont use the other apps as heavily.

Just checked and I still have access from when I signed up from back in my BB days. I actually remember trying this again a while back when I read something on here about it and I still don't like it.....lol

Been using Socialscope, and now just Scope since my BB days, and still love it. For me, being able to "drink from the firehouse" is just awesome. All my networks, combined, in chronological order. I couldn't ask for more. There are other apps that do this as well, but for some reason, none of those peak my interest like Scope does. Maybe subconsciously I feel special because I'm in on the beta? I dunno. You hit it on the head though, occasionally you do need the stand alone app for whatever network if you're doing something more advanced then simply status surfing/replying/posting.

I like Scope, beta and all. I can get a quick look at all my recent streams, which is what I want 90% of the time. I don't find myself handicapped by a lack of features. Those who want to change their profile status a dozen times daily to keep up with their "complicated" lives and psychotic girl-friends may.
BTW: I believe the phrase is actually "Drinking from the fire-HOSE", indicating a huge volume. You can usually only get coffee over at the firehouse 'round here.

SocalScope was one of my favorite apps when I was on BlackBerry. It was one of the first social media apps that not only let you log into multiple Twitter accounts, it let you read and post to your Facebook pages (not just your personal stream). With Scope on Android, I really like the layout, even if it only lets you add one twitter account. I'm glad to see it still getting updated and making its way onto other platforms. :)

Scope is a good app, but for all my social network needs I use Flipboard. the best app I have ever installed on my phone. hands down. Does more then scope and also has G+ support. check it out. Plus you don't need a beta invite.

It reminds me of the HTC's FriendStream app/widget that comes bundled in the Sense UI, but also supports more social networks and has more filters. Sounds like it would be a nice alternative if they can add a widget to it.
Android Central Newsletter
Get instant access to breaking news, the hottest reviews, great deals and helpful tips
Thank you for signing up to Android Central. You will receive a verification email shortly.
There was a problem. Please refresh the page and try again.