Scope for Android enters beta, gets a major overhaul in the process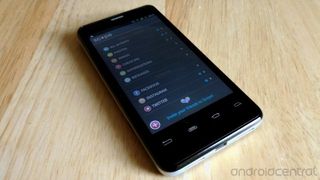 Socialscope is something of an enigma in the mobile, social networking world. First arriving on BlackBerry, before progressing over to Android, the application has always required an invitation to use. As such, it has gained an air of notoriety. You can't get in, so you want in. Development work on the Android iteration has been ongoing since the initial release of Alphascope back in November. The last update brought a significant visual upgrade, but nothing like the latest efforts. Now rebranded simply as Scope, as the application progresses to beta things are a whole lot different. We've been on the inside for sometime now as various versions have been tested, so we're pleased to be able to finally give you our first impressions.
First up is additional service support. Besides the already supported Facebook, Twitter, Instagram and Foursquare, Tumblr is now supported as well. Instagram is still viewing only, although that is to be expected. Scope fits the bill for all though, be they social juggernauts or more casual users.
The main homescreen lists all your different services, providing each with a colorful icon with which to identify them. Scope is a joy to navigate, with a swipe-oriented approach to navigation and a gorgeous UI. The way the content is displayed is really well done. Photos are displayed big, and bold, and can almost take over your timeline at times. Think about the new Google+ app, turn the dial a little more, and we're somewhere close.
And, that is a big positive for Scope. It breaks down all your social content into various sub-categories, allowing you to simply swipe between them. Besides breaking it down by service, content can be viewed by type. Scope will highlight any posts that are posting photos, or videos, or check-ins, breaking each off into their own category.
Additionally to swiping between adjoining pages, tapping the blue button in the bottom right brings up a scrollable dock at the bottom of the screen. This allows quick switching between the various categories, just without the page swiping. There's definitely more than one way of achieving the same objective, but it's all so nicely done. It's pretty fast too, and very smooth.
Eventually, Scope will become open to all, and it should take a place on everyones "to try" list. For an all in one social app, Scope is going to be hard to top. And, this is from an application still in beta. If you can snag an invitation, then do. Not just because everyone likes to be in on something closed off from the masses, but because it's a really impressive application.
In the meantime, we've got a selection of screenshots for you after the break. And, if you've got an account, or, an invite, head on over to the Play Store now to download a copy.
Download: Scope for Android
Sign up for Black Friday email alerts!
Get the hottest deals available in your inbox plus news, reviews, opinion, analysis and more from the Android Central team.