Scope for Android enters beta, gets a major overhaul in the process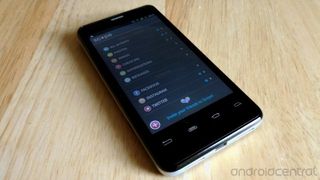 Socialscope is something of an enigma in the mobile, social networking world. First arriving on BlackBerry, before progressing over to Android, the application has always required an invitation to use. As such, it has gained an air of notoriety. You can't get in, so you want in. Development work on the Android iteration has been ongoing since the initial release of Alphascope back in November. The last update brought a significant visual upgrade, but nothing like the latest efforts. Now rebranded simply as Scope, as the application progresses to beta things are a whole lot different. We've been on the inside for sometime now as various versions have been tested, so we're pleased to be able to finally give you our first impressions.
First up is additional service support. Besides the already supported Facebook, Twitter, Instagram and Foursquare, Tumblr is now supported as well. Instagram is still viewing only, although that is to be expected. Scope fits the bill for all though, be they social juggernauts or more casual users.
The main homescreen lists all your different services, providing each with a colorful icon with which to identify them. Scope is a joy to navigate, with a swipe-oriented approach to navigation and a gorgeous UI. The way the content is displayed is really well done. Photos are displayed big, and bold, and can almost take over your timeline at times. Think about the new Google+ app, turn the dial a little more, and we're somewhere close.
And, that is a big positive for Scope. It breaks down all your social content into various sub-categories, allowing you to simply swipe between them. Besides breaking it down by service, content can be viewed by type. Scope will highlight any posts that are posting photos, or videos, or check-ins, breaking each off into their own category.
Additionally to swiping between adjoining pages, tapping the blue button in the bottom right brings up a scrollable dock at the bottom of the screen. This allows quick switching between the various categories, just without the page swiping. There's definitely more than one way of achieving the same objective, but it's all so nicely done. It's pretty fast too, and very smooth.
Eventually, Scope will become open to all, and it should take a place on everyones "to try" list. For an all in one social app, Scope is going to be hard to top. And, this is from an application still in beta. If you can snag an invitation, then do. Not just because everyone likes to be in on something closed off from the masses, but because it's a really impressive application.
In the meantime, we've got a selection of screenshots for you after the break. And, if you've got an account, or, an invite, head on over to the Play Store now to download a copy.
Download: Scope for Android (opens in new tab)
Android Central Newsletter
Get instant access to breaking news, the hottest reviews, great deals and helpful tips
Haven't used in a while, time to give it a go again. New update looks nice.

Any chance of getting an invite? jake@guitarified.com

try "theverge" should still work . . . . get our of the Android blogs once in a while

Desperately needs support for multiple twitter accounts. That, and it seems to forget where I am in the timeline way too often. Sometimes jumping backwards an hour or so even while in the midst of scrolling. Fix those two issues, and it's the best social media app out there.

The below comment worked!:) Use theverge to get in! Thanks to the person below!

GUYS theverge is a beta code... use it sooner than later...

Code works perfectly! And, aside from a few tweaks I'd like to see (support for multiple Twitter accounts, G+, LinkedIn), this seems to be my new favorite. Tweetdeck (and Tweakdeck) can sit on the sidelines for a while.

Really good improvement! As @tuffy54 says, this bug need to be fixed. And I like the way it show now the photos. Good step ahead for the @socialscope team!! Congrats!

Hmmm I'm on theverge.com all day everyday and never noticed a post from them about this all. Good looking.

I've been waiting for a invite for over 2years could I get a invite please! I would love to have this for my evo Update I have it now and Omg I love it!

An update just got pushed to my phone about an hour ago. My question is how can you have the "tile/column" view when viewing instagram pics from your account? I like it alot so far. I have uninstalled Friendcaster Pro and Plume. Just wish they would add G+ of course and Linked.

which is better this or flipboard?

I got an invite for the BB beta 18 months into owning an android device.
It took 2 1/2 years to get my invite approved. Has anything changed with the invites?

Well I registered for an invite and got one within about 8-9 hours.

and how did you guys get it from the verge? can't find it on their site or where to use the code.

Nevermind I found it....slap me upside the head.

Lol what app is in beta for over 3 years.when I had it for BlackBerry they only invite a few and only some of those get updates. A lot of people waited over a year if not two for an invite when their email says you'll get one in a few weeks. Other than that the product seemed decent with crappy support but that was before

"Lol what app is in beta for over 3 years" - Um most of google apps :)

The BB version was much better. The new UI is slick, notifications aren't consistent and what's up with the home screen icon? Overall it can't stand alone. For anyone who just got it, don't delete your other stuff just yet. It's still a buggy beta.

Awesome!! I was a BlackBerry user till last december when I change to the dark side (iOS), and just after 4 months and a friend lend me his Galaxy S2 I was just wordless. I went and bought a Galaxy Nexus and I couldnt be happier, and now I´m even happier to see that my beloved BlackBerry app SocialScope is here and I can use my same username!!!! Definetly the best twitter app out there...

As a casual social media user, I can say this is the best multiple network app out there. Yes, I would love to see Google+ integration, but that can't happen until Google releases the api to the development community (which if we are lucky, will be announced at Google IO this week). Other than that, and a flawed notification system, I can say that I truly LOVE this app! It has gotten way more updates than the Blackberry version ever did. Keep up the great work @socialscope team and THANK YOU!

I have two more invites, if anybody wants one!!!!!!

could you give me one?? diamonddozen15! I leave my mail: convertgregor@gmail.com :)

sweet just got in, this is awesome!!

Really liking the update, looks great. My only issue is the refresh interval. I like to manually refresh but sometimes scope doesn't respond.

I've been using it today and it keeps notifying me I've been logged out of Twitter....which I haven't. I think I'm gonna try Carbon when it comes out and maybe try to get used to the beta because I really do like the all-in-one philosophy.

Someone out here gives me an invitation to use Scope? # appsAndroid

Can anyone invite me. Gailankkgsss@gmail.com
Android Central Newsletter
Get instant access to breaking news, the hottest reviews, great deals and helpful tips
Thank you for signing up to Android Central. You will receive a verification email shortly.
There was a problem. Please refresh the page and try again.