Save the date with Countdown Watch Face on Android Wear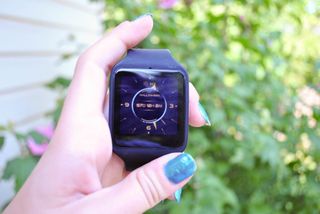 There is always something to be excited about, whether it's an upcoming holiday or the release of the next big Marvel movie. We've gotten used to seeing countdowns to that special something, and now you can wear one right on your wrist. Countdown Watch Face is available for your Android Wear device. It's got some nifty options to personalize how it looks and acts along with the important part — the countdown timer.
The Countdown Watch Face is a really versatile watch face that you should definitely check it. It's got a futuristic feel, along with tons of options, and a countdown timer right in the middle of the screen. The default screen is red and black, with a digital readout of the time and an analog face around the edge of the screen. On your smartwatch, there actually aren't any options. At all.
Your options are all available on your smartphone, and they're broken into multiple categories; Countdown, Watch, Weather, and Colors. There are two more categories, but neither have any options so we're just going to ignore them. In Countdown you can decide whether or not your timer will be visible, along with setting a date and time that you are counting down to, and text to show on your screen.
The watch screen gives you a ton of options that dictate how the watch face itself looks. There are alternatives for the minute and second hand, the option to show the face in ambient mode, and the option to hide AM/PM. All of your options come in the form of checkboxes which makes it especially easy to only grab the options you want to see. Even better, power sucking options like the sweeping seconds feature come with a warning, so you don't accidentally end up killing your battery.
There aren't many options for your weather updates, and it doesn't even show up on the default face. You can easily enable weather updates, choose a weather source, or get your weather in Celsius instead of Farenheit. If you decide to enable the weather icon for your smartwatch, it will appear at the top of your screen, out of the way but still quite easy to see.
Last but certainly not the least of your options is when it comes to the color of your watch face. Really you have two basic choices; pick from one of the tiles at the bottom of the screen, or go ahead and pick any color you can find on the color wheel. The latter definitely gives you tons of options, since there are two slider bars to help you pinpoint the precise color that you are looking for.
The Countdown Watch Face has a really nice look to it, and the app has an easily navigated UI. There are tons of options to tweak and play with to get precisely the look that you prefer. There aren't many watch faces that employ features like a countdown out there, and do it with the style you'll find with the Countdown Watch Face. Best of all it's available for free right now, which means there isn't any risk giving it a shot.
Sign up for Black Friday email alerts!
Get the hottest deals available in your inbox plus news, reviews, opinion, analysis and more from the Android Central team.
Jen is a staff writer who spends her time researching the products you didn't know you needed. She's also a fantasy novelist and has a serious Civ VI addiction. You can follow her on Twitter.