SanDisk releases world's fastest 64GB microSDXC card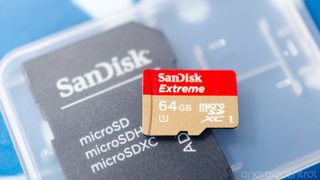 SanDisk's new high-speed, high-capacity microSD cards were designed with the smart phone user in mind
SanDisk has a new product in their popular line of microSD cards, the SanDisk Extreme microSDHC and microSDXC UHS-I cards. Designed for users who need fast storage for their smart phone, tablet or camera, the new microSD cards offer read and write speeds that are perfect for taking multi-shot high resolution pictures, as well as full HD high framerate video.
In SanDisk's testing, the 64GB model reached read speeds of 80MB/second, and write speeds of 50MB/second. Speeds like this allow you to do things like take more shots in a row using your camera's burst mode, or take beautiful high-quality HD video. Of course, file transfer speeds are also greatly increased, letting you copy those images and videos, or music or ROMs from your computer even faster.
Ultra-fast, high capacity ​microSD cards are a perfect match for Android phones that support removable storage. Stuart Robinson, director of handset component technologies service at Strategy Analytics puts it succinctly:
We know you all like big, fast SD cards, and this one looks like a winner. To be sure, we had SanDisk send us the 64GB SDXC model and I'm going to see if it lives up to the hype. We'll run it through the benchmarks, but also try it in real-world situations like in an Android phone, a computer, and a DSLR. Look for the results soon! In the meantime, the full press release is after the break. Read through it, and discuss.
SANDISK INTRODUCES WORLD'S FASTEST 64GB MICROSDXC CARD – IDEAL FOR THE LATEST SMARTPHONES, TABLETS AND CAMERAS
MILPITAS, Calif., July 9, 2013 – SanDisk Corporation (NASDAQ: SNDK), a global leader in flash memory storage solutions, today announced the SanDisk Extreme® microSDHC™ and microSDXC™ UHS-I memory cards, the ideal companions for users who want fast expanded memory for the newest smartphones, tablets and cameras.
"The SanDisk Extreme microSDXC card allows users to do more with their devices," said Susan Park, director, retail product marketing, SanDisk. "Our high-performance and high-capacity microSD cards enable consumers to take advantage of the highquality HD video and imaging capabilities in the latest 4G smartphones, tablets and action cameras."
The microSDXC card is equipped with the fastest speeds available on the market with up to 80MB/sec read and up to 50MB/sec write speeds allowing faster shot-toshot performance, rapid data transfer, fast action photography, continuous burst mode and quick file transfers. Additionally, this memory card is an ideal choice for Android-powered devices with 64GB of capacity, providing an instant storage upgrade for capturing and keeping data.
Also compatible with the latest cameras and sport/action Full HD camcorders, the card's extreme speed allows users to capture amazing pictures and videos. The card's UHS Speed Class 1 (U1)5 and Speed Class 10 video recording ratings ensure users will enjoy higher performance than ordinary memory cards can deliver for Full HD and even 4K HD video recording and playback.
"Most high-end smartphones are now driven by high-speed quad-core processors, which deliver Full HD content and applications to large, high-resolution external displays," said Stuart Robinson, director, handset component technologies service, Strategy Analytics. "Such applications require high memory bandwidth which is ideal for the SanDisk Extreme microSDXC card, the world's fastest microSDXC memory solution."
The SanDisk Extreme microSDHC and microSDXC UHS-I cards are built for and tested in harsh conditions. They are waterproof, shockproof and resist x-rays. In addition, the new cards include:
An adapter for compatibility with full size SD™/SDHC™/SDXC™ supporting devices
A downloadable offer for RescuePro® Deluxe data recovery software for bringing accidentally deleted images back to life
A lifetime limited warranty
SanDisk Extreme microSDHC and microSDXC cards are available worldwide now and on www.sandisk.com in 16GB to 64GB capacities carrying MSRPs of $59.99 to $199.99.
SanDisk microSD Memory Cards
SanDisk is the inventor of the microSD™ card format and offers a full portfolio of microSD cards for retail and commercial customers. SanDisk microSD, microSDHC, and microSDXC cards deliver the speed and capacity consumers need to get the most out of their mobile devices.
Retail products include SanDisk microSD/microSDHC cards, the perfect, everyday choice in affordable expanded memory for basic feature phones; SanDisk Ultra® microSDHC/microSDXC cards, which are twice as fast as ordinary cards and offer Full HD video recording and advanced photo capture, ideal for Android powered smartphones; the new SanDisk Extreme microSDHC/microSDXC cards; and SanDisk Extreme Pro® microSDHC cards, which provide unparalleled data speeds for the microSDHC capacity.
About SanDisk
SanDisk Corporation (NASDAQ: SNDK) is a global leader in flash memory storage solutions, from research and development, product design and manufacturing to branding and distribution for commercial and retail channels. Since 1988, SanDisk's innovations in flash memory and storage system technologies have provided customers with new and transformational digital experiences. SanDisk's diverse product portfolio includes flash memory cards and embedded solutions used in smart phones, tablets, digital cameras, camcorders, digital media players and other consumer electronic devices, as well as USB flash drives and solid-state drives (SSD) for the computing market. SanDisk's products are used by consumers and enterprise customers around the world.
SanDisk is a Silicon Valley-based S&P 500 and Fortune 500 company, with more than half its sales outside the United States. For more information, visit www.sandisk.com.
Android Central Newsletter
Get instant access to breaking news, the hottest reviews, great deals and helpful tips
Senior Editor — Google Ecosystem
Jerry is an amateur woodworker and struggling shade tree mechanic. There's nothing he can't take apart, but many things he can't reassemble. You'll find him writing and speaking his loud opinion on Android Central and occasionally on Twitter.
www.sandisk.com in 16GB to 64GB capacities carrying MSRPs of $59.99 to $199.99.

"SanDisk Extreme microSDHC and microSDXC cards are available worldwide now and on www.sandisk.com in 16GB to 64GB capacities carrying MSRPs of $59.99 to $199.99." Posted via Android Central App

did you even read the article? anyways, amazon has them for $99, and it retails for $199

I'm sure a lot. I wonder about the transfer speeds. I remember before I had the HTC one, that when you dealt with a lot of files, it simply slowed down a lot. Now they should focus on making all SD cards high speed, because so many of them have so many different transfer speeds and most people aren't aware.

+1 That's one thing I've found to be constantly overlooked in smartphone talk. I'd be all over this if I had a phone that used one. Posted via Android Central App

you can always increase your speed of lesser cards

Benchmark like you mean it, Jerry. Crystal SD tools or some such is what i tried. Some found that big blob write speeds weren't always indicative of small, 4K burst speeds. I found a "fast," Class 10 Kingston didn't live up to all its promise..... What's better for a phone? Depends on the regular use I'd guess. Most apps that sync -- the AC app seems pretty busy ;-) -- probably make many, many small writes hour by hour, right? Splattered for your amusement... via the AC App

Sandisk already has an extreme pro line that has 95/90 MBps read/write but it caps at 16 gigs of storage.Even so, that line of cards is the world's fastest microSD overall.

Time for a 128gig SanDisk (: Posted via Android Central App

Only you Jerry always advocate to get rid of SD slots in the phones ang go google model Posted via Android Central App

Should they still be developing these when the trend in phones is not to have a user SD card slot?
Let's make decent sizes of memory for the OEM to put in at build. Posted via Android Central App

Maybe I don't pay enough attention to the overall market, but what I am seeing is not necessarily a trend with regard to doing away with expandable storage. A few flagships, notably the One, no longer have it, but the S4 does. Not to mention the numerous mid to low range devices that tout expandable storage. I for one am glad to see such developments. I make extensive use of my GS3 and with less than a year of ownership, I have twice hit the internal memory limit on 16 gigs of storage with apps only, and I have a 32 gig card for docs, music, and photos. My hope is that my S3 gets the app to sd storage capability should it get another update, like what was done with the S4 Sent using... What does it matter? You don't care anyway

Isn't that exactly the point. If your s3 already had 64GB of storage you wouldn't hit that 16GB limit. And everything would be faster than using an SD card and you wouldn't have to spend more money on an SD card. Posted via Android Central App

But you pay more for the phone with the larger memory capacity compared to a 16gb + microSD. Posted via Android Central App

I'm guessing none of you have ever had a phone quit working entirely, and had your data still intact on an sd card? If they start forcing the Apple model on us, we might as well just become a bunch of
Socialists and have one model for everything and no choiceor options for later. I used to be a senior advisor for AppleCare and trust me, there are calls by the ton for customers who lose data due to bad hardware, most of whom would have been happy to have had a micro sdcard chip that could have saved their data. Yes SD cards go bad, but I've had better odds with a card I can secure, and remove vs relying on one product.

These speeds will not happen as I don't believe any existing phones support the UHS standard yet. As a result you will continue to see typical class 10 speeds. With a pricy adapter and a PC with Usb3, you can get the speeds, but not anything else unless they carry the UHS logo. Posted via Android Central App

But does it keep unmounting from the S4????????? LOL.

My 64 GB sandisk would no longer read in my Note 2. Put the card in and the phone says "mounting". 2 seconds later it says "your card is safe to remove". Just returned it to sandisk for replacement. The new card is shipping now. I really hope they fixed these issues. If they really want to keep me as a customer, they'd send me one of these new bad boys.

The 64gb cards are unstable unless they are formatted to exFAT. It says so in the description on their Amazon order page. My guess is that you are formatting yours as FAT32 because it is the default file system. Most kernels don't even support exFAT. You're better off just getting a 32gb card.

Note: USB 2 bus speeds top out at 50MB/s. You'll never exceed this in data transfer unless you get a USB 3 reader or have a computer that has a built in USB 3 card reader.

I bought two Sandisk 64GB MicroSDXC Class 10 cards from Amazon back in January.
(sold and ships directly from Amazon, not third-party sellers.... third-party
sellers on Amazon are 90% crooks, by the way) Each card was only $41, delivered via free 2-Day Prime shipping. This new "Extreme" MicroSDXC cards has the same 64GB capacity, but "faster" speeds.
The price will no doubt be over $100. (more than double of the "slower" card) Is it rally worth it? Where is the 128GB MicroSDXC card? Shouldn't it be out by now?

Maybe I missed something, but how is this different than current UHS class 1 cards?

The write speed is about 2x better than other U1 cards. The nearest one I can find on newegg is a Samsung card running 60MBs read / 20MBs write. This new card is claiming 80MBs read/ 50MBs write, pending that the device can support the bandwidth, actual results may vary. Is'nt the U1 standard roughly 10MBs read / 10MBs write (same as the old Class-10)? If so this would actually be a U5 card, whereas the previous market offerings topped near U3. Not worth double the price for me though (I am not interested till the price is under the "1$ per GB of storage" price point). Soon other competitors will catch up and help drive this cost back down.

First I think they should fix the issues the cards have of burning out. Went thru 4 replacement before I threw it out. Horrible products. Posted via Android Central App

So what is fastest and best 64gb memory card I should buy for my galaxy s4? Regardless of price.
Android Central Newsletter
Get instant access to breaking news, the hottest reviews, great deals and helpful tips
Thank you for signing up to Android Central. You will receive a verification email shortly.
There was a problem. Please refresh the page and try again.