Samsung preparing dual-SIM Galaxy Note 2 for Chinese market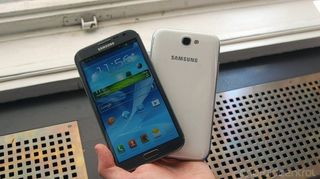 Dual-SIM phones are big business in some global markets, and China is set to receive the biggest dual-SIM phone imaginable in current times. Samsung is reportedly preparing a dual-SIM version of the recently announced Galaxy Note 2.
China is rapidly becoming one of the largest smartphone markets in the world, and so it makes sense that OEM's would want to cater for Chinese specific needs. This special version of the Note 2 is identical in every way to the International variant we saw in Berlin at Samsung Unpacked, until you remove the back. Lying beneath is a slot for a regular SIM, and a micro SIM next to the microSD card slot.
It's said to be heading to China Telecom, but currently there is no word on price, or any possible availability in other global markets. For more on the Galaxy Note 2 be sure to check out our hands on coverage from the Unpacked event in Berlin.
Source: Mydrivers via Unwired View
O.M.G. I want/need a dual SIM phone. For my work and home numbers.
At the moment dual SIMs are really only in fairly blah little cheap phones, so I've just put up with carrying two phones about. This would be PERFECT. PERRRFET. I want one, and I will scan dodgy Chinese phone websites to get one.

Lol, "... Dodgy Chinese phone websites..."

Wish the had 2 Sim Phones in the US. It would come in handy. And I mean top cell phone manufactures not the knock-offs from China.

Would be super awesome if it supports AWS and NAM HSPA+ bands

I wish they'd release a high end dual sim phone in the US, carrying around two phones, one work and one personal is getting really old. Both are AT&T
Android Central Newsletter
Thank you for signing up to Android Central. You will receive a verification email shortly.
There was a problem. Please refresh the page and try again.