Samsung may bring its fancy 6GB Galaxy S8 to North America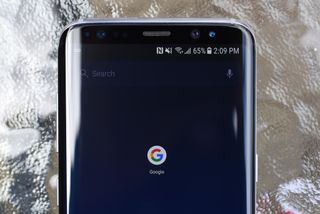 While Samsung's native Korea tends to keep its special edition Galaxys to itself, the company is keeping open the possibility that its impressive 6GB/128GB model of the Galaxy S8 will be available in other countries.
According to Yonhap News, Samsung is mulling the idea of bringing the configuration to other markets.
This would be the first time Samsung has offered a 128GB configuration of its flagships outside of its native Korea, and could, if paired with, say, a new color, prove to be a popular choice amongst enthusiasts looking to eke the most performance and resale value from the phone. It would cost more than the regular S8, at around $1,018 at today's exchange rate.
The standard Galaxy S8 and Galaxy S8+ come with 4GB of RAM and 64GB of storage. Would you spend the extra two hundred dollars or so for the 6GB Galaxy S8?
Daniel Bader was a former Android Central Editor-in-Chief and Executive Editor for iMore and Windows Central.
I will be pissed if this happens after I buy the current U. S. model.

Why? It's going to be way too expensive for what you get.

I'll be more than happy to have my S8Plus with the 4gb of ram and 64gb of storage it doesn't matter to me what other countries get. I have a 256gb Samsung class 10 sdxc card more than enough storage can't ask for anything more.

Then you get pissed way to easily

With the price they can keep it. I'll stick with the 64/4

To much for a phone, just give me 4/64 and a 128 memory card

These special edition variants get updated the last.
So you'll probably end up paying for something that's not even beneficial for you if you buy this

Yes, and I'd give blue a try this time for something different. As a matter of fact, this is pretty much the only way I'd buy one.

Nope. 64GB/4GB is plenty for a phone for me and my needs.

If the 128GB/6GB were cheaper you wouldn't be saying that. OnePlus managed UFS 2 128GB over 64GB for £40/$40 more, Samsung asking for $200. Not surprised many of you are telling yourselves you don't "need" more. If it were accessible you'd want it.

OnePlus often sell hardware at a loss and recoup money on accessories.

I would go for it. That would prevent the buyers remorse when the Note 8 launches -- likely with that 6GB ram.

Meh - if it doesn't manage the Ram like a Pixel or an iPhone then what's the point?

Very valid point. Most don't consider this. Only read the box.

if you're not planning on buying an S8, whats the point of you asking?

I already have mine preordered and im a Samsung guy all the way - but after owning several of the Galaxy devices I get fed up with my apps having to restart after being run in the background for a short amount of time. It's not a deal breaker, but I'm not gonna be harping over this 6GB version.

What are you talking about its better then the Google bezel XL in ram management. https://youtu.be/UK8K-lhDFVw

Thanks for sharing this! Hadn't seen it yet.

NP. I haven't experienced any ram management issues since the S6 edge. They fixed it a while back. And looks like the S8 is doing just fine also..

You may want to share that fix with the rest of the world since it's a known issue on all the 7 Series Samsung devices as well. S7 Edge, S7 active and the regular S7.

I have 3 S7 edge's in my family being used and non have ram management issues.

You should see how it does against a 3T or iPhone 7 side by side. It's embarrassing

I thought the Pixel would be much better than that. Sad

I don't even bother comparing with iPhone. Any phone would be fast if it had next to nothing software/hardware and a 4 year old display like the iPhone does. How about watch YouTube in split screen mode and send emails or texts at the same time. Android wins!

You mean phones with no features and inferior screens

https://youtu.be/otwED6s3rCQ

The OnePlus3T is an outstanding device at an amazing price point. I wish I could get my hands on the midnight black edition. It also goes to show just how badly Samsung is ripping off it's customers.

Yes it looks a good device mate, but do you think if your 3T had wireless charging capability , an expensive hi res curved screen, water resistance , eye scanner and the company actually had its own walk in stores around the world , and a vast array of goods and accessories made to go with your device it would still be that cheap. ???

Samsung ripping us off? You're the one buying a third rate device

No ram issues here on my s7e

My s7 active does just fine, in fact even better than the rest of the family. You know wirh that massive battery and all.

Several youtube videos show that the S8, even on pre-production software, has better RAM management than the Pixel and Pixel XL (search for s8 vs pixel). Posted via the Android Central App

It's just numbers. You can have 8Gb and Android will still suck at multitasking. My Palm Pre handle multitasking like a champ and that was with only 256MB RAM and this back in 09 lol I think it's in the core of its operating system. Android was simply not designed for it. And neither is IOS.

They have gotten much better about resource management over the last several years. I've had the S5, Note 4, S6 Edge+ (which I initially got for myself when I switched from AT&T to T-Mobile but gave to my mother when I added a line for her), and Note 5 (getting for myself when I added a second line for my mother) and progressively seem to have gotten better over time. I would of gotten the Note 7, had the battery issue not creeped up, because the UI had gotten better over time. However I'm going to hold out till the Note 8 comes out.

How does the Pixel, an Android, do it differently than Samsung, an Android?

This phone with Dex though is what I want.

we will see all the other phone companies come out with their own version of Dex. Samsung trendsetters..

I'm highly interested in this!...Adding even more RAM could generally only help to avoid that gradual slowdown these phones tend to experience over time. Same for the HDD filling up with GearVR etc apps (which can't be stored to SD card) in a year or two. Though I have to admit that price is pretty hard to take! But would be worth it if it will last longer (ie several years without ever having to do a reset, which i kinda refuse to do) as a result.

RAM won't help any perceived slowdown. It'll just allow more apps to be open.

Question is though: Will it be available to buy from common carriers, like Verizon??

I would think so. For ADMINS, please ignore my reporting his post it was in complete error. My fingers were working faster than my brain.

Well apparently the edit button isn't working for me. Anyways I was trying to say, if they offer it in North America I would think it would be available to the major cell providers. AT&T, Sprint, T-Mobile, and Verizon. Beyond that though I would think straight from them.

". . . plans to expand the sales to other countries will be considered depending on market's demand" Besides generating clicks, I'm not sure why North America was singled out in the title. There are many more countries it could be going to, especially the European ones.

It's called tailoring your article to your audience. Emphasizing pertinent information is what a headline is for.

Android Central has readers from around the world. Though I'm sure most are coming from North America, the title pretty much ignores everyone else. In my opinion, a more appropriate one would've been "Samsung may bring its fancy 6GB Galaxy S8 to other countries." It still gets the point across while informing everyone that their market could be in the running. Just an opinion from a random commenter.

64 GB i assume? not 6....

Can you imagine 6gb of storage these days? Hilarious to think about it.

Yes thank you, just being a comic

Unoptimized Samsung software/bloat on that much ram is such a waste.

A lot of that has been cut back. The majority of it anymore comes from the providers really. Verizon being one of the worst I've ever dealt with, AT&T being right up there too.

Seems like a no brainer to me. The spec junkies will be all over it. But seriously other than having a few more apps open in the background, is there really any need for 6gb of RAM right now or even in the next year? Now I can see it being useful for Samsung with the Dex functions and how they may want to expand it but really. Just asking for a friend.lol

""This would be the first time Samsung has offered a 128GB configuration of its flagships outside of its native Korea" Not really, Samsung released Galaxy S7 Edge, Black Piano with 128GB in Brazil, in the beginning of 2017. http://www.showmetech.com.br/galaxy-s7-edge-black-piano-128-gb/

Shhhhh, don't correct them. 'MURICA is the only country in the world. Posted via the Android Central App

Yep. Without the US, most of you would starve or have to provide for your own defense. You're welcome!

amuro you're saying that as if he should care about a phone being sold in another country. and he should care because?????????????????

I'll never even use up the 64 gigs, so this definitely isnt for someone like me. Options are always good though ao the power users out there will love this

I thought 6gb ram would of been in every high end phone in 2017.

oneplus 3t here and im happy with it, samsung shouldnt have released a 4gb ram model with how their software bloats

Did you have to pay out the nose for that? /s

Oneplus 3t is nothing next to a flagship

"This would be the first time Samsung has offered a 128GB configuration of its flagships outside of its native Korea" Umm, maybe do a little research first, both the S6 and S6 Edge were available in 32gb, 64gb, and 128gb in the US.

Not worth the money. 4gb is plenty. Unused RAM is not helpful at all.

This phone should of had 6GB of ram from the get go, considering the price of the phone and the Samsung UI over AOSP. Specially how Samsungs have tendency to slow down after a while. They just cashing out on their name...

They sure are. And they're doing great.

Eh, if it's just the smaller model, no I am not interested. I'm going to get the Note 8 eventually and that one better be specced to the gills, though.

It'll definitely be worth the extra ram and storage for folks such as myself that plans on utilizing the DeX dock.

That, I could see it for.

Always something new, newer faster or better coming . I will be in the market for a newer phone (maybe) after July/August 2017. New Pixel or other flagship device. As long as I don't have to wait 4-6 week past the order date (GOOGLE I'm talking to you).

It would be Gravy for me. It would make the S8 my dream phone.

Sure if the phone has guaranteed support for at four years.

I'm not sure any phones have guaranteed support for that long. I haven't heard of 3 years either. But I'm not the Internet so Idk everything.

It would make waiting for the Note 8 more difficult. I hope this is an option for the Note.

The Note better come with them specs

The next Note might have the RAM upgrade. Can't guarantee it, though. The recent Notes were very similar to the S-line phones of the same year in terms of specs.

Pay more for something that should definitely be standard for a $1000+ phone? Lol

I guess the market will determine that

"This would be the first time Samsung has offered a 128GB configuration of its flagships outside of its native Korea"... I recall the S6 being offered in 128GB, anyone else?

I wait until we get a confirmation from Samsung that this is coming to the US before I purchase the S8. I much rather have this version of the S8

If it had a user replaceable battery, I'd buy the 128/6GB version, but no, not with a sealed battery.

I hate it that phone manufacturers have opted for non-removable batteries. I see two reasons for this: 1. Planned obsolescence.
2. Waterproofing.

It's usually the latter going forward. It is actually possible to replace the battery on a number of phones with sealed batteries as some have adhesive pull-tabs. They're not meant for swapping on the go, though.

And not wanting you to put in a crappy replacement battery then blame them when it explodes

This is not the 1st Samsung device with 128GB outside south Korea.. S7 edge 128 was launched in India and many other countries...
Well iam using Axon 7 128gb with 6 GB ram and phone is great... And with Android 7.1.1 is better

I bought a ZTE Axon 7 Premium with 6 GB/128 GB for only $541 (tax included) back in December.

So you're comparing a flagship device with a third tier device?

a 5.5" 2k screen, dual front facing speaker, 128GB storage, 6GB RAM, 20+ MP cam having phone is 3rd tier!?!?!?!? man if that's 3rd tier i can't imagine what top tier would look like

Meanwhile I'm still waiting for Nougat on my unlocked US version S7 Edge.

So what is it? So many storage terms thrown around and none actually making sense. I'm a tech guy and even I can't figure out wtf it's supposed to mean. 6GB S8+? As in 6GB of ram or storage? Cause storage would suck. And wtf is 6GM of ram??

you're asking that question and your supposed to be a tech guy???????????

I wouldn't mind having 128Gb storage but not for that price. I still do fine with 32Gb.

Usually, I'd be excited, but somehow, I'm not that excited now. I've used a 64GB/4GB Note 7 and Moto Z. They're both completely different animals on terms of their software experience but I haven't experienced glaring issues with RAM management and performance on both. Though the latter did seem to keep more in memory. Also worth noting that my Note was an Exynos.

The whole term "market demand", how is market demand even known if a product isn't OFFERED in the first place??? Seriously, how does a company know how well a product will sell if it isn't even on sale in THAT market?

still hoping that the Note 8 rumor will pan out, if not then I will get the S8+

Poor logic. Let's release an inferior phone first, everyone buys that, then see what the appetite for a better phone is once everyone's already bought the inferior phone or locked into a contract with one. It's too expensive anywhere. There's literally no reason double storage and 2GB more RAM is equals to $200 more. OnePlus shipped a 128GB 6GB LPDDR4 RAM phone for about $500. Half the price. Samsung own fabrication plants and design the CPU and GPU themselves, cutting loads of costs... Yet charge more than another company that purely assembles other people's tech.

Too much logic in one post.

Big difference between devices though

everything you said is true but what you overlooked is that the difference between Samsung and One+ is that Samsung needs to recoup those advertising dollars that they're spending

They should've done this from the start. The S8+ should've come with those specs just justify the price difference between the S8 and the S8+. I don't see a mere 500 mAh of extra battery juice and .4" lager display as a reason to price the S8+ $100 USD more than the S8. With the release of this 6GB S8 the Note 8 will be that much more expensive. The S8+ is already at about $850 USD and I doubt that Samsung is going to price it at $850. With all this going on now I don't see the Note 8 going for less than $1K...... I hope I'm wrong though.

Just wait a month and Samsung will be giving these away in pairs with a free vr headset, a subscription to Netflix, $50 google play card and an exploding washer.

Make sure you stand in front of the washer and tell us when it explodes...

Surely it's worth it just for USB-C!

I would definitely want the 6GB RAM / 128Gb memory version, and to me it worth it will be worth it to pay more for it if I have to. I won't get the 4GB RAM version... I'll stick with my 3GB RAM Note 3 until I can get a 6GB RAM phone.

If I were able to pay the $850 price I dont think the $200 more would matter much. The 6 gigs of ram just seems badass.

Hmm so North America as in Canada, United States of America and Mexico or just Canada and the United States of America? That phone will end with a cost of $1,500 USD here in Mexico

Even if it's not needed , I would like the 6 GB of ram and extra storage , I do a bit of video and it doesn't take long to get some very big files .
And it's a form of future proofing .
I'm a bit mystified why Sammy didn't offer the big ram/storage model off the bat .
Android Central Newsletter
Get the best of Android Central in in your inbox, every day!
Thank you for signing up to Android Central. You will receive a verification email shortly.
There was a problem. Please refresh the page and try again.