Galaxy S9 and S9+ get Sunrise Gold and Burgundy Red color options; ARCore support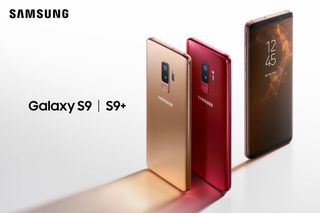 Samsung rolled out a gorgeous Burgundy Red color option for the Galaxy S9 and S9+ in China last week, and the company is now detailing global availability (opens in new tab) for the variant and introducing a new Sunrise Gold model.
The Burgundy Red variant offers a deep red finish with matching accents for the camera module, and the rich hue makes it one of the best color options yet for the Galaxy S9 and S9+. As for the Sunrise Gold edition, Samsung says that it is the first color option to offer a "satin gloss finish" that envelops the phone in a "tranquil glow and glimmer:"
The Burgundy Red Galaxy S9/S9+ will go on sale starting later this month in Korea and China, and the Sunrise Gold variant will be available from June in select markets including Australia, Chile, Germany, Hong Kong, Korea, Mexico, Russia, Spain, Taiwan, United Arab Emirates and Vietnam.
Samsung has also rolled out ARCore support for the Galaxy S9 and S9+, with Google's ARCore devices page listing Samsung's 2018 flagships. As noted by 9to5Google, Galaxy S9 and S9+ customers can download the ARCore app from the Play Store (opens in new tab) and get started with augmented reality applications.
Image 1 of 8
The launch of the new variants means the Galaxy S9 and S9+ are now available in a total of six color options — Sunrise Gold, Burgundy Red, Midnight Black, Titanium Gray, Coral Blue, and Lilac Purple.
For now, it doesn't look like either variant will make its way Stateside, but Samsung is likely to bring the color options to additional markets at a later date. India isn't mentioned in the list, but Samsung is gearing up to bring the Sunrise Gold color option to the country in the coming months, so there's a possibility that it will do the same in the U.S.
What do you make of Samsung's latest color options?