Samsung Infuse 4G Gingerbread update is on hold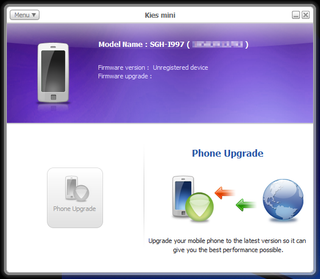 Remember that Android 2.3.6 update to the AT&T Samsung Infuse 4G that was prematurely announced last week before finally getting going? Yeah. It's on hold, apparently. According to an answer in Samsung's support forums, things didn't go quite as planned.
AT&T has confirmed to Android Central that indeed the update's on hold and that "we are working with Samsung to get this resolved as quickly as possible." For everyone (including us) still stuck on Froyo, hang in there.
Source: Samsung (opens in new tab), AT&T; more: Infuse 4G forums
Such an epic fail... Yet no one will notice since this phone is such a red headed stepchild.. Anyway, you can update it if you can get back to UCKD5 (hint: GTG Unbrick). Probably best to wait until they officially fix their CF.

Optimus line has had gingerbread for at least 3 months... at&T's optimus 3d.... nope

I got it working on my girlfriend's Infuse, however I had to refresh the device with Odin to get it to work. I was bad and didn't backup anything beforehand, though I don't think she lost anything especially important.

I must have misread this. I thought I saw 07 February 2012, but it must have been 2011, because it says "gingerbread update." Are telephone manufacturers still working to update to Gingerbread? That's like putting Windows Vista on a Dell that you bought with Windows XP in 2006. Why would you bother?
If it takes Samsung 18 months to make the minor update from Froyo to Gingerbread, how long will it take them to get ICS on your phone? Newt's going to be eating Big Macs on the moon before we see ICS on this phone. This is why I stick to Nexus devices. I won't buy a tablet until there is a Nexus tablet.

Another big example of an AT&T flop!

HEAR ME LOUD ATT... ICS TO BE DELIVERED FOR GALAXY SII IN FIRST QUARTER... IF NOT ON MY DAMN PHONE BY APRIL 1, (NO PHUCKING APRIL FOOL), I'M FRICKING GONE, CONTRACT BE G DAMNED.....
(Sorry for posting out of proper device, but, EVERYONE NEEDS TO FOLLOW SUIT. NO MORE FRICKING DELAYS, FOR ANY ATT DEVICE... Now I feel much better....

Sorry this is a complete Samsung and AT&T flop from day one. Gingerbread should of been on the phone before oh by mid summer at the latest. Not this late in the game. It is pretty clear it will never get to ICS since it is JUST getting to gingerbread.

I would be happy with the GB update, PROMISED BY THE END OF LAST YEAR. But, to properly run ICS, the hardware needs to be capable of supporting it. GB will probably be the last "level" of the Android OS that this phone will support... Just my 2 cents..

This GB update is a total fail by both Samsung and AT&T. Honestly why even bother trying to go through this mess of an upgrade when there are any number of better ROM's out there available for your flashing pleasure. I'm on Infused v2.2.3 GB based and it works well. I'm running it as my daily driver with no issues. No HDMI on this ROM but I don't need it anyway. Do yourself a favor, forget this screwed up update and head on over to XDA and get a custom rom that will be better anyway.

"mallengi said Newt's going to be eating Big Macs on the moon before we see ICS on this phone." Best comment so far on this issue!!

HELP ME !! i upgraded to gingerbread last week on my Samsung infuse on at&t , i was hoping that with this update i will be able to make video chat calls from Google talk but at&t have disabled this. can some one help me on how to get Google talk to make video chat calls without rooting or installing a different ROM. Also why do carriers do this ? Also the update does work without issues most of the time, but sometimes while i start a game or try to exit a game it freezes for about a minute

I too am gone: From AT&T and Samsung devices. I have never rooted my phone because I have been paitently waiting for the GB update. Now, I aint even worried about it. See you two in my rearview. I'm outta here.

Hmm.. No wonder it sucks arse.. I updated over the weekend, after I used GTG to clean my phone and its mostly buggy. My screen, well lets just say, sometimes, it will scroll, sometimes it wont. I have to seriously click 4 or 5 times to open a widget or app. Maybe try pushing it over the air instead of Kies. Samdung better listen to their customers. I thought Samdung claimed it was fully tested? By who, seniors at a retirement home community who can't even operate a computer, let alone a smartphone.

If the Nexus S will run ICS, this phone will, too. On the bright side of things, you can buy car docks and desktop docks really cheap for the Infuse from At&t.

Love the oled screen.. But GB... Pathetic.. This should be running ICS.. Im calling ATT if this isnt running GB by monday for a RMA.

AT&T keeps getting away with murder and we are to blame for this because instead of holding them responsible for their actions we go and root our phones. I think is time to let AT&T know that we are the boss and not them as a unit we should walk away from this once and for all. When is time to upgrade leave AT&T , there is no voice more clear than them not cashing my money in their accounts.

I uploaded Gingerbread 2.3.6 the day after it was released. I simply registered on Samsung's website and then started the process through Kies mini directly afterwards. It took all of 5 minutes to remove Froyo and install GB 2.3.6. I've been reading all of the complaints from those that managed to get the upgrade, but I can honestly say I haven't had one single issue from it. I even did a factory reset out of boredom and still running perfectly. Sorry to hear so many missed the upgrade, waving at ya all from my Samsung Infuse 4G operating on the Official Gingerbread 2.3.6 :)~

I had to use Odin (GTG Unbrick) to go back to the UCKD5 firmware and the update took less then 10 minutes to install gingerbread through Kies. I also found out that you have to use a charging cable other than your stock Samsung charging cable otherwise GTG Unbrick will hang. Now my Infuse works great with the Gingerbread update. Battery life seems to last a little longer depending on what the phone is doing. My phone hasn't crashed as much as it did on Froyo either. Joe

Bottom line... this applies to any phone and any carrier... as long as you buy on contract they've got you by the you-know-whats! The carrier subsidized model is the problem here and the carrier has no incentive to do anything as long as they've got you on contract for 2 years, which in itself is a ridiculous amount of time for a high-tech device. And you're not going to get much better treatment from any other carrier no matter what you think. Until you buy your own and come and go out your leisure you won't get what you want. ...Joe K.

AT&T does have it's issues. But I used to have Sprint and it was all the same crap. Doesn't matter whether you have a contract or not, a phone is a phone period. The Infuse was a prime example. Had I bought it outside the carrier I would have still waited for an upgrade to gb, unless I rooted and did another rom. To avoid all the issues, save your money and buy a phone that meets your needs, not what your friend has. Computers are a prime example of this scenario. Sure Windows 7 is the greatest thing now, but do you have to have it to use your computer, no. It may be nice to have but it's not the end of your computing world, same goes for these smart phones. Sure it wohld be great to have the latest upgrades etc., but it still text messages, takes phone calls, and plays your music and vids. Yes I got the gb 2.3.6 upgrade and it works fine, but Froyo did work fine too. Just my .02, have great day all !!!!
Android Central Newsletter
Get the best of Android Central in in your inbox, every day!
Thank you for signing up to Android Central. You will receive a verification email shortly.
There was a problem. Please refresh the page and try again.