Samsung Gear Sport vs. Gear S3: Which should you buy?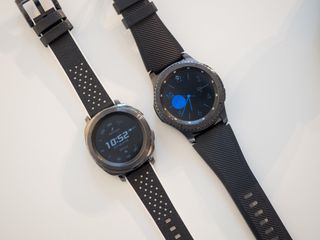 Samsung offers a nice three-pronged approach to wearables, starting at the bottom with the fitness-driven Gear Fit 2 Pro, notching up to the fence-sitting Gear Sport and impressing at the top with the all-around performer Gear S3. For someone who wants comprehensive fitness tracking but also a bigger screen that can handle more traditional smartwatch functions, they will instantly narrow down to just the Gear Sport and the larger Gear S3.
So which of these two Tizen-powered smartwatches is right for you? We're here to lay out the details and help you decide.
What's the same
Image 1 of 2
Despite a few spec and size differences, Samsung uses the same software and interface paradigm across its Gear S2, Gear Sport, and Gear S3. It's the same Tizen OS we've been using for a couple of years now, with an emphasis on maximizing its circular interface and rotating bezel (plus a couple side buttons) for navigation.
Both watches offer you the same apps, core software capabilities, connection to your phone directly via Bluetooth or remotely via Wi-Fi, and some standalone features. They have the same 768MB of RAM, 4GB of storage, and a 1GHz processor inside. The screen resolution between the two is even the same, 360x360, though the diameter is different.
As you can see in the photos, the Gear Sport very much feels like a shrunken version of the Gear S3 Frontier. There isn't a "Classic" version of the Gear Sport, but if you compare directly to the Frontier, you get most of the same design cues. The gunmetal exterior and combination of a couple different textures looks good, and the rotating bezel remains with a slightly different knurl to it.
Even though the Gear Sport is smaller and therefore has a smaller battery, Samsung's battery claims remain consistent with the Gear S3. That's thanks to a smaller screen size, and it's great to see that you can use either one for a couple solid days without rushing for the charger. With simple use and turning off always-on watch faces, you could stretch that out for three whole days on either one.
What's different
Image 1 of 2
The differences between these two smartwatches effectively come down to size. The Gear Sport, as its name implies, is more focused on being a fitness tracker and therefore had to shrink down in size to keep from being cumbersome. Compared to the Gear S3 Frontier, the Gear Sport is 3mm narrower, 4.5mm shorter, 1.3mm thinner and 12g lighter (sans strap). Talking about millimeters and grams doesn't seem like much, but not a watch it makes a big difference: the Gear Sport stays closer to your wrist and isn't as likely to get in your way when you're on a run or hitting the gym. It also has more heavy-duty water resistance, staying safe up to 5 ATM, with included swim tracking if that's your exercise of choice.
Being an overall smaller watch, the Gear Sport also uses a smaller watch band attachment. It will still let you use any standard watch bands you'd like, but you'll need to shop for 20 mm straps rather than the 22 mm you can currently find for the Gear S3. Outside of the dozens Samsung will make available designed to specifically match the Gear Sport, you should have no trouble finding other great-looking bands from retailers like Amazon (opens in new tab)
In that smaller package, the Gear Sport misses out on a few hardware features you can find on the Gear S3. It notably offers Samsung Pay, but only via NFC and not the neat MST technology that enables payments at any swipe-style card terminal. It doesn't have any LTE option, so you'll be on Bluetooth or Wi-Fi only. It has a smaller screen, 1.2-inches instead of 1.3, and a corresponding smaller battery.
Which should you buy?
With so much shared between the Gear Sport and Gear S3, for most people this will simply be decided by what size watch they want to wear and how often they'll use some of the niche features of the larger watch. The Gear Sport at $299 (opens in new tab) is darn close to the now-discounted Gear S3 that hovers around $325 (opens in new tab) and even drops down to the same $299 price as the Sport, making the price of little consequence.
With price differences so small, the Gear Sport gives you the same core software experience as its larger sibling surrounded by a smaller casing that's easier to exercise with but also simply more compatible with a wider range of wrist sizes. It lacks a few extra features like full Samsung Pay support, LTE connectivity and a larger display, but that's probably a worthwhile trade-off for many people to have something that's comfortable for everyday wear.
The Gear S3 Frontier and Classic will still stand as the top-tier options for people who are less focused on fitness but would prefer to have something big and even more capable on their wrist. If you're going to spend more time moving through on-watch apps and managing dozens of notifications rather than tracking a gym workout, the Gear S3 may be worth it.
Android Central Newsletter
Get instant access to breaking news, the hottest reviews, great deals and helpful tips
Andrew was an Executive Editor, U.S. at Android Central between 2012 and 2020.
Would the gear s3 and gear sport have the same apps, specifically games such as fruit ninja and the overall same apps available to it, I'm asking from the UK

You'll be able to get all the same apps an features with the sport . I'd be all over this watch if I didn't already have the best smart watch the gear s3 . Had a Opportunity to play with one at a Samsung experience center . If your on the fence don't be this is just a smaller s3 so you'll love it

Why do you believe the gear s3 is better than this watch. And cheers

As per the article, the Gear S3 is their top shelf offering. Better is subjective, but the Gear S3 is positioned as the premium option.

Well it has all the features that are missing from the sport . But by the same token the sport is ment to be a fitness watch first .

Which features does it have which are missing on the sport????

- S3 is a 22mm band not 20.
- S3 has LTE and Bluetooth options (depends which model you want but you get the option)
- S3 has speakers to handle calls and music.
- S3 has NFC and MST, Sport only has NFC
- S3 supports water resistance but Sport is stronger and can track swimming. Everything else is the same

Yup it has the same OS and same access to the Galaxy Apps catalogue.

No mention of GPS in the aricle? S3 has it.

It's got GPS same as the new fit pro just no mst are lte

good to know, thinking about getting for my GF. I love the Classic I have.

Which one the s3 are s2 classic

Gear Sport for her smaller wrists

But does the Gear Sport have a speaker like the Gear S3? It didn't look like it in the pictures.

That's a good question couldn't find that information. Being that it doesn't have lte I wouldn't thing so

No speaker I'm aware of. Because it doesn't have LTE for calls and because a speaker takes up space, it isn't surprising to be missing it.

I have the non-LTE s3 frontier and I use it for calls fairly often while it is connected to my phone. Additionally when out for a run if you don't have bluetooth earphones paired then it will speak the stats (distance, pace, etc.) over the speaker.

I just looked in the user manual from Samsung. It has a speaker and a mic so you can record audio messages and make calls (bluetooth).

Definitely no speaker. No idea why noone ever addresses this, it's one of the best feature in the S3. I think this removal is the reason the Sport has great water resistance for swimming now.

Interested to see if the S2 will continue to get updates. The hardware is holding up well, so fingers crossed.

I sure hope so my wife has the gear s2 that she loves for the size although she has been eyeing the sport hehe

This is the issue with smart watches and phones in general imo. Way to many phones don't get updates the same as watches. I have the Moto 360 for me still one of the best looking smart watches made and never had an issue with it but did not get wear 2 like the 360 2nd gen did.

Do they work with non Samsung devices?

Yes almost all including Apple you just need android 4.4 are higher an 1.5 gig of ram

That sounds good to me. Thanks

Works horribly on iPhones. And the battery life goes from 2-3 days down to 1 day off you're lucky. Even using "low power Bluetooth". Can't download all the apps, and call forwarding doesn't work if you have the LTE model.

One is great looking and one is about the ugliest watch I've ever seen (sport)

I thought it was odd looking until I put it on my wrist and it looks good! I had the S3 at launch and sold it 6 mnths later. I'm a tall guy with thin wrist it feels and fits great.

Will the gear watches get Bixby? Specifically the gear S3 frontier? Because S voice is the worst thing I've ever had to use

I hope so! I also hope the S3 get the neat layout the Sport has as well as the watch faces. When the S3 came out most of the features beamed down to the S2 so I'm hoping it repeats in the S3! :>

It's hard to consider the Gear S3 top tier without being waterproof.

Huh the gear s3 is water resistant up to 5 feet for 30 minutes. But that where the new sport has it beat it by Design waterproof deeper an longer Duration

I have the Gear S3 Frontier and I will wait for a worthy successor. I use it for fitness tracking messages, calls and Samsung pay. I won't accept anything less than this watch. The look, feel and the design suits me. Give me this with the deep water resistance and I will buy it.

Same. I was honestly hoping for the S4 to be a more slimmer version of the S3 with better water resistance. I was disappointed to hear nothing about it and saw only the Sport version. I swim on occasion so the swim tracking got my attention, but I have an S3 LTE Frontier, and giving that up is not even an option for me. Once you have been out and about without the bulk of your phone and wallet you never want to go back when working out. You feel lighter too. MST is something that makes people turn heads each time you use it in the most unlikely places. I love hearing be amazed that it works that they didn't think it was possible even. NFC only function doesn't cut for me. So there are no speakers, and I take often phone calls through my watch and it's loud, no need to connect myself with Bluetooth. I don't see any speakers on the Sport, and no one ever talks about it. So I think they're nonexistent. Getting this Sport is a hell of a downgrade for me. I, too, will await a successor.

Will it be possible to connect a chest strap via Bluetooth on the Sport? As far as I can understand thats not possible on the S3?

I have the S3 frontier, love it apart from the fact it doesn't support continuous HR, it monitors HR every 10 minutes while at rest but if you are moving around it doesn't record. I read the sport will have this feature and therefore will the S3 be updated to have this as well?

Or get a real smart watch with the Huawei Watch 2 or something similar. The Gear S3 is gorgeous but it lacks way too much running Tizen.

I'm of the opposite mind. My AW 2.0 watches sit in a drawer while I use my Gear S3 every day.

You're entitled to your opinion. I tried android wear hard. I owned the original Moto 360. Returned it, horrible battery and GUI. I owned a Gear S3 Frontier and Classic. Returned both bc I thought I could get better stand alone app support with all the native apps available with Android wear. Wrong... I then tried had the Huawei Watch 2 classic and returned it bc there is not any standalone podcast support despite google play music and pocketcast apps available on device for android wear, the android wear watchfaces are inferior as is the GUI, the battery life was not as good as Tizen. Tizen and bezel are simply faster and more intuitive, watch faces are better. And the MST extra option for wireless payments with Gear S3 simply is better than android pay only option with NFC and much more widely used. Now I am back to another Gear S3 Classic and not looking back.

I want to like Tizen but the lack of Google and Google Assistant is just too much of a loss for me personally. I had the original Gear S and as much I enjoyed it, it didn't do everything I needed. I'm pretty sure you can only reply to WhatsApp messages with canned responses too unless that's changed now? That's a no no for me too.
As for MST and Samsung Pay that's only a benefit for you guys in the US, at least here in the UK and Europe, NFC is everywhere so Android Pay works everywhere Samsung Pay does and has no advantage over the other Don't get me wrong. Androidwear is far from perfect but unless Samsung bring Google integration or Bixby makes a big difference then there's only one option for me

yeah, I hear ya. everyone has their preferences. FWIW you can send custom responses with Whatsapp. No MST in UK and Europe is a bummer. Please, no BIXBY on Gear S3 though, I don't like using it or the bloat.

But no MST isn't a bummer. Nowhere has used it here for around 10 yrs. It's old technology that was phased out long ago and replaced with NFC. Every store has NFC terminals, even the tiniest corner stores

Well what probably won't have that in the US for another 5 years at least. There's places that just got new card readers and even they don't have NFC. MST is a must in the US for mobile payments to really be that helpful.

Things can updates can fix

This article needs to be updated with price and availability. I have a gear sport on my wrist right now.

Judging by DC Rainmaker's comments about the GPS on the Sport, I wouldn't go anywhere near it!

I've been wearing Gear Sport for day two now and to me it's the same as the S3 Frontier all around. No speaker to make calls or MST. I had the Frontier at launch and sold it 6 months later. It does all the same things as the bigger S3 just fits better on my thin wrist. I'm still out on battery we will see in a weak or two if I can get 2 days. I like the screen always on at work and I work 12 hr shifts. Took it off charger at 5 pm and got home at 8am %38 left over and notifications on. You really can't see screen size difference while wearing it.

I'm barely getting over a day too. I don't understand how some people are getting 3-4 days....

I have the Gear s3 frontier and I keep the brightness low and turned off the always on display
And using it from 8 am to 6 pm only drains like 15-20%
Excellent battery life, especially compared the the Gear s2

Actually you should buy neither of them, they have a huge issue with measuring HR during activities and literally no one from samsung is responding to support requests and general community outcry. See https://eu.community.samsung.com/t5/Smartphones-Tablets-Wearables/Gear-S... for further details.

I would buy neither until the announcements about the S4 come out unless you get a really good deal. If they move away from Tizen, as is rumored, for watches, then Tizen updates will diminish if not disappear.

I like the S3 for the speaker, look and MST technology to use with Samsung pay. If you are an avid swimmer or have small wrists go with the Gear Sport
Android Central Newsletter
Get instant access to breaking news, the hottest reviews, great deals and helpful tips
Thank you for signing up to Android Central. You will receive a verification email shortly.
There was a problem. Please refresh the page and try again.