Samsung Gear S4 smartwatch may use Wear OS, not Tizen [Update]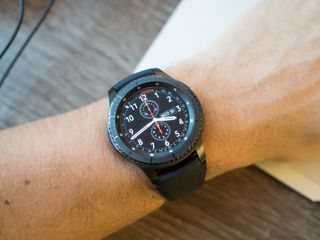 Updated June 7, 2018: False alarm, folks. On June 7, Evan Blass responded to his original Tweet with — "Update: turns out these were actually just one-offs made by Google and seeded to some Samsung workers (i.e. keep moving, nothing to see here)." A Wear OS Samsung watch may happen at some point down the road, but not anytime in the near future.
It's turning out that 2018 could be a very exciting year for Wear OS. Following rumors that Google's working on its own Pixel Watch, it's now being reported that Samsung's developing a future Gear smartwatch that'll ditch the Tizen operating system in favor of Wear OS.
Earlier this week, a rumor popped up on Chinese social network Weibo suggesting that the Gear S4 will be powered by Wear OS instead of Tizen. Weibo tips/leaks are usually pretty hit or miss, but shortly after that, Evan Blass took to Twitter with the following message —
https://twitter.com/evleaks/status/999255737762308096
This doesn't necessarily mean that Samsung will decide to release a Wear OS watch to the masses, but this piling evidence leads us to believe that the company is certainly toying with the idea.
Tizen has been Samsung's operating system of choice for most all of its wearables, save for the Gear Live that was powered by Android Wear and released in 2014.
Samsung's gotten a lot right with Tizen, but one of its pain points has long-been lacking developer support. Wear OS is far more endowed in these regards, and having a big name like Samsung backing the platform would be huge.
Would you like to see a Samsung smartwatch with Wear OS?
Joe Maring was a Senior Editor for Android Central between 2017 and 2021. You can reach him on Twitter at @JoeMaring1.
I would be happy with this if they do some tweaking. The one major reason I still use my GearS3 other then the awesome hardware is the widgets. If they could find a way to build widgets in I would buy in a heartbeat.

I love my GS3 Classic BT version, the hardware is great, I agree. Dat Bezel. I would love better developer support, podcasts for instance could use a standalone app, e.g., pocketcasts for use without a phone connected. Otherwise, meets all my activity tracking, notification and communication needs with TIZEN. Don't screw it up Samsung.

Just curious. Does the GS3 have continuous HR monitoring?

Tizen OS was a failure. Samsung developed Tizen so it wouldnt be so dependent on Google. They really thought they could compete and replace Android with it.

You think Tizen is done? lol

Except that the Gear S3 sold more units in 2017 than all the Wear OS units combined (LG,MOTO,ASUS,Huawei,Fossil). Perhaps you can explain again how Tizen is a failure.

Probably more related to selling more Samsung smart phones than it is the software.

What does that even mean?

Samsung TV uses Tizen OS and I think there are some fridges that use Tizen too

Tizen OS on phones is s failure but Samsung has done a very good job with it on watches. On wearables it's better than Android wear or whatever it is now. The sales prove it.

I like Tizen for the core experience compared to Wear OS however the lack of apps is an issue. If they can use Wear OS and keep the core UI and UX the same I would be happy.

I think most the love for Samsung Smartwatches really centers around the fact that they're just really good hardware, not so much software.
Give me the Gear S3 running Android any day of the week and I'll buy it. Not a huge fan of tizen, but it's the closest I'm featureset to watchOS we have.

I think part of the failure of WearOS to really catch on is because of the software experience, not the hardware. Think about all the apps available to WearOS smartwatches yet none of the WearOS smartwatches could match Gear S2 and S3 sales.

Nope, Won't be buying. The Gear series using Tizen has been the best smartwatch experience to crappy Wear OS. I'll be sticking to my Gear Fit 2 and Gear 3 then. I hated every iteration I dealt with using Wear OS. The only thing I liked better on Wear OS was the voice integration.

Yep same here. Tizen is vastly superior

Agreed. So many people talk about 3rd party apps for smart watches but the truth is that apps are for phones and not watches. A good OS plus a small but useable app store for customization is all that's needed IMO.

Says someone who simply doesn't have many apps available for their smartwatch. I had the Gear S, and to truly be able to use it in stand alone mode as it was intended, I would have needed apps that weren't there. I switched to what is now Wear OS and never looked back.

Vastly superior is correct.

The only thing that isn't superior is S-Voice. It freaking sucks.

Agreed. Not a fan but then again I don't use voice assistants very often.

And apps. I have the S3 the Lte version and I love the hardware but it's basically useless when it comes to apps. Doesn't even have a decent email app.

Then I won't be upgrading my s2 too the s4 if this is true. Tizen is buttery smooth and isn't bloated like wear os. It's a watch people, it needs to show the time, and display notifications and allow you to send simple replies. Also, why does this one dude always get ALL the leaks from EVERY device!? Wtf

Very interested to see this, maybe I'll upgrade my S2 Classic 3G.

Never used a device with wearOS but my gear sport has performed fine. Not butter smooth in some areas (more to do with hardware) but I don't linger on about it. Other than watch faces, theres really no app in the store that I need for what I use it for, so app selection is no problem for me. It's a watch, I find it interesting how some people need a tonne of apps just for a watch...

Yes, please. I'd like to see Maps guidance and google asissitant features on my watch.

This! I love my S3 but voice control is almost unusably bad and I definitely miss Google maps directions showing up on my watch. Let's hope Samsung exclusive features like MST can be translated to WearOS.

Cool they will make it better. Like Samsung does with Android.

Only WearOS is a closed system

Please please please let this be true, it would be like the rest of both worlds. Samsung has the better hardware, including the rotating bezel, but wearOS has better notifications, including support for more than just Samsung's apps, plus Google's voice recognition and even a keyboard for quick replies. Also with the play store there are more watch faces tat also have better ambient display support. I was really disappointed with my Gear S2 because of the issues I named above and sold it and went back to my original Huawei watch.

It'll probably look nice but even a Samsung Gear S4 with Wear OS won't sway me from a Pixel Watch.

So you'll buy a Pixel watch regardless of how crappy it is? Google has yet to get the software right on WearOS which means their sucky track record will influence the Pixel watch's software experience.

It will go GREAT with their pixel 2 phone that they have yet bought.

Someday you'll actually buy something. SMH

You will buy any pixel related without even seeing it haha

This guy is just trolling at this point.

Tizen is far superior. The only benefit would be Google assistant integration. Everything else would be a compromise.

As long as updates are on time.

So, this is a terrible idea. Tizen is much better on wearables than Wear OS is.

I would buy a Samsung watch in a heartbeat with WearOS. Won't touch Tizen cause there is not support for Google Assistant...

Why do you think you need Google assistant on your watch? Tizen smokes wear os btw, no competition

Yeah who needs Google Assistant on your watch when you have the deaf robot that is S-Voice? Sorry but Google Assistant and Maps are the 2 biggest reasons I'd never go back to Tizen. Being able to send messages, WhatsApp's and Navigate without having to pull your phone out your pocket is irreplaceable

Everyone complains about S-Voice but I wouldn't know because I have no desire to speak to my watch. I don't even on my phone unless I'm doing voice to text or on a call (obviously). If you feel this is something that's important to you, my all means choose a fragmented and sloppy overall experience just for the benefit of being able to talk into your watch

Hey, just because you don't use something doesn't mean it's not an important feature to many others. I'm sure there's features you feel are a necessity that nobody else has any interest in. Tizen is clunky and feels dated, it has done since the minute it was released. WearOS at least is getting some love again at last

Wow, you are ridiculous! Sound like an iPhone fanboy with your "Fragmentation" statement. You do realize that Google fully controls Wear OS and there is really no fragmentation, right? Idiot!

It has nothing to do with *thinking* I need anything. It has to do with what I want! Who the hell are you to question what I need or want??? Wow! BTW: I use GA all the time and can control many electronics and lights in the house with it so having it on my wrist would be very convenient instead of yelling "hey google" all the time to GA devices around my house. None the less I'd love to hear why Tizen is so much better? Personally I would use a smartwatch for the following (Time, notifications, directions, Google Assistant, and maybe some specialty features via apps). How is Tizen going to do that better (ignore GA for this question as Tizen does not have it)

I feel like I bought the "BlackBerry" of smartwear. Sigh...

Tizen .
Still running a Gear S2 and it does exactly what it is supposed to when I need to to.

Still running an analog watch and it does exactly what it is supposed to when I need to to. What's so special in this line of thought?

I don't know what this Android Wear is/does so I can't opine one way or the other. I have not noticed an absence of apps for my gear S3 but younger guys might. Maybe Samsung should make S4 work with either side customers could make the choice.

I would love the ability to choose and change as I want within the same watch. I love my S3 and the tizen OS but give me a watch that I can buy and have tizen the first day. Flash Watch OS the second. See which one works for me and the flash back if I want. Something more modular or customizable.

I hope not!!! Tizen is 100 times better on my smartwatch

I have a Gear S2 and it is excellent. It does all that I need it to do and does it well. This thing feels like it will last forever.

Shut Up and Take my Money!!!!

What i really want is the gear s2 but running wear os! I think the gear s2 looks amazing, is slender and it has nfc so you could use google pay, and it has that rotating bezel which i think would work really well on the new wear os support for rotating crowns.

Why does a company like Samsung rely on developers to build apps. Shouldn't they have their own app department. Same thing happened with Microsoft a few years back. I had a Windows phone. It was the best phone ever. No apps. Put people on the payroll to build great apps.

Best of both worlds. Gear S4 running WearOS and I'd be front of the queue. I doubt Samsung will just drop Tizen completely. Maybe do a version with each OS but I bet the WearOS version would sell more. I still reckon most people buy Gear S for the hardware and put up with the software.

I owned 4 wear devices all the way up to the og huawei watch (which i believe is still the best looking smartwatch out) and then went to the s3 classic after getting tired of little glitches. Tizen is missing the Google/ app support which i noticed instantly but is so much better than wear. Better ui, battery life, widgets,and just over all experience just kills wear. I honestly was upset i did not switch sooner. Hopefully if Samsung uses wear it is allowed to keep the same ui as tizen. If not it will be a hard buy for me.

This nails it. I'm guessing Samsung wants the Google Assistant access on the superior Tizen OS but Google is force feeding it the whole OS or nothing.

"Seen on the wrists of Samsung employees" How do you know it's running WearOS just by seeing something on a wrist? Samsung could be mimicking WearOS features. This is not news. Just more rumors.

This sucks. Seriously. Ok...so first thing's first. How many of you bashing Tizen actually OWN (not looked at, not played with someone else's) a GS2 or GS3?? I have the Verizon S2 Classic and it is everything I hoped a smartwatch would be. My girl has the Fit 2 which is everything she hoped a smart fit band should be. I'm a geek, she's not. Neither of us NEED maps, assistant, and other apps on our watches because...gasp...it's a watch!!! It's not a phone, tablet, or computer so what's with trying to make it one of those other items??? I don't even make calls with my watch (even though it can do that) so it already is way beyond what I need. I have zero interest in even more apps AND a whole new OS just to slow it down or kill what is a fantastic experience with excellent battery life??? Sure, apps and all are fun I guess for the first couple months, but 2 years into ownership, I have no use for anything other than what is already in Tizen.
There is not a single Wear OS device I have seen that piques my interest. I'm a watch guy. As in, I have a full glass/wood/fabric watch case kind of watch guy. I even tried the TAG Heuer Connected since I have a TAG so at the time I thought it would be cool to have "old school" and "new school" watches but that WearOS ruined it for me. I actually tried the Apple Watch too and their so-called 'digital crown"...garbage...not to mention I would have had to get an iPhone to get the best use out of it. You might as well ask me to hate puppies and kittens and get better results than switching to iPhone. Moto 360 is ok...and so on and so forth.
Believe me, I did my research. Gear S2 Classic does everything I throw at it including Samsung Pay everywhere and NO watch OR phone that does that unless it's Samsung Pay on a Gear or Galaxy/Note device. And now you want to tempt me to upgrade to an S4 with Wear OS?? Nah, I'll go back to the watch box and take my 1950's Seiko Seikomatic (my previous "daily driver" watch) self-winder back out when this GS2 finally (if ever) decides to stop working.
And that, my friends, is the biggest lesson here: Tizen/WearOS/iOS, etc are only as good as the electronics but my Seiko will outlast all of them, guaranteed.

NO other phone or watch can make payments anywhere except Samsung Pay??? Umm Google Pay? Apple Pay? Garmin Pay? Fitbit Pay? etc etc etc

Samsung pay uses MST, none of the others do. This allows me to use my watch to pay basically everywhere even if they don't have a chip reader or anything like that. When I activate it on my watch, most of the time employees see me do it and say "no you can't do that, we don't have a POS system that does that" and then they see their machine accept the watch and are, rightfully so, impressed.

Ahh ok you must live in the US then with that ye olde MST tech? We got rid of that over 10 years ago and have NFC terminals EVERYWHERE so our watches and phones don't have those issues.

But Samsung pay does everything that Google pay does and more. It's as simple as that

I used the Gear S for a year. No apps made it less useful to me than I was hoping and Svoice just plain sucks. I would never ever again buy a Tizen watch.

I use Svoice as a remind me things app using Spanish and it works great for me. Is not Google Assistant when recognizing what I say but it does the job better than I expected.

Not sure if this is an upgrade unless wear OS is a serious upgrade other than a name change. Samsung Pay on the S3 works everywhere because of the MST technology unlike Android Pay

I own a Movado Smartwatch that runs WearOS seamlessly with my KEYone and have had no issues with it. It would be interesting to see a new Samsung running WearOS with the latest chip IMHO. Features and price point always important.

I won't buy one, for one single reason: their latest LTE models all have eSIM instead of regular SIM cards. If you think eSIM are not messing with cosumer rights, do a search for: Gear S2/S3 register problem or somesuch. If they make an LTE version with a user replaceable SIM card, I'll consider it.

That happened to a friend too

So happy they're sticking with Tizen, they'd be idiots not to. And WHY DOES THIS ONE GUY GET ALL THE LEAKS?????

Hell no. Tizen might not be as mature as Android but it's does so much more on the smartwatch side of things

On the smartwatch side Tizen is faster, lighter and makes a smallest battery last for days while WearOS is a batter hog on a watch.
Android Central Newsletter
Get the best of Android Central in in your inbox, every day!
Thank you for signing up to Android Central. You will receive a verification email shortly.
There was a problem. Please refresh the page and try again.