Samsung Galaxy Tab 3 series review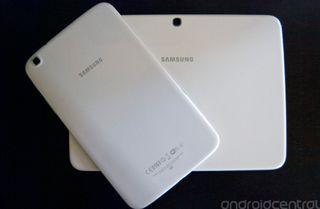 For me, the Samsung has consistently been the go-to choice for a quality Android tablet experience. I was an early adopter of the original Galaxy Tab 10.1, and the Galaxy Note 10.1 was the first device to make me feel like tablets were more than just oversized phones. As a Galaxy S 4 owner, I was eager to take the brand new Galaxy Tab 3 line for a spin and see how Samsung has incorporated the brand new version of TouchWiz into its flagship tablet line.
I recently got to spend a few days with both the Galaxy Tab 3 8.0 and the Galaxy Tab 3 10.1, and while I can't say I had a completely negative experience, it's clear the Galaxy Tab line no longer represents the cutting edge of Android tablets.
Pros
The Galaxy Tab 3 line offers Galaxy fans a solid TouchWiz experience in three affordable form factors. The tablets perform well and are some of the thinnest and lightest Samsung has created.
Cons
Specs are well below flagship-standards, most notably the outdated displays. The Tab 3 line offers little we haven't already seen on smartphones.
The Bottom Line
For those looking for an affordable way to supplement their Galaxy S smartphone, the Galaxy Tab 3 is the best way to do so while not breaking the bank. However, those expecting a top-of-the-line Samsung experience will be sorely disappointed.
Swipe to scroll horizontally
Galaxy Tab 3 hardware and software review
Right off the bat, it's easy to see that the Galaxy Tab 3 series is more attractive than any other Samsung tablets before it. Taking cues from the Galaxy S4's patterned topcoat and chrome edges, these tablets are sharp and eye catching, and clearly cut from the same cloth as the company's Galaxy smartphones.
The Galaxy Tab 3 devices are about as sleek and lightweight as you'll find on the market today, all coming in a little thinner than 0.4 inches and lighter than 11 ounces. Coupled with the plastic body, though, the tab's thinness feels borderline fragile, in danger of being snapped in half if you apply enough force. You'll probably want a case if you plan on traveling with the Galaxy tabs, or if you're prone to being less than careful with your devices. In short, these tablets are of a typical Samsung level of quality. For better or worse, you're dealing with a lot of thin, shiny plastic.
The Galaxy Tab 3 7.0 sports a 1024 x 600 TFT display, while the 8-inch and 10-inch versions up the ante to a 1280 x 800 resolution. If these numbers sound familiar, it's because they're the same-exact specs the 7 and 10-inch Galaxy Tabs have always featured. Yes, that's right — three years after these tablets were first introduced, the display resolution remains the same. This a cost-saving measure, no doubt, but for its most visible line of tablets, Samsung should have done more to stay ahead of the curve. Simply put, there are a handful of tablets of similar size — the new Nexus 7, for instance — that stand head and shoulders above the Galaxy Tab 3 line in terms of display quality, and are well worth the additional cost.
Under the hood, each of the Tab 3 devices sport slightly-varying specs. The Galaxy Tab 3 7.0 runs a dual-core 1.2 GHz processor, a slight upgrade from the 1 GHz chip that the second generation packed. It's paired with a full gig of RAM, 8 GB of internal storage, and a 4,000 mAh battery. The Galaxy Tab 3 8.0 packs Samsung's own Exynos 1.5 GHz dual core processor with 1.5 gigs of RAM, along with 16 gigabytes of storage and a 4,450 mAh battery. Finally, the Galaxy Tab 3 10.1 introduces the Intel Atom Z2560 processor to Samsung's line -- this processor allows for 1 GB of RAM to function just as well as 1.5 GB does in the smaller Galaxy Tab 3 8.0, or so Samsung says. The 10.1 also includes 16 GBs of internal storage, a larger 6,800 mAh battery, and adds a pretty useful IR blaster, which allows you to use the device as a universal remote.
In my experience with the 8.0 and 10.1, performance was respectable but far from exciting, and I couldn't really tell the difference between the Atom and Exynos processor. Though not horrendously slow, these products lack the speed and agility of vanilla Android tablets, and lack the top-of-the-line specs that the Galaxy S4 utilizes to power a speedy TouchWiz experience. In terms of battery life, each Tab was able to make it through two days on a single charge, something we've all come to expect from properly-optimized tablets.
All three tablets sport a 3.15 MP wide angle camera, which I won't even bother wasting a paragraph on. Android tablets are still not where you should be looking for a decent camera experience. The Tab 3 devices are slow to focus, dreadful in low-light, and produce generally noisy, low-quality images. Not to mention how ridiculous you'll look snapping shots with a 10-inch tablet.
Samsung's TouchWiz UI is running atop Android 4.1 on the 7-incher and Android 4.2 in the 8 and 10-inch versions. The manufacturer has trimmed some of the fancier capabilities, most notably AirView (hover touch), but most of the features remain, including Smart Stay, Multi Window, and S-Voice. TouchWiz is still a polarizing user experience among Android fans, and in tablet form it's even more more so — you'll still find some features useful, though others were clearly built for a phone and have been blown up for the larger device. It's also not the most visually pleasing, nor the most consistent of Android UIs.
What Samsung got right
With the Galaxy Tab 3 line, Samsung brings its popular Galaxy smartphone experience to three new form factors. Whether you love it or hate it, you cannot deny that the feature-packed TouchWiz has become a staple of Samsung's success. The manufacturer's offering a consistent experience in terms of both hardware and software across its smartphone and tablet lines.
It's the old iPhone-iPad strategy — create a uniform look and feel across all devices, and introduce these products into every corner of consumers' lives. For those Galaxy S4 owners (up to 20 million now) who want to seamlessly transition between the tablet at home and the smartphone everywhere else, the Galaxy Tab 3 easily fits into that role. The Tab 3 line offers a solid TouchWiz experience on a thin, light device at a (mostly) reasonable price point. For $200, $300, and $400 respectively, the Galaxy Tab 3 7.0, 8.0, and 10.1 the smaller Galaxy Tabs represent decent value. The same can't quite be said for the 10.1-incher.
What Samsung got wrong
Samsung is smart, but it also seems increasingly lazy — despite what the company might have you believe, the Galaxy Tab 3 line feels very much like an afterthought, and far from the flagship line it once was.
I use the word lazy because Samsung knows what it has to do to make its tablet line more than just an accessory — and it's already done it with the Galaxy Note. Here's a tablet that serves a purpose, one that takes TouchWiz and the tablet form factor and turns them into assets rather than liabilities. Sure, the Note tablets are priced a bit higher than their Galaxy counterparts, but wouldn't you rather spend an extra buck on something that'll serve as more than just another screen, and another gadget on your shelf?
The company has already taken the initial steps in tailoring its TouchWiz user experience for to tablet form factor. Throw in an eye popping display and some juiced-up internals, and it could have something really special. But for now, Samsung's content with creating a complementary device that's too cheap to resist — it's got millions of smartphone users to whom it wants to sell an inexpensive tablet.
Conclusion
At the end of the day, the Galaxy Tab 3 line is doing little to shake up the Android tablet space. For those looking for an inexpensive way to enlarge their Galaxy experience, the Tab 3 devices are easy choices. They offer decent specs, a reliable and familiar user experience, and form factors for just about every need. The 7 and 8-inch version are compact and ideal for reading and content consumption on-the-go; the Galaxy Tab 10.1 inch is a great living room companion, and its included IR blaster is a nice addition to your home entertainment arsenal.
For those, like me, who are hungry for Samsung to pull out all the stops, the Galaxy Tab 3 line isn't going satisfy your tablet cravings. If anything, Samsung's latest tablets promote the stereotype that Android tablets are simply oversized Android smartphones rather than respectable pieces of hardware in and of themselves.
Personally, I'll choose to save my money for the next-generation line of Galaxy Note tablets. If Samsung is smart and turns to the Note brand for its flagship tablets, these products could be something special indeed. Until then, I, along with everyone else who's looking for more than an oversized smartphone, will be forced to look elsewhere.
Image 1 of 9
Android Central Newsletter
Get instant access to breaking news, the hottest reviews, great deals and helpful tips
I have the new nexus 7 and u love it. I agree that the tab 3 is mainly for Samsung users. Posted via Android Central App

Nexus 7 is currently the best android tablet of its size, I mean the screen

not only the screen but in all aspect as well. yes, it doesnt have the bells and whisle but they are minor considering other positive.

What are your thoughts on the physical buttons on the devices?

The note 10.1 needs to be equipped with the best specs. ; ( Posted via Android Central App

Great article,also the new nexus 7 is one killer tablet ,the past three days I have been enjoying it immensely. This is the best tablet on the market right now. Posted via Android Central App

Isn't the Tab series of tablets their 'value' line vs. the Note series being their higher end?

You state thsy the Galaxy Tab 3 8.0 has "1.5GB of RAM alongside 16GB of RAM..." ;) Posted via Android Central App

Galaxy tab 3 8 has 5mp camera not 3 Posted via Android Central App

"The Galaxy Tab 3 8.0 packs Samsung's own Exynos 1.5 GHz dual core processor with 1.5 gigs of RAM, along with 16 gigabytes of RAM" whaaaaaat? 16 GB of RAM ????

Jesus fucking christ people, it's a typo.

This. As soon as people see a typo, they act as if the world is ending. I should become a typo Nazi, for the comments section lol. Posted via Android Central App

No shit,it's like if you gonna get a prize for finding errors on anything online.

Any think the note 8 is worth the extra money over the new n7. I found a refurbished for 320 Posted via me

Amazon? Posted via Android Central App

nope here: http://www.techbargains.com/news_displayItem.cfm/360410
looks like it dropped to $289 before it was gone. should have bought it.

I think you're correct. The tab will be the low end, the Note mid- range and the new high res tabs will be the high end tablets. l got the 8"Note but would have tried the 8"Tab if I was on a budget.

What Samsung is doing here is sort of sad. They're making good smartphones and hoping that the people who purchase those smartphones will buy one of these matching tablets without looking at the far superior competition (the Nexus line, iPads, and even Kindles to a certain extent). I loved Samsung two years ago when they weren't selling the most smartphones in the world and they truly innovated constantly. The Galaxy S2 was, and still is, a great smartphone. And the first Galaxy Tab was also very good. Now Samsung is merely upgrading their smartphones to match the competition and riding on the past of their successors for them to sell well. The Galaxy S4 is a great phone but, in my opinion, it doesn't show the actual work and effort that HTC put in the One and even the One Mini, not to mention what other OEMs such as Sony and Motorola appear to be doing. But these tablets are just sad. In fact, they really make me dislike Samsung and I own an S4 (even though I use my One dominantly and I'll probably be selling the S4 for the Moto X if it comes in a 64gb flavor). It's weird, but I think I'm sort of done with looking at new tablets. I have a Mac desktop (dual booting Windows), an iPad 4, and an OG Nexus 7. They all have served me well but I need something to take with me that I can actually get some work done on. That's why I've decided to go for a $300 ASUS laptop that runs Ubuntu. It's cheap, has a great OS, decent specs, and a full keyboard. Right now, I just don't think any Android tablet is where it needs to be (though the new Nexus 7 appears to be awesome) and the iPad, though better in the tablet area than Android (coming from a huge Android fanboy), is boring and so locked down that I can barely stand it.

How they can make such a great phone and fail on their tablets is strange... I love my S4 and wouldn't trade it for anything but the only Sammy tablet I would own (and do) is the Nexus 10. Tablets should not have physical bottons, frankly phones shouldn't either but it's much more tolerable on a phone. If they come to their senses on the rumored 12.2 Note they can have my money otherwise I'll just stick with my N10..

Compare this to the New Nexus 7! Posted from the old Google Nexus 7 via Android Central App

"Samsung is smart, but it also seems increasingly lazy" Anndrew, your review has lived up to Samsung's philosophy, smart but increasingly lazy. Next time try to at least get the specs right...otherwise, speak not, least you can improve on silence. Posted via Android Central App

Oh, please. Other than a few typos the review was fine, especially for covering three devices at once. And Samsung has definitely been lazy lately. Instead of optimizing their phones and producing quality features that people will actually use, they're throwing in some new specs, a lazy design, and so much software that a S600 can't even keep up. Then they're marketing the hell out of it and outselling better phones among the competition. That's not the Samsung they used to be.

Plenty of people use the features. Posted via Android Central App

" and while I say I had a completely negative experience, it's clear the Galaxy Tab line no longer represents the cutting edge of Android tablets."
Did you mean "won't say" or was it really that awful? Posted via Android Central App

As a Galaxy S3 owner I was excited when I saw the Galaxy Tab 3 counterpart to the Nexus 7. But when I saw the screen resolution and storage I was stunned how Samsung would produce such a low level product at a similar price point to the Nexus 7, which is clearly superior in every way. I like the stylus and the Note-like functionality along with the home button. And unlike some people out there I like TW as a launcher. Too bad it is really sub-par in all ways.. I wouldn't waste $200 on this that's for sure

Do agreed about the spec and I like Nexus 7 too, but I'm kinda tired of 7" and no microSD slot! 8" is the new 7"! And the bezel on the Tab 3 8" is very thin :) Definitely a must get and a companion to my S4!

I am a GS3 owner and think that the tab3 8" is an ideal size... I've owned a 7 and 10" tablet and the 8 definitely hits the sweet spot...

I can't decide between a tab 8.0 or note 8.0. 90% towards a note. Have an s4, halp. What would you guys do. Need an upgrade from a Playbook..... Posted via Android Central App

Sell me the playbook and get the note 8

lol, I'm gonna keep the PB just for banking. Need something new for everyday use. Playstore is identical to a s4 right? Would I be able to Dl and Install all the apps I bought for s4?

You should be able to get all your s4 apps. Posted via Android Central App

This is why I like reviews. They do look nice but I would rather choose the nexus 7. Even the hisense sero pro is a good choice for the price. Via Android Central App from a Galaxy Note 2

I'm such a slow adapter to new gadgets that's it unreal. I get my android phones a year after they've been out with the exception of the Cliq XT. Ouch, but anyhow... To test if I really wanted a tab, I purchased a generic no name 7 inch from across many seas. Good, bad and terribly wrong... a year later I own a Tab 2 10.1. Yep, mere weeks later here comes the Tab 3 10.1 and that is ok for me because I love my device much, much better. I do not have a physical button and the speakers on the front side sold me. Actually, I was should have picked up the Note 2 10 inch instead. Why? I purchased the BT 1500 S Pen and can not use it for anything on the GT2 except making Bluetooth calls. (Yes, Phil N, I know you warned me but I could not help it) So thank you for this review Andrew as it sealed my thoughts on the T3 products. My GT2 compliments my SGS2. I think my next purchase back to back but months apart will be Note phone and tab. Look forward to a review on those as well. Have a great day!!

I was expecting something along the lines of the ipad4/nexus10 specs-wise. very disappointed. I was looking at this as a replacement for my TF700.

Best tablets for the money: 1. Nexus 7 (2013) $229
2. HiSense Sero Pro 7 $149
3. Nexus 7 (2012) $199 but can be had for cheaper
4. Galaxy Tab 2 $149 And that's where the problem lies. If you Galaxy Tab 2 has almost similar specs and is a better deal than your current, new and shiny Tab 3, its time to go back to the drawing board. from the Galaxy S to the Galaxy S4, there has been major improvements (although people still argue with me about the S4). The Galaxy Tab line has felt to me more like an accessory more than a tablet you should "want" to have.

I actually like the Galaxy Tab 3 8inch. I wanted the smallest 8 inch tablet for reading. Sadly, there's not much choice. I hate the look of touch wiz and also despise Samsung's physical buttons. They need a true multitasking button, not a settings button. However, this tablet is great for reading and does pretty much whatever I need it to do. The iPad Mini doesn't have amazing specs and yet it sells really well.

Why do people keep expecting flagship devices? Samsung make it clear with the Galaxy Tab 2 7.0 and 10.1 that the Galaxy Tab like had moved to midrange devices while the Galaxy Note 10.1 and 8.0 are their flagship tablets. For what it's worth, the Galaxy Tab 3 line is exactly what I expected it to be.

Because even a one year old Nexus 10 (made by Samsung themselves, ironically) for $400 will stomp all over the Galaxy Tab 3 10.1 for $400. 1600p screen vs 800p screen.
Dual-core Exynos 1.7 GHz vs dual-core Atom 1.6 GHz (not a direct comparison, but still hardly innovative after one year).
2 GB of RAM vs 1 GB of RAM.
9000 mAh battery vs 6800 mAh battery.
5.0 MP camera vs 3.2 MP camera. No autofocus, no flash.
1.9 MP camera vs 1.3 MP camera.
Stock Android with latest updates vs bloated Touchwiz. Dollar for dollar, the one year old Nexus 10 is a better buy than the brand new 2013 Galaxy Tab 3 10.1. That's pretty darn lazy on Samsung's part. The sad thing is, the Nexus 10 isn't a very popular tablet, and not many people know about it. Whereas the Samsung Galaxy Tab 3 is instantly recognized because of the "Samsung Galaxy" moniker, and consumers will flock to it just because of the name. I hate to say it, but Samsung is slowly turning into Apple - no innovation, and selling on brand name alone.

The Galaxay Tab 3 line is a good middle of the road tablet. I think Samsung is focusing on the casual user not the hard core user.

Check out the world's slimmest smart phone ever..
http://www.windroidblog.blogspot.in/2013/08/check-out-worlds-thinnest-an...

My wife got the galaxy tab 3 10.1,it's perfect screen is great so what's the problem,probably people getting paid on this forums to bad mouth great products,tired of hearing about the nexus 7,oh my god every forum you go,please people unrammed it out of your ass already.Just because a better product comes out today does not mean yesterdays stuff turns to shit.

I just got mine for £149 ($245) which to me is an absolute bargain and I'm very pleased with it.

T210R 4.4 kit Posted via Android Central App

Does the samsun galaxy 3 tablet 7" support HDMI if so what adapter should I use and where would I get the adapter.
Android Central Newsletter
Get instant access to breaking news, the hottest reviews, great deals and helpful tips
Thank you for signing up to Android Central. You will receive a verification email shortly.
There was a problem. Please refresh the page and try again.