Samsung Galaxy S20 vs. Galaxy S9: Should you upgrade?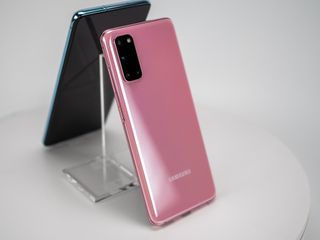 (Image credit: Andrew Martonik / Android Central)
Galaxy S20
When pitted against the Galaxy S9, the S20 comes out on top in just about every regard. The bezels are slimmer, Samsung's new 120Hz display looks great, and you benefit from considerably better performance, battery life, and cameras. Yes, the S20 is an expensive phone, but it's going to be a night and day difference compared to your S9.
Galaxy S20
120Hz display is oh so good
Newer processor and substantially more RAM
Double the storage
Larger battery
Three rear cameras
Not easy on the wallet
No headphone jack
Galaxy S9
The Galaxy S9 was one of the best phones of 2018, but a couple of years since its release, it's starting to show its age — in regards to both the design and specs powering it. We do prefer the S9's fingerprint sensor and like that it has a 3.5mm headphone jack, but overall, you'll have a much better experience upgrading to the S20.
Galaxy S9
AMOLED display holds up
Easier to use one-handed
Faster/more reliable fingerprint sensor
Has a 3.5mm headphone jack
Aging specs
Only one rear camera
Updates beyond Android 10 are unlikely
We don't blame you for holding on to your Galaxy S9 for this long, but at this point, you've more than gotten your money's worth out of it. If you're in a position to upgrade, the Galaxy S20 is a phenomenal phone. The 120Hz display is a sight to behold, there's substantially more horsepower to get you through your day, and you can look forward to about two years of critical software updates, whereas Android 10 is likely the last major update the S9 will see. We understand that $1,000 is a lot of money to spend on a new phone, but the S20 should easily get you through two years (or more) of use.
No matter how you slice it, the Galaxy S20 is a better phone
It shouldn't be a surprise that the Galaxy S20 is a better phone compared to the S9 considering you're comparing a 2020 flagship to something that was released in 2018. You probably know that the S20 is better, so here's a breakdown of the most notable improvements that make it worth that large price tag.
First and foremost, we have to talk about the Galaxy S20's display. The S9's holds up quite well for being as old as it is, but the S20's is so much better. It's sharper, the bezels are smaller, and you get a buttery smooth 120Hz refresh rate. This essentially means that the S20's screen refreshes at twice the speed the S9's does, resulting in everything appearing to move faster and more fluid. Once you see it in person for yourself, you won't want to go back to your traditional 60Hz screen on the S9.
Swipe to scroll horizontally
Header Cell - Column 0

Galaxy S20
Galaxy S9
Operating System
Android 10
One UI 2.0
Android 10
One UI 2.0
Display
6.2-inch
Dynamic AMOLED
Quad HD+
120Hz
5.8-inch
Super AMOLED
Quad HD
60Hz
Processor
Qualcomm Snapdragon 865
Qualcomm Snapdragon 845
RAM
12GB
4GB
Storage
128GB
64GB
Expandable
Up to 1TB
Up to 400GB
Rear Camera 1
12MP wide
f/1.8
12MP
f/1.5 or f/2.4
Rear Camera 2
64MP telephoto
f/2.0
❌
Rear Camera 3
12MP ultra-wide
f/2.2
❌
Front Camera
10MP
f/2.2
8MP
f/1/7
Battery
4,000 mAh
3,000 mAh
Security
In-screen fingerprint sensor
Face recognition
Capacitive fingerprint sensor
Iris scanning
Headphone Jack
❌
✔️
Another substantial upgrade comes in the camera department. The Galaxy S9's single 12MP camera can still take some pretty good pictures, but it doesn't hold a candle to the triple-camera system on the S20. Along with the primary 12MP camera, you also get a 64MP telephoto camera and a 12MP ultra-wide camera. This really opens the door for a bunch of different photo opportunities, allowing you to capture moments that simply aren't possible on the S9.
Looking under the hood, the S20 keeps things exciting. Qualcomm's new Snapdragon 865 processor is much more capable than the S9's 845 chipset. You're also getting triple the amount of RAM, double the internal storage, and a much bigger battery.
Why now's a good time to move on from the S9
If you've held onto your Galaxy S9 this long, chances are you really like the phone. And you know what? We don't blame you one bit. The S9 is a stellar device, but at this point in time, you should really consider moving on to something newer.
No matter what spec you're looking at, the S9 is inferior to the S20. It has a slower processor, less RAM, a smaller battery, and so on. The S9's specs were top-of-the-line in 2018, but in 2020, they're not so hot. The S20 will be able to open your apps faster, make your videos look better, last longer throughout the day, etc.
Perhaps even more important than all of that, we don't expect the Galaxy S9 to get any additional software updates going forward. Samsung did update it to Android 10, which is great, but we aren't holding our breath for it to get Android 11 or Android 12. Not only will the Galaxy S20 give you access to those future updates and all of the new features they bring, but it'll also get updated with important security patches for longer.
Spending $1,000 for a new phone might seem daunting, but the Galaxy S20 is a phone you'll be able to easily keep for two years, if not more.
Better in every way
Samsung's latest Galaxy delivers the goods
The Galaxy S20 is an impressive phone, and if you're coming over from the Galaxy S9, you'll find upgrades in just about every department. You get a superior display, faster performance, a bigger battery, and so on. You'll need to give up your headphone jack, but everything else makes it well worth it.
Time to move on
You've gotten your money's worth
Samsung crafted one heck of a phone with the Galaxy S9, but here in 2020, it's time to move on. The Galaxy S9 is showing its age with an outdated design, aging specs, and just one rear camera. More importantly, we don't expect it to get any major software updates beyond Android 10.
Be an expert in 5 minutes
Get the latest news from Android Central, your trusted companion in the world of Android
Joe Maring was a Senior Editor for Android Central between 2017 and 2021. You can reach him on Twitter at @JoeMaring1.