Samsung Galaxy Note versus the HTC Titan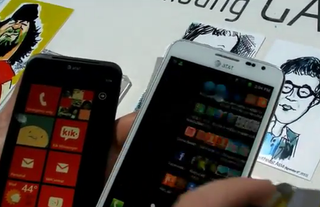 Youtube link for mobile viewing
The Samsung Galaxy Note and the HTC Titan. Two great phones with great names. The Galaxy Note has emerged on AT&T this week at CES in Las Vegas, and we took our pal Dan from WPCentral to the Samsung booth to show him what a really big phone is like.
Sure, his HTC Titan's got an awesome name, and the 4.7-inch Titan is nothing to sneeze at. But damned if it didn't look downright diminutive next to the Galaxy Note. And then there's the Galaxy Note's Super AMOLED HD display. Even Dan had to admit it's beautiful.
So check out the video above, and check in on the comments on WPCentral's post to see how the trolling's going.
I want one of those notes. I hope big red gets it.or ill steal one from att and root it.

Don't be ridiculous. That simply is 100% not possible. Totally different technology.

Actually I thought they were 2 different tecnologies too! They are but they aren't - it seems any and I mean ANY CARRIER using LTE REQUIRES the use of a SIM Card. Period. So technically one can use the others LTE spectrum so long as he has the corresponding SIM Card in the device. Me, I'm loving my ability to pick and go to ANY carrier that has the best package at the best rate, although granted, the international Galaxy Notes don't have NFC or the LTE radio installed. I can live without them for now although there is talk that the monstrous battery (which is lasting just about 2 full days with heavy use) will be gettinbg the NFC Chip buried in it at some point. I'm enjoying the HSPA+ on a consistent basis, which is a hell of a lot better than my beloved rooted HTC EVO 4G Supersonic. Now that's a name for you - it just spews power and it did. I always said I'd never buy/pay crazy money for any phone but after Sprint' 4G fuck up that was the last straw for me. I decided to take a chance and pre-ordered my Note back in October and received it 2 days before the official release which was cool. Paying $700 for a smartphone doesn't sound particularly smart does it? No I agree, it's totally asinine. But when you get down to it AT&T and all the others are already starting to get higher prices for high-end phones. Your looking at $299 +/- a few dollars along with being chained to a 2 Year contract. The big differnce is I can pick up and go where ever and when ever I want and to me that's what it's all about. I finally have the freedom to choose.

I've got to admit, I'm loving every bit my Galaxy Note! I checked out the Nexus, Titan, and for comparison purposes only (it's really no comparison) the iPhone 4S ( S as in sucks) and it's actually comical. If you think the Titan looks diminutive next to the Note then you've got to see how silly looking the fruit phones look next to it. Actually the Nexus, Titan, and every other phone is dwarfed by the Note. This is not only the smartphone I've been dreaming about but once you get accustomed to this beast I GUARANTEE YOU'LL NEVER GO BACK TO ANOTHER PHONE that isn't equal to or better than it. Period. The Note is worth every penny I forked over for it and I'm damn glad I resisted the temptations of the Nexus and Titan. I was bent on either of these the phones but always had buying the Note in the back of my mind hoping it would've been released at that time. I knew the Galaxy Note was going to AT&T but I'm really sick and tired of being stuck in a 2 year contract especially since smartphone technology is advancing so damn fast. Also, knowing how much AT&T is going to be charging for their version of the Note, how much they're going to weigh it down with bloatware and immediately remove the physical home button. My suggestion to anyone wanting a Galaxy Note is to buy one now and grab an ESP from SafeWare (http://www.safeware.com/GetaQuote/ExtendedServicePlanQuote.aspx) for up to 3 years with NO DEDUCTABLE. I chose the 2 Year plan for $89 - you can't beat that price anywhere including Squaretrade. I searched every major carrier and SafeWare beat them all hands down.

I'm that guy who buys a phone partly for the name. That being said, Titan all the way!

Wow, that Galaxy Note is a BEAST of a phone. I will never complain about the size of my Galaxy Nexus again. hehe.
Android Central Newsletter
Get the best of Android Central in in your inbox, every day!
Thank you for signing up to Android Central. You will receive a verification email shortly.
There was a problem. Please refresh the page and try again.